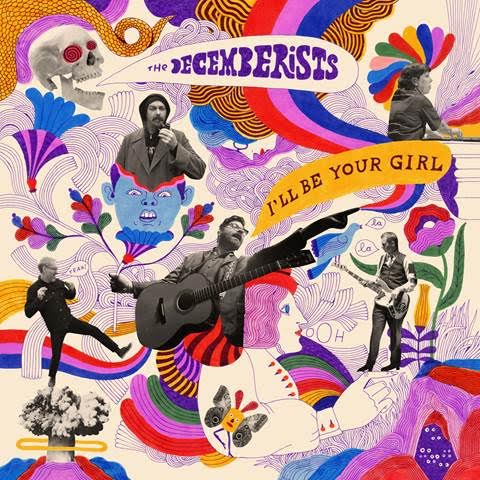 The Decemberists  are exploring a new sound alongside a new producer on their eighth studio album, "I'll Be Your Girl", due out on March 16th via Capitol Records. The Colin Meloy-led, Portland-based band have detailed their John Congleton-produced new album and shared its first single, the swaggering, synth-driven track "Severed."
If "Severed"—and the band's I'll Be Your Girl announcement, which cites influences like Roxy Music and New Order—is any indication, the album will be a somewhat radical departure for The Decemberists. Their new single builds from a dance floor-ready synth and percussion combo, soon adding dark guitar notes. Even Meloy's familiar singing voice is subtly distorted, lending a swaggering attitude to lines like, "I alone am the answer / I alone will make wrongs right."
"When you've been a band for 17 years, inevitably there are habits you fall into," says Meloy in a statement. "So our ambition this time was really just to get out of our comfort zone. That's what prompted working with a different producer and using a different studio. We wanted to free ourselves from old patterns and give ourselves permission to try something different." Meloy recalled falling into such patterns on the group's last record, 2015's acclaimed What a Terrible World, What a Beautiful World.
WIth this freedom to push boundaries came an increased emphasis on collaboration. Speaking specifically to the process of writing and recording "Severed," Meloy recalls, "That was written as a punk song, but wasn't really working. [keyboardist] Jenny [Conlee] set this arpeggio throughout it, and it became like an early New Order song. And I had forgotten that when we made the demo, I also started a file to turn it into more of a Depeche Mode song—I actually wanted it to be a synth song all along."
The Decemberists  will embark on the Your Girl / Your Ghost 2018 World Tour in March, with stops all around the globe.