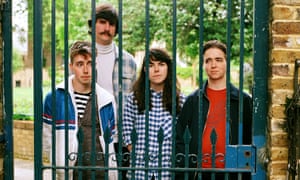 The Spook School have released the video for new single 'Body'.
The track is the third single taken from their excellent third album 'Could It Be Different?', due for release on January 26th.
Speaking of the track and video, vocalist Nye Todd explained:"With 'Body' specifically, I wrote it from a kind of positive place, in that I'd been exercising lots and was proud of what I'd achieved and how much more capable I felt in my own body, but I was also aware of how much shame, dysphoria and internalised transphobia that I still felt towards myself. I got to wondering if everyone felt that to a certain extent, and that's where the song lyrics kind of came from."
'Body' is distinguishable as a Spook School single within seconds, with their unique Scottish indie punk blend taking a timely topic and turning it into a single flowing with relatable lyrics. 'Could It Be Different?' out January 26th on Alcopop! Records (UK) and Slumberland Records.