The 'Cosmonauts' are an alternative garage/psychedelic rock band from Orange County, California. If you mention Cosmonauts in most LA, nods of recognition will ensue, followed by a proud reference to someone's friend doing a stint in the band, and several enthusiastic adolescent memories of shows gone by. A longstanding project of core members Alexander Ahmadi and Derek Cowart, Cosmonauts sit as one of the acts most strongly — and deservedly — associated with the boom of local label Burger Records. At 10 years, and countless shows in, Cosmonauts have solidified their status as both indie touchstone and hometown heroes, a source of cultural pride amongst suburban-bred kids who watched them make the scene.
It was apparent even then that Cosmonauts had a clear vision. They took their sound seriously, turning up their noses at effects pedals while simultaneously turning up their amps as far as they could go. They worshipped the drawn-out melodic drone of Spaceman 3 and The Jesus and Mary Chain, two bands whose influence was unabashedly apparent on the debut.
While Burger Records has grown to stand for, and sound like, any number of things, there's always been more to Cosmonauts than lo-fi-surf and half-baked garage-pop. Razor-blade riffs and relentless walls of sound (see the audio assault of "Seven Sisters" and the fire-alarm guitars and self-destruction of the massive "Wicked City (Outer Space)") shatter out the shambolic jangle of their psych-rock peers with power and intention. The punch-in-you-gut intensity comes courtesy of the duo's mission to go back to basics.
Cosmonauts 12″ LP
Released June 11th, 2010.
All songs written and performed by Cosmonauts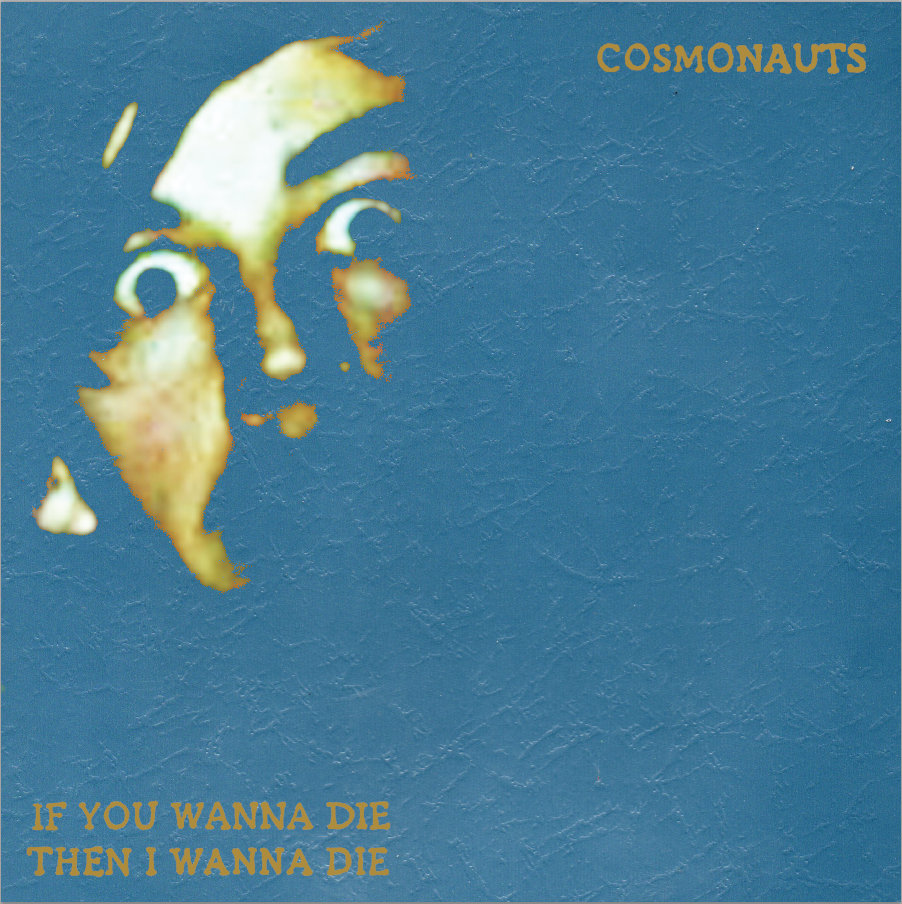 If You Wanna Die Then I Wanna Die 12″ LP
"If You Wanna Die Then I Wanna Die"  Burger Records. 'Motorcycle #1' is by the amazing 'Cosmonauts'. It was released in March 2012 as the b-side to the single 'Emerald Green'. It is also the first track on the 'Cosmonauts' second album 'If You Wanna Die I Wanna Die'.  They don't sound like this so much anymore, but every song on the record is a winner.
We should say that when 'Motorcycle #1' was first released there wasn't a video so as it's one of our favourite tracks of 2012 we just wanted to try and put something together for it so we edited the final scene from Ghost Rider II so, we hope its does some justice to what is such a cool tune.
"If You Wanna Die Then I Wanna Die"  Burger Records The track 'Motorcycle #1' is by the amazing 'Cosmonauts'. It was released in March 2012 as the b-side to the single  to 'Emerald Green'. It is also the first track on the 'Cosmonauts' second album 'If You Wanna Die I Wanna Die'
Released April 27th, 2012
All songs written & performed by Cosmonauts.
Recorded in August 2011 by Adam Ashe at Thee Men's Warehouse in Anaheim, CA.
Persona Non Grata
"I was only 19 years old when Derek and I released the first Cosmonauts record," explains Ahmadi, "So pretty much everything I've learned as an adult, I learned from being in the band."
"Yeah, clearly we haven't learned much," Cowart adds, "I guess I've learned that hype and trends come and go, but great songs last forever, The dynamic between Cowart and Ahmadi has always been the foundation of Cosmonauts' sound and the evolution of their musical partnership deepens with every new release. Though they've always sung in unison (but never harmony), they've increasingly started to employ call-and-response in their music, singing different things at the same time to each other and to the audience, balancing two opposing points of view within one song. While it's tempting to divide Cosmonauts' catalogue into "Alex songs" and "Derek songs," the band doesn't approach their songwriting in a bifurcated way.
California sun-soaked shoegaze songs about boredom, feeling out of place, and trying to work through weird relationships.
Wear Your Hair Like a Weapon"​/​"Sweet Talk" limited red 7″
Star 69′
It's an idea that's toyed with throughout "Star 69", the band's fifth studio album and follow-up to 2016's A-OK!. "Love my little bubble / love my little scene," they sing over the drug-laden slide guitar and back beat of the Odelay-like opener "Crystal," the sneer in the delivery hinting that the love may be double-edged. Then there's the entirety of "Medio Litro," an ode to conversations we've all had out on smoking patios at varying stages of that night's bad decision-making. Lines like "We'll go to the party / If we can find parking" and "Get another manager / and another publicist / Call me when you get this / Make it on the guest list" are delivered with the perfect detachment of a band that is well-acquainted with the game, and still has no intention of playing by the rules.
"It was really important that Star 69 was recorded as live as possible," explains Ahmadi. "We needed to record the album in a more immediate and demanding environment. I think in the age of Ableton, the energy and urgency of a live band really can't be overstated."
Psych, punk, shoegaze, and always something else, the Cosmonauts sound is Spaceman 3, Brian Jonestown Massacre, Jesus and Mary Chain through a 75-and-sunny, strip-mall lens–it's UK by way of So-Cal, the lucid lyrics and heat-shimmer guitars so indicative of the now-familiar sound they created.
Star 69 finds them at the height of those powers, the trip or two around the block injecting the album with a confidence and completeness that gives tossed-off lines like "I wish I was high or dead, or something" (the gorgeous and unexpected "Heart Of Texas") a kind of hungover, squinty-eyed poetry. Everything from almost-love songs ("The Gold Line") and odes to untimely death ("Suburban Hearts") are given the usual yawn and stretch treatment–a deceptive casualness that underpins the level-up songwriting and intricate musicality of the band's strongest effort yet.
Released September 6th, 2019
A-OK!
The band, for this album is made up of Ahmadi and Cowart plus bassist James Sanderson III and drummer Mark Marones, their fourth album A-OK!. It's their first LP in 3 years, and is perhaps the prettiest record Cosmonauts have ever made. The vocals are clearer, the beats dancier, the tones janglier, and there's more diverse instrumentation than on records past (plus for one: they use pedals now). They have a preternatural ability to transpose their many musical influences into songs that capture the feel of an era rather than imitating an exact style. While the band is still, and probably always will be, very much indebted to '80s and '90s.
The songs on A-OK! show a natural progression from the leaner sound of 2013's Persona Non Grata, fleshing out Cosmonauts' talent for bending noise into irresistible pop. They've dialed down the noise and started favoring subtle atmospheric shifts and sweetly melodic sections, which balance out the darker elements that have always underpinned their sound. The vocals are less affectless than before, giving A-OK! a sonic depth that's new for the band. The menacing creep of "Doom Generation" slowly ramps up the anxiety before plunging the listener into a well of reverberating guitar.
Cosmonauts – Short Wave Communication feat. Shannon Lay. On "Heavenspeak," Cosmonauts punctuate an undulating dance rock groove with a wash of white noise. Though (lots and lots of) guitars are still the anchor of Cosmonauts' sound, A-OK! has instrumental surprises aplenty: a synth burbling below swaths of reverb on "Shortwave Communication" (which also features honey sweet backing vocals courtesy of Shannon Lay of Los Angeles band Feels) or a Wurlitzer going toe-to-toe with the guitars on the buoyant "Good Lucky Blessing."
"Party at Sunday," the record's first single, is a languid, longform lullaby with a placid guitar lead that's as soothing as it is sad. The accompanying video, a flickering array of beautiful people moving through a softly-lit, pink-and-blue world with an extended shower make-out scene at the conclusion, has racked up 20,000 views on YouTube. In typical Cosmonauts fashion, despite its gorgeous imagery, the song itself is a complete bummer. The denouement: "I fell in love and I hated it.".
Released August 19th, 2016 Cosmonauts – "A-OK!" from album, 'A-OK!,' out August 2016 on Burger Records.