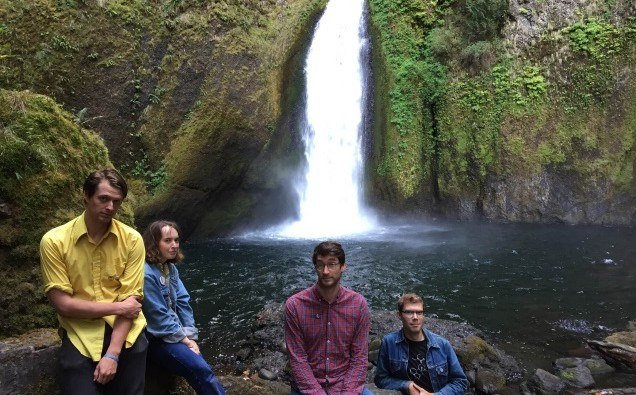 "The Gate", a new ten song album of cathartic, riveting post-punk excellence. The long-running group, comprised of veteran players in the Cleveland scene, have turned in what is arguably their best recorded output – and the first since 2015's "The Woods of Heaven". For "The Gate", Pleasure Leftists ventured out to Portland, OR in March 2019 to record on tape with Stan Wright (Arctic Flowers) – and the results are massive. Those familiar with previous Pleasure Leftists material will immediately feel reacquainted with the group's masterful arrangements and cool, confident execution – a style that draws from the early British post-punk classics on labels like 4AD and Factory Records,
Haley Morris's voice is a force of nature. The singer of long-running Cleveland post-punk outfit Pleasure Leftists has always had a strong, controlled alto, but the range and vibrance of her instrument—she's gotten comparisons to Siouxsie, Savages' Jehnny Beth, and "crying Dracula" in the past—is especially luminous on The Gate. Much less gloomy than their previous (excellent) work, The Gate still has the propulsive, danceable rhythms and winding, chorused-out minor key guitars of death rock, but there are moments here where the whole thing cracks open and joy—joy!!—leaks in. See "The Conversation," when the sublime pop chorus kicks in at roughly 0:45; both Morris's voice and Kevin Jaworski's guitar lift several steps; as Morris sings "The conversation is over now," bassist Steve Peffer and drummer Mark TerVeen hustle to a peak that feels like relief and release. (Feels like the best, and rarest, kind of closure.) Even the gothiest songs, like the spiky "Dancing in the Dark" and the tense, moody "Try the Door," have soaring bridges or choruses.
The musicianship is what makes this album feel like an absolutely classic piece of work. The tones are perfect – almost as though Greg Sage dialed them in for a Wipers record. You'll immediately be taken by Haley Morris's vocal range and projection, which shines across the entire album and is absolute next level work. The sheer artistic quality of the songwriting is propelled along in perfect rhythm, as the guitar and bass play off of each other wonderfully.