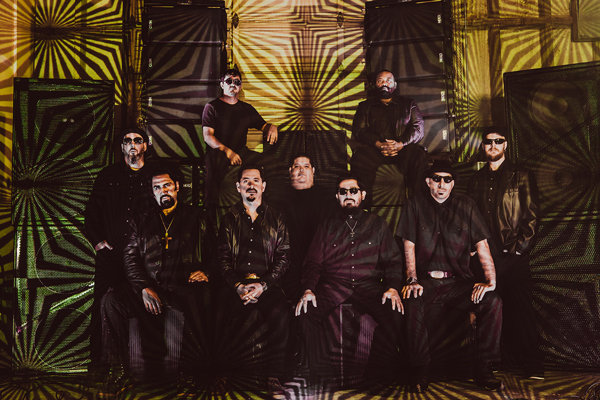 From Austin, Texas, the nine piece Brownout are a Latin band formed by members of Grupo Fantasma. Following up their acclaimed 2014 tribute to Black Sabbath, Brownout Presents Brown Sabbath, the band are releasing Brownout Presents Brown Sabbath, Volume II, on October 28th.
Brownout's Greg Gonzalez said how covering Black Sabbath came to be:
The idea started out as a half-joke. We were trying to brand the different nights of our weekly residency with different themes. We did James Brown's classic album "Black Caesar" as "Brown Cesar", we did a b-boy night and called it "Brownout 2: Electric Boogaloo" and in the process of brainstorming we mentioned "Brown Sabbath" as a night themed on Black Sabbath's music. It sounded good, but the more we thought about it, the more the idea stuck. I think myself and the other guitarists were all Black Sabbath fans. It just kind of comes with the territory of playing electric guitars and such. We (the string players) all grew up on the border and Black Sabbath, Ozzy, and all things metal were all hugely popular back then.
http://
The first volume of Sabbath covers featured classics including "Iron Man," "Into The Void," "Black Sabbath," and "Hand Of Doom." Returning for round two, Brownout cover "Snowblind," two songs ("Symptom Of The Universe," and "Sabbath Bloody Sabbath,") featuring guest vocalist Aaron Behrens, lead singer of Ghostland Observatory, along with vocalist Alex Marerro, "Sweet Leaf," and "Fairies Wear Boots" that appeared on their 1970 release Paranoid.
Brown Sabbath is the alter ego of Austin-based Brownout, delving into the catalog of the Hard Rock and Heavy Metal godfathers themselves Black Sabbath. "Hand Of Doom" featuring Black Angels singer Alex Maas on vocals is the lead-off single with "The Wizard" on the flip, pressed on limited colored splatter 10inch