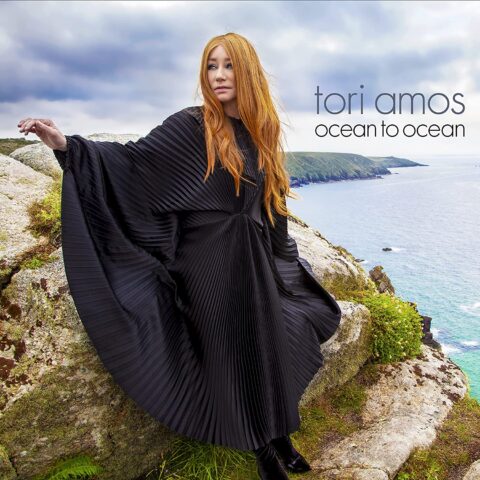 Tori Amos doesn't really do 'bad' albums, she went through a period 15 or so years ago when they were fairly challenging, with 15, 16, 17-track song-cycles that often felt hermetically sealed to all but her hardcore following. In recent times, a shift has been noticeable, and while she's unlikely to be troubling the pop charts anytime soon, "Ocean to Ocean" is arguably her most commercial and 'listenable' work for some time. It's a collection of songs in a variety of styles and sounds but it never feels overblown or dragged down by weighty concepts.
She say's I can't wait for you to listen to 'Speaking with Trees', which is the first song to be released from 'Ocean to Ocean'. 'Flowers Burn To Gold' written for Tori's late mother. The former boasts a full band arrangement with Tori's production and arrangement skills brought to the fore, while the latter is the one and only time on the record that she keeps things simple with just voice and piano (to great effect).
Tori Amos released her new album, "Ocean To Ocean". So far, we've heard "Speaking With Trees," and now Amos has shared the lush, orchestral "Spies." It's actually a cheeky peek into the Amos home in Cornwall, England, where "bats and other creepy-crawlies terrorize" the singer's daughter Tash. 
We have all had moments that can knock us down," Amos has said about "Ocean To Ocean", which primarily grapples with the singer's lockdown experience. "This record sits with you where you are, especially if you are in a place of loss. I am fascinated when someone has gone through a tragedy, and how they work through their grief. That is where the gold is. When somebody is actually at that place, thinking 'I'm done,' how do you reach that person? Sometimes it's not about a pill, or a double shot of tequila. It's about sitting in the muck together. I'm going to meet you in the muck."
Tori Amos' 16th studio album, "Ocean to Ocean", is out digitally on 10/29 via Decca Records, and she's shared the latest single, "Spies." The nearly six minute orchestral pop track, Is when they found their way into their home in Cornwall during COVID lockdown, and it has the same gently mischievous feel of songs like Unrepentant Geraldines' "Giant's Rolling Pin." .
'Spies' is fun, frothy and almost lightweight, 'Devil's Bane' is sweaty and swaggering Americana, while 'Metal Water Wood' starts ponderously before falling off a cliff into a killer chorus; catchy and hypnotic with wonderful work from Matt Chamberlain on drums.
It's apparent that "Ocean to Ocean" a very personal work and great though the previous album was (2017's Native Invader), the songs' meaning was not always clear. This time around, with no travel available for inspiration, the focus was closer to home and Tori wrote songs specifically for family members past and present, including herself, since '29 Years' reflects on her journey from her acclaimed solo debut, "Little Earthquakes", in 1991.
Never one to shirk a challenge, Amos even casually rewrites 'Happy Birthday' as 'Birthday Baby' in a dramatic tango-style at the end.
"This is a record about your losses, and how you cope with them," Tori says. "Thankfully when you've lived long enough, you can recognise you're not feeling like the mom you want to be, the wife you want to be, the artist you want to be. I realised that to shift this, you have to write from the place where you are. I was in my own private hell, so I told myself, then that's where you write from – you've done it before…"
A Decca Records Recording; ℗ 2021 Tori Amos, under exclusive licence to Universal Music Operations Released on: 2021-10-14