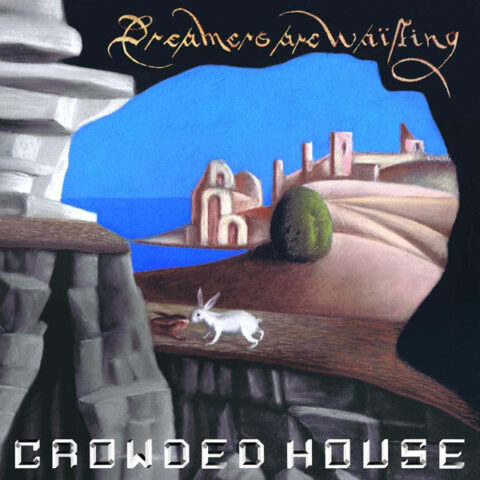 To be honest, and admit that the last two Crowded House outings – 2006's "Time On Earth" and particularly 2010's "Intriguer" – had left me with the feeling that I'd never really like another Crowded House studio album again (always a great live band). So when "Dreamers are Waiting" came along this year, I did approach it with a fair degree of trepidation and, at first, thought my worst fears were justified. The album initially felt too low-key, seemingly lacking the trademark big pop hooks and the song writing craft of yore. It rather drifted by, politely, without making its mark.
These first impressions were off the mark and the album revealed itself as a classic 'grower'. The listeners' persistence and patience is dutifully rewarded as "Dreamers are Waiting" unfurls its charms and presents its assets in a slow and controlled manner. The band reshuffle felt harsh on the excellent multi-instrumentalist Mark Hart (who found himself surplus to requirements), but the new line-up – Neil Finn; sons Liam & Elroy; original member Nick Seymour and the band's classic-era producer Mitchell Froom (on keyboards) – works very well. In fact, everyone contributes in a song writing capacity to the excellent 'Playing With Fire', which is the second song on the 12-track album. 'To The Island' was the single, so you may well know that number, but the nostalgic and melancholic 'Sweet Tooth' already sounds like a classic.
But it's on side two (in vinyl parlance) where the album really stretches its legs and impresses, with a wonderful run of songs, brilliantly arranged and performed. 'Too Good For This World' has the lo-fi charm of 1995's FINN album (which makes sense, since this track is co-written by Neil and brother Tim) and 'Start of Something' drips with atmosphere, features some brilliant harmonies and offers a sublime chorus. Neil's 'Real Life Woman' is arguably the best song on the record and rather punches you in the heart as it holds off it's wonderful and simple chorus line for two long verses and it's hard not to love the chaotic but charming 'Love Isn't Hard At All'.
This album was rather under-promoted in the UK and deserved more than it's blink-and-you'll-miss-it appearance on the UK chart (it peaked at #6). A COVID-delayed UK tour didn't help and this record will possibly get a second wind next year when the band finally perform in Britain. Sublime.