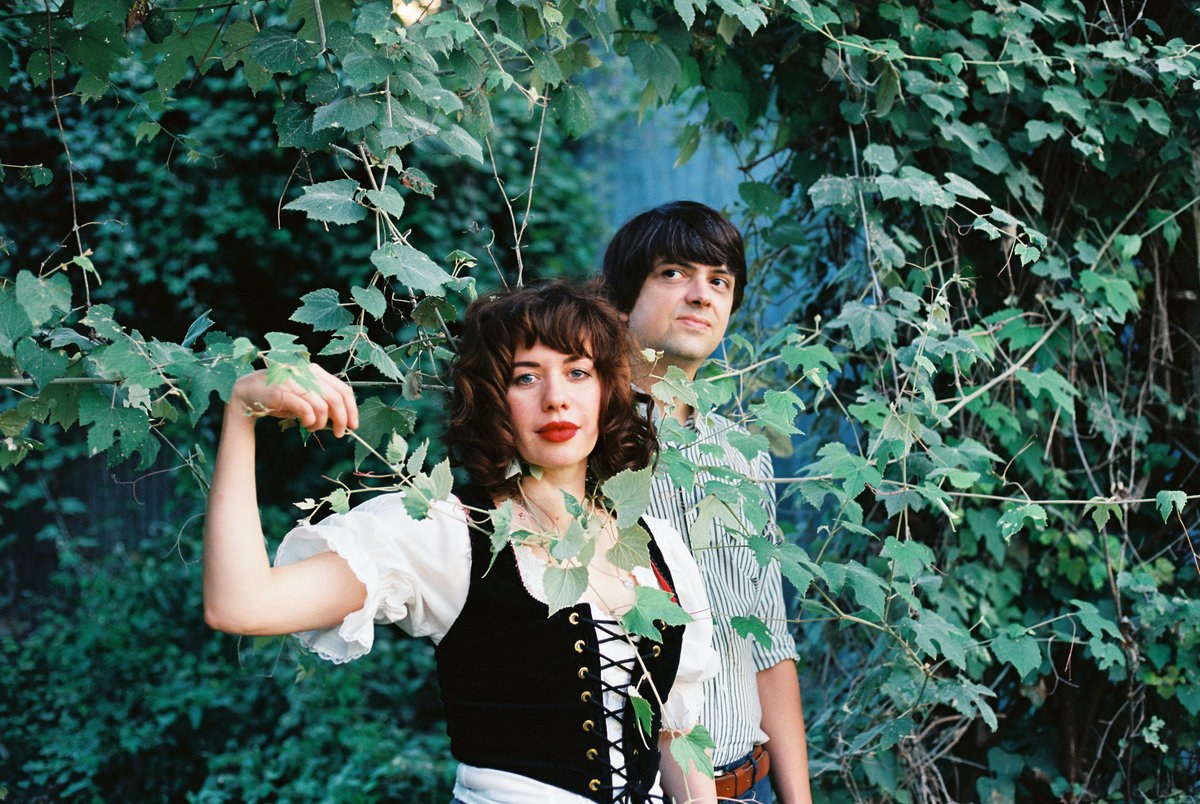 Natalie Ribbons and Jason Chronis had been kicking around in various musical projects in Austin, Texas, but knew they could fashion something pretty special when they met in outta Austin, Texas, Tele Novella is currently the duo of vintage shop owners. Merlyn Belle is a homespun creative bricolage that pulls from influences as diverse as cowboy troubadours and folk baroque to tell stories that are at once cinematic and deeply personal. Painstakingly assembled using a blend of hi-fi and lo-fi recording gear, Tele Novella have crafted a cohesive pop record that feels equal parts mysterious, evocative, and sincere.
Tele Novella is a project out of Lockhart, Texas living in a small town lost in time–where their classic and sincere pop song writing is slowly processed through a loner medieval-tonk machine and then captured on cassette 8-track. Their forthcoming record, "Merlynn Belle", was the music they wanted to be making all along but didn't know until it happened accidentally. It comes out February 2021.  A heartfelt band from Small Town, Texas, with a penchant for pop melodies and medieval harmonies, Tele Novella write songs the old-fashioned way and perform them in a minimal style filled with delicate arrangements. Influences include Connie Converse, Lee Hazlewood, Pentangle, Marty Robbins, The Magnetic Fields, and PRAM.
Tele Novella's humble country-psych-folk sincerity is magic. They have, quite simply, a belief in the power of song. Timeless, quirky and utterly charming. The two have fashioned up a pretty unique sound – one that touches with a post-modern knowingness and still an absolute sincerity on real deep old country, its sadness and yearning; also knowingly loving the slight absurdity of the form and glorying in it too, much like Jon Spencer Blues Explosion did with the beast of rawk 'n' roll.
The two recently relocated to Lockhart, with a pop:12,698 where they eschewed the endless, iterative possibilities of modern recording. Nope, eight-track tape and one song written and recorded at a time. Whole takes, no splicing. "Working with one song at a time allowed us to view each as its own world," says Jason.
For her part Natalie had a whole set of stories to tell, stepped in influences as diverse as Marty Robbins – and Pentangle. "This is the first time I just let the songs be about real life … real people," she says.
Release date: February 5th, 2021