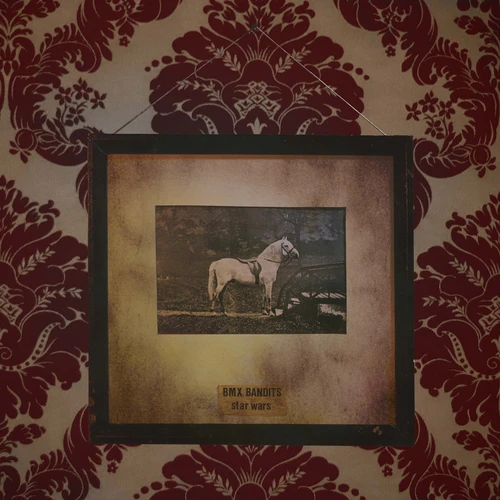 To celebrate the 30th Anniversary of BMX Bandits seminal sophomore LP Star Wars, Past Night From Glasgow will release the remastered album on Vinyl on May 4th (Star Wars Day)
Featuring the classic BMX Bandits line up: Stuart, McAlinden, Blake, Kelly, Keen and MacDonald the album is jam packed full of chiming guitars and catchy choruses not to mention the odd spectacular ballad. The sleeve has been updated (new wallpaper no less) and now features a die cut photo frame with an inner printed horse, how's that for classy updates?, Rock & roll is not a game for those with innocent hearts. Fortunately, there have been a few people with innocent hearts who have slipped through the cracks and brought a real sense of joy to the music scene. One of them is Jonathan Richman and the other is Duglas Stewart and his BMX Bandits cohorts (including Francis MacDonald, Norman Blake, and Joe McAlinden, amongst others).
Perhaps these artists are not literally innocent, but the music they bring to the table is passive, pure, and carefree, not aggressive or mean spirited in nature. The Bandits, of course, are one of Scotland's great unsung bands, sharing members with Teenage Fanclub, the Soup Dragons, Superstar, and others, yet steering a clear path of their own with captain Stewart and co-pilot MacDonald at the helm. Stewart's voice is a strange mix of Mike Love, Lou Reed, and Richman, but works perfectly within the context of the Bandits' music. With the sweet-voiced McAlinden (later of Superstar) handling lead vocals on a few tracks (and backing vocals throughout), there is a nice balance that saves the album from certain monotony.
Loaded with pop songs galore and beautifully produced by Duncan Cameron and the band, Star Wars is the first in a line of great Bandits albums. From the joyful "Come Clean," "Students of Life," "Life Goes On," and "Do You Really Love Me?" to the heart-tugging "Extraordinary," there is hardly a wasted moment within earshot. If you can imagine the sheer pop genius of Teenage Fanclub with Mike Love singing lead, then you may have an idea of what you're in for. And if you could put wide-eyed innocent pop back onto the charts, then BMX Bandits would be superstars.