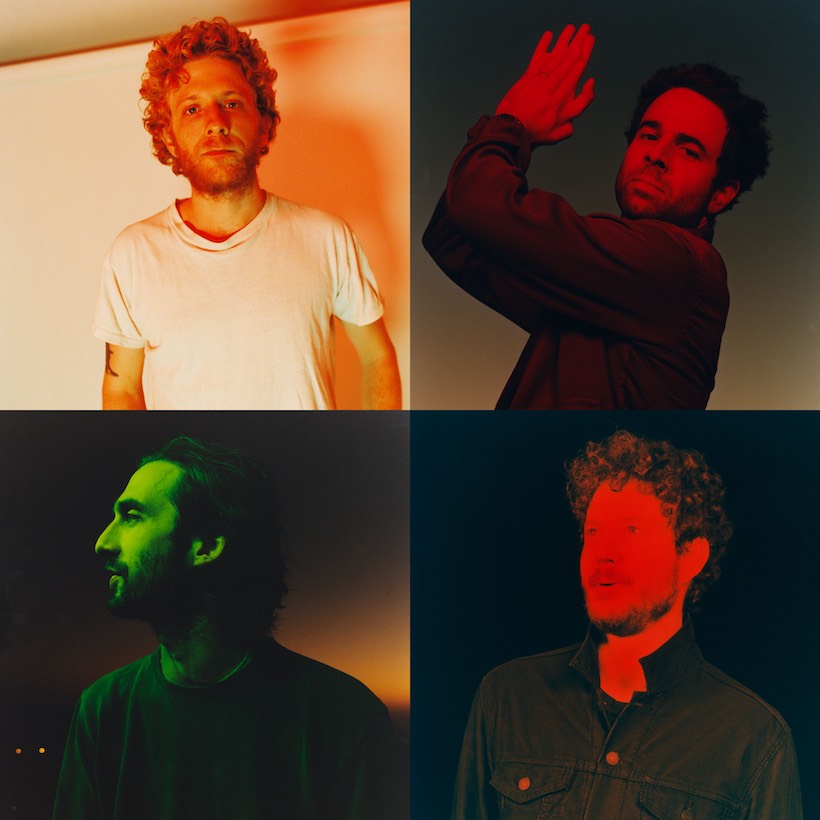 Dawes have released "St. Augustine At Night" as another preview of their first album for Rounder Records, and seventh studio release overall, "Good Luck With Whatever," which is due on October 2nd. Says Goldsmith: "'St. Augustine at Night' is a song about one's relationship to their hometown, but also is a song about the varying degrees in which we all watch our lives pass us by."  The five-minute track strikes a confessional, reflective air, with simple accompaniment to frontman Taylor Goldsmith's vocals by acoustic guitar and piano. The band, also featuring Griffin Goldsmith (drums), Wylie Gelber (bass) and Lee Pardini (keys), introduced "St. Augustine At Night" at some of their shows on their 2019 tour.
It's been 11 years (next month) since L.A. rockers Dawes launched dual residencies that fueled the success of their debut album "North Hills" and cemented them as Southern California favourites. Six albums later, their take on Everyman classic rock has aged well — familiar, earnest, relatable music that wears like denim.
The quartet — Taylor and Griffin Goldsmith, Wylie Gerber and Lee Pardini — today announced that their seventh album, "Good Luck With Whatever," will be out October. 2nd. It's their first release for Rounder Records.
"In the past, I've definitely been more precious about the way I wanted the songs to sound, but that's never as fun," Taylor Goldsmith says of the album. "The music we make is everyone's mode of expression, and the other guys all have chops that I don't have and never will. The fact that we're able to lean on each other and celebrate each other as individuals just makes us so much more excited about getting to play together in this band."
The first single "Who Do you Think You're Talking To?" is a saxophone short of a blue-jeaned Springsteen, the kind of tune you blare on the open road. "This song is about the way we bring our baggage with us as we move away from traumatic experiences and relationships," Goldsmith says. "And the irony of sometimes our newer partners needing to be part of the processing more so than the folks who caused the trouble in the first place. It's also about the other side of that coin — trying to assess a situation but knowing when not to take it personally and also finding a way to avoid over-analyzing.
"As a band, it was the first time we've ventured into certain grooves/arrangements for our tunes, so it was fun to push ourselves, see what felt natural and what we could get away with."
The album was produced by six-time Grammy winner Dave Cobb (Chris Stapleton, Brandi Carlile, Jason Isbell) at Nashville's RCA Studio A. Caitlin Gerard directs the video.
In June, Dawes released "Live From Richmond, VA," a digital album with proceeds going to Reform Jails LA and Black Lives Matter LA.  In the midst of all this changing and learning and growing we have decided to release 'Live From Richmond' as a digital download on @bandcamp with 100% of our proceeds being split 50/50 between @reformlajails and @blmlosangeles. Please check out both organizations if you have the chance.
Yesterday someone I admire told me that this is the first time they have felt hopeful in years. I've got a lot of work to do and this is barely just the beginning….but I feel hopeful too. And that feels so good. I hope you enjoy the music. Link in the bio. – TG The band's last studio album was 2018's Passwords, the last of three on HUB Records. 
Band Members:
Wylie Gelber,
Taylor Goldsmith,
Griffin Goldsmith,
Lee Pardini,