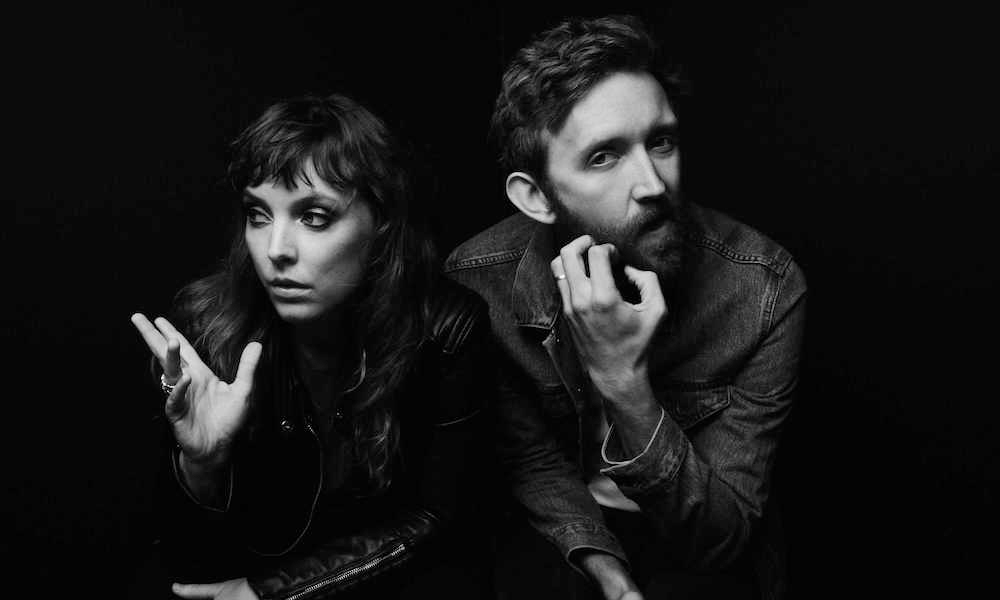 Sylvan Esso have shared the video for a mysterious new track, "What If": a brief, minimal and enticing track, just a minute and a half long. Over spacious synth-bleeps, Amelia Meath sings, "Oh life, dying out/ And the oceans turn to clouds." The music slowly swells up behind her, but it never quite crests. In the "What If" video, we see Meath singing as her head bobs in the ocean. The camera rises up over her until she's just a small spot amidst nothingness.
It's been more than three years since Sylvan Esso dropped their sophomore LP What Now, and it's been more than two years since "PARAD(w/m)E," their last proper stand-alone single. Back in April, however, the electro-pop duo from Durham, NC, premiered their concert film "With" on YouTube, while they surprised fans with an accompanying live album of the same name, via Loma Vista Recordings.
Both the album and film capture the final two nights of the band's 2019 WITH tour at the Durham Performing Arts Center, in which Amelia Meath and Nick Sanborn were joined by a 10-piece band. The film also offers a behind-the-scenes look at the musicians as they prepare for the tour. The 16-track live album spans material from Sylvan Esso's two studio albums – their self-titled 2014 debut and their acclaimed 2017 LP, What Now. In support of "With", the duo performed an intimate three-song set from their home for NPR's Tiny Desk (Home) Concert series.
Amelia Meath (formerly of Mountain Man) and Nick Sanborn (Megafaun, Made Of Oak) formed Sylvan Esso in 2013. They made their debut with the single "Hey Mami" and released their eponymous debut album on Partisan Records on May, 2014, which reached No. 39 on the Billboard 200. They released their second album What Now on April, 2017,