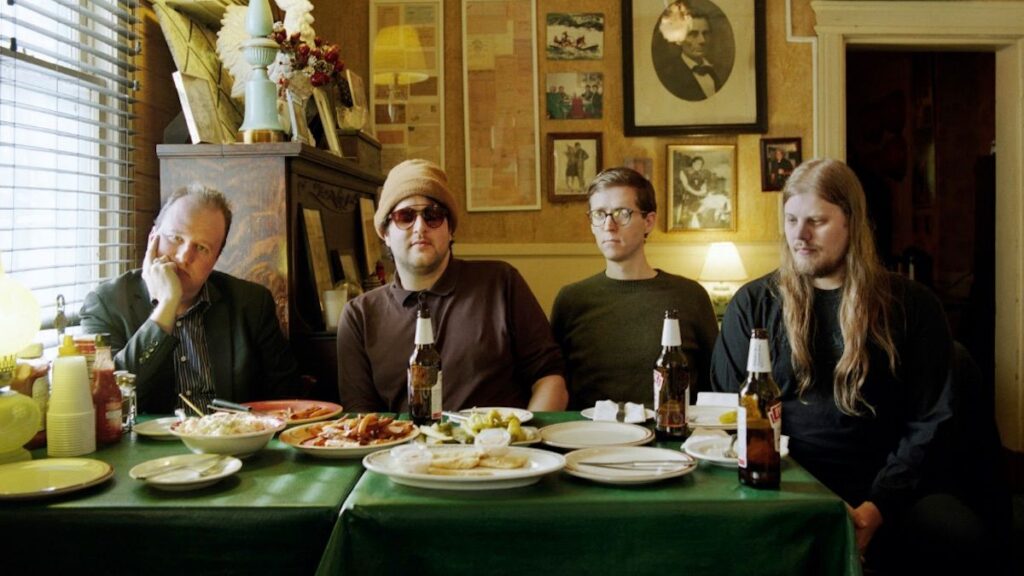 One of the most exciting rock bands of the last decade, the Detroit-based post punk band will release its fifth album, "Ultimate Success Today" July 17th. The word prophetic isn't a stretch. With its references to disease, institutional brutality, and gross inequality—symptoms of "a cosmic grief, beyond all comprehension"—the new record matches the apocalyptic mood of the US, and much of the world, in 2020. But it also speaks to the continued growth of the Protomartyr aesthetic, pairing guest vocals and contributions by players associated with free jazz and experimental music with reverb-drenched guitars and brittle rhythms.
Writing about the album, Ana da Silva of the Raincoats says: "Our world has reached a point that makes us afraid: fires, floods, earthquakes, hunger, war, intolerance…there are cries of despair. Is there any hope?" . Protomartyr's artistic growth, the uncanny influence of Robocop, and other doomed and damned topics.
In stark contrast to its title, Ultimate Success Today—the fifth full-length from Detroit's lugubrious post-punks Protomartyr—is a deeply dark album riddled with chaos, neurosis, illness, angst and anger about the state of the world. And rightly so. Yet while these songs are a fitting reflection of an America that feels like an empire on the verge of collapse—with an explosion of documented police brutality and murder, and the subsequent riots against the systemic racism that drives it, and the utter mishandling of the coronavirus pandemic, which continues to spread at alarming rates across the country—they were all written before that stuff really started spiralling out of control.
In fact, the initial inspiration was frontman Joe Casey's own physical ailments, coupled with the usual existential dread that tends to reside within him. The result is a harrowing record both sonically and lyrically, one that sounds as much like the product of a terrifying David Lynch nightmarescape as much as it reflects the actual horrors of the real world—a far cry, as Casey explains, from the "happy" record he hoped it might have been.
It's a weird time, because you learn not to dwell on the past, but you're also frightened of the future, so all you have is the present. Which is why it's "ultimate success today." And at  the end of it you hope that you can seize the day, as corny as that is. With "Worm In Heaven," the music sounded so beautiful, I felt if I'm going to write a swan song or a farewell address, I might as well do it now and get it off the books, so I don't have to worry about that later on. They can play this song at my funeral now, so maybe I can think about other things. It's a way to confront these weird feelings, get them down and then hopefully I won't dwell on it—and the next album will be the happy one!.
Protomartyr's sound is forged from the bones of punk and the blood of indie rock. The Detroit four-piece delivers heady lyrics with an ironic detachment in the vein of Destroyer and the Mountain Goats, while the blistering noise and distorted intensity of their music brings to mind Sonic Youth and early Sleater-Kinney. Their fifth album, Ultimate Success Today, continues this stylistic balancing act, with existentially oriented lyrics accompanied by ferocious guitars and frantic percussion that sustain a sense of anxiety. References to philosophical concepts and pre-Enlightenment literature could be considered over-thought if Protomartyr's sound didn't possess such raw immediacy. The band's catalogue is strewn with such musings about life as a fulfillment of a disappointing fate, and they've perfected that obsession here. The restless punk spirit and flippant, downtrodden ethos that prevail over the album render Protomartyr's painstaking intellectualizations as fuel for a visceral winding up and release of discontent.
Bridging the gap between one post punk era and next, these Michigan anti heroes influence is as clear and loud as is their bombast and rage. Album number 5 proving that the possibilities are unbound by any constraints or expectations.
"Angry and exhilarating. In short—dissonant angst delivered with precision." Socialist Worker
"The soundtrack of an uncertain future, capable of unleashing pulverising guitar noise, but not reliant on it." The Guardian ★★★★
"Harrowed, humane and stout-hearted, Protomartyr hold out for hope to the end and beyond." Record Collector ★★★★