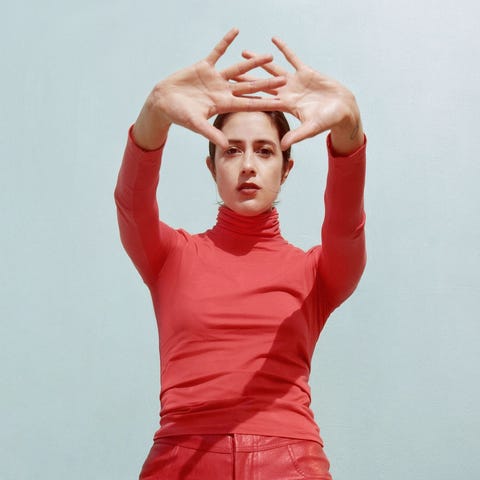 Half Waif is singer-songwriter Nandi Rose. Her new album The Caretaker, her first for ANTI-Records, is named for a fictional character, "someone who has been entrusted with taking care of this estate, taking care of the land, and she's not doing a very good job," Rose said. "The weeds are growing everywhere, and she's not taking care of herself." Check out Half Waif's "Halogen 2" video. The last album was so much about protecting myself – facing the night, bearing teeth and howling, shutting down an apocalypse, all so I could contain my world and build a fragrant shelter. I asked to be buried in the mother's arms. But then I read Braiding Sweetgrass by Robin Wall Kimmerer, and I felt it change my life. My shelter was here all along, in the embrace of the weeping pine and the scalloped leaves who wave to me in the wind. I have never felt so at home. And now it is time to be a mother and a caretaker, to nourish myself by opening my heart to others, to all people – human, plant, animal, everything endowed with the spark of life and the will to survive.
Growing up means better understanding what you need. For me, right now, that's a sweet summer of being a nobody, humble before the fierce kindness of these trees.
With a new album that was scheduled out on March 27th, I had lined up a New York release show and a subsequent North American headline tour—shows that had been in the works since last fall. This is my first record since signing with a new label, ANTI-Records, and I'd been banking on these headline shows (my first in over a year and biggest to date) to help build momentum around the release. Instead I spent an afternoon last week deleting all the events from my Google calendar one by one, feeling something crumble with every click. Disappointment made visual: this won't happen, and this, and this. Entire blocks of colors disappeared, leaving behind a blank gray grid. What was worse was breaking the news to my band members and touring crew, knowing they were counting on these shows for income. Of course it wasn't anything I could control, but it's still devastating to know that the domino effect of this dismantling machine means we all fall down.
"Clouds Rest" by Half Waif from the album 'The Caretaker,' available now