One of the UK's most charismatic and distinctive frontmen was taken from us when Steve Marriott, of the Small Faces and Humble Pie, died in a house fire on 20th April 1991. He was a cruelly young 44 years of age.
Thankfully, Steve's achievements as a true figurehead of pop and rock music, especially in the 1960s and '70s, are now widely acknowledged. His talents have been celebrated of late in the highly recommended musical All Or Nothing — The Mod Musical, which brings the Small Faces' story vividly to life and continues to play to massive response.
Marriott, from Manor Park in the East of London, was a born performer. He started his first band at the age of 12 and starred on the West End stage in Lionel Bart's hit production of Oliver! at just 13.
His dreams came true when the Small Faces, formed in 1965, made it big and enjoyed several years of hit singles and increasingly influential and experimental albums. Marriott's wanderlust and disillusionment with the business of music led him to leave the band and form Humble Pie. There, he developed a creative partnership with a new group of like-minded players, including Peter Frampton. "It was the best band you could ever be in as far as I was concerned," said Frampton, "because you've got my idol there.
Formed by Steve Marriott in 1969 after the break-up of Small Faces, Humble Pie epitomised the British rock supergroups emerging at the turn of the decade. With the charismatic Marriott taking on frontman duties, he enlisted Peter Frampton (then of The Herd) on guitar, Spooky Tooth's Greg Ridley on bass and a teenage Jerry Shirley on drums. The group released two beloved albums on Small Faces' former label, Immediate, before making a switch to A&M in 1970 and working up a harder, blues-rock sound that would earn acclaim on both sides of the Atlantic.
The group's self-titled effort, released in summer 1970, solidified their new direction and set Humble Pie up for a run of albums that would make an indelible mark on the blues-rock scene, among them Rock On, Smokin' and the classic live double-album, Performance Rockin' The Fillmore, recorded at New York's iconic Fillmore East, before the group temporarily disbanded in 1975. Steve Marriott fronted Humble Pie from 1969 to 1975, and briefly in a reunited version in the early 1980s. He also made some notable albums in his own name, including the 1976 solo debut Marriott. 1990's Marriott & Band included versions of his treasured Small Faces songs 'All Or Nothing' and 'What'cha Gonna Do About It.'
Shortly before the end of his life, Marriott was interviewed and he reflected with quiet satisfaction on his career. "I was seduced at 18," he said, "and it was quite good but it paled very quickly. I realised it had nothing to do with music and everything to do with the shape of your bum…what's been has gone, and I'm very proud of it.
"I've got what I wanted, which is just enough money to live on, in no great style but a nice way, and to have some respect from other musicians and play the pubs and clubs, where the music's still real.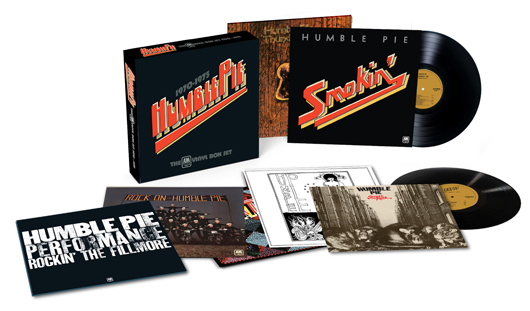 Steve Marriott and Greg Ridley are with us no more, but with the full input of both Frampton and Shirley, The A&M Vinyl Box Set 1970-1975 commemorates their great work. Collecting all seven of the group's A&M albums across nine slabs of 180g vinyl, it presents this part of the group's legacy in better-than-ever audio
"Eat It, in particular, had sound problems originally," says Jerry Shirley, who adds that they have "now been eradicated once and for all, so that our fans, old and new, can hear it as was it was intended to be". Much love and care has been put into assembling the package too, with the albums coming in a hardback slipcase and replica artwork – including the die-cut sleeve that originally housed Thunderbox.
"Jerry and I worked together with A&M for some time to get this released," Peter Frampton notes, adding, "We pay tribute to our two lost brothers, Steve and Greg, and hope you enjoy this as much as we did putting it all together.