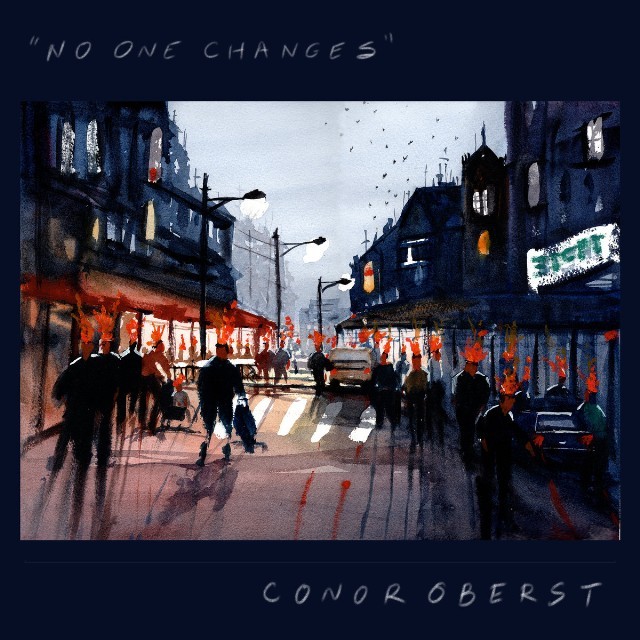 Conor Oberst dropped two new gloriously melancholy singles on Bandcamp Wednesday morning: "No One Changes" and "The Rockaways" The former is a somber, introspective piano number which elegantly drops lyrics like "a goddamn shit show." The latter is somber, introspective, post-breakup acoustic song with Bright Eyes's  Nathaniel Walcott contributing keyboard parts.
The songs can be purchased digitally now and will be made available as a double A-side 7″ single on February 1st, 2019.
In August, the Oberst's song "LAX" was featured on the soundtrack to the Ethan Hawke film Juliet, Naked. Hawke covered the song as his aging Gen X singer-songwriter from the film. Oberst then re-recorded a new version of the song with Phoebe Bridgers added vocals for Amazon Music's "Produced By" series. The track was produced by Simone Felice of the Felice Brothers (his backing band) for Amazon Music's "Produced By" series. Felice's session also features songs by Bridgers, Wesley Schultz (the Lumineers), and more. Oberst's song, indeed, does take its name from the Los Angeles airport. The artist formerly known as Bright Eyes includes lines in his bittersweet narrative like "It's raining in L.A./and everyone's gone mad" and "I'll pick you up, just tell me when you land" over simple solo piano chording and snippets of electro acoustic ambience.
Conor Oberst's last proper full-length Salutations came out in 2017, which was mainly a reworking of his 2016 album Ruminations.