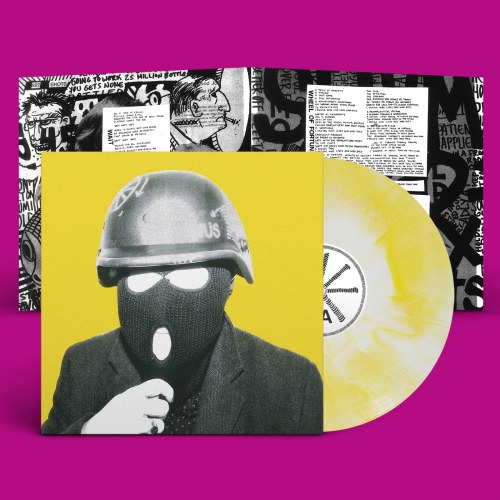 Protomartyr release a new EP Consolation, which they recorded in part with friend Kelley Deal. Two of the four songs feature Deal on vocals alongside singer Joe Casey. The EP was recorded by Deal's R.Ring bandmate Mike Montgomery and expandeds Protomartyr's arrangements with strings and woodwinds.
The video for the Deal-featured track "Wheel Of Fortune" is five minutes of confusing chaos that I can't turn away from. Directed by Yoonha Park, who handled the band's also-strange "Don't Go To Anacita" video, "Wheel Of Fortune" is an amalgamation of bleak, violent imagery paired with an equally jagged, experimental sound. A pulsing skull, a charging, electrified sword, a girl coloring in her entire face with cherry red lipstick, roughly scrapping your knuckle against a brick wall, punching yourself in the face, giving a thumbs up while your hand is on fire flash; these visuals grace the screen all while frontman Joe Casey and Deal repeatedly shout the lyrics "I decide who lives and who dies." It's a lot to handle, but aesthetically exciting.
The general vibe is spooky Halloween apocalypse. There's a solace brought on as the video switches to black and white. The music slows and a hypnotic groove ensues. Though, all that is ended quickly by the chanting of "Hands around their own throats."
Limited edition of the EP on yellow/white starburst vinyl, includes 12"x24" fold out poster, and MP3 download card.
EP Tracks
01. Wait
02. Same Face in a Different Mirror
03. Wheel of Fortune (feat. Kelley Deal)
04. You Always Win (feat. Kelley Deal)
Protomartyr – "Wheel of Fortune (feat. Kelley Deal)" taken from the new 'Consolation E.P.' out 15th June 2018 on Domino Record Co.