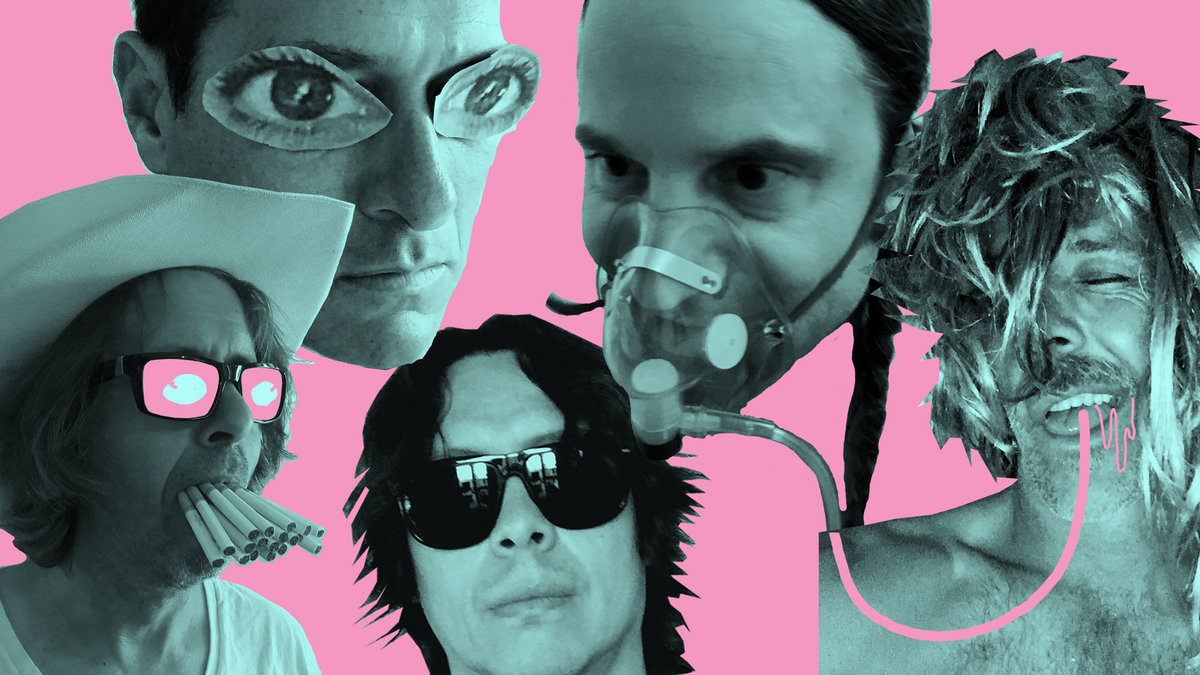 Swami John Reis and Rick Froberg have been making noises together since high school. In 1986 it was the post-hardcore chime. In 1991 it was the sprawling, multi-faceted arrangements of Drive Like Jehu. In 1999 it was the lean, mean swagger of
Hot Snakes
.
Reis
and
Froberg
are responsible for some of the most turbulent rock and roll of their, or any, generation.
Hot Snakes streamlined Jehu's complex compositions and emerged as bona fide downstroke warlords. They made 3 studio albums of high-velocity, slash-your-face, piss-punk: 2000's Automatic Midnight, 2002's Suicide Invoice and 2004's Audit in Progress. The band ceased activity in 2005 but reunited for a triumphant world tour in 2011,
Now, after a 14-year hiatus from the studio, Hot Snakes have kicked down the door back into our lives with their new album, Jericho Sirens, due out March 16th from Sub Pop.
"I considered stopping playing guitar on a social media poll after I completely mastered the instrument," Reis says. "But so many people kept sending me letters and voicemail messages, asking me at the dry cleaners, or the butcher shop to bring back Hot Snakes. They were missing rock and roll music. I've always considered Hot Snakes to be more in the vein of the proto-Vog movement of the early '70s. But to these people, this is their rock 'n' roll. I understand that. I totally understand people's desire to be controlled and humiliated by my guitar. Anyone can play the stupid guitar. The new album blasts out of the speakers with the furious "I Need a Doctor," inspired by Froberg's experience needing a doctor's note in order to miss an important work function. "Yeah, I had to be quick on my feet," says Rick.
Throughout Jericho Sirens, Froberg commiserates with the frustration and torrential apathy that seems to be a fixture in our daily lives, while also reminding us that we have no fucking clue. "Songs like 'Death Camp Fantasy' and 'Jericho Sirens' are about that," he says. "No matter where you look, there're always people saying the world's about to end. Every movie is a disaster movie. I'm super fascinated by it. It is hysterical, and it's a self-fulfilling prophecy. It snowballs, like feedback, or my balls on the windshield."
Musically, the album incorporates the most extreme fringes of the Hot Snakes sound (the vein-bulging, 78-second "Why Don't It Sink In?" the manic, Asian Blues on speed of "Having Another?"), while staying true to longstanding influences such as the Wipers, Dead Moon, Michael Jackson, and Suicide on propulsive tracks such as "Six Wave Hold-Down," one of the first songs written for the project during a Mummer Parade 2017 session in Philadelphia. Other moments like the choruses of "Jericho Sirens" and "Psychoactive" nod to Status Quo and AC/DC with Froberg admitting, "I still flip bird and ride my BMX on top of cop cars."
"My muse was love. It sounds like panic and chaos," Reis says. "Restlessness and unease. That's a sound that I would ask for. I want that record. The inspiration would be simple, maybe even kind of straightforward. Very early rock 'n' roll DNA with lots of rules. I would find some note or rhythm in it that captivated me and I dwelled on it and bent it. That's where I found dissonance. Bending and rubbing against each other uncomfortably. Marinate and refine. A lot of the other Hot Snakes records always had tension and release, but this one is mainly just tension."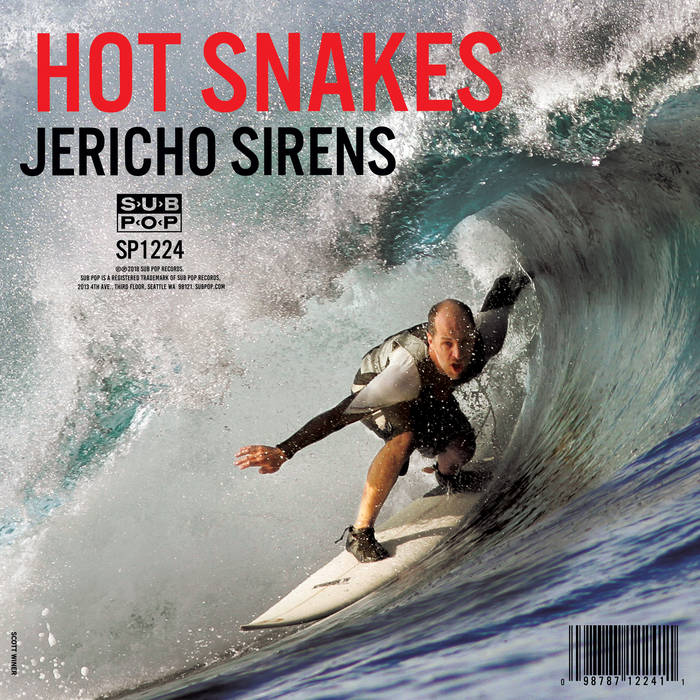 Jericho Sirens was recorded in short bursts over the past year, mostly in San Diego and Philadelphia with longtime bassist Gar Wood, Jason Kourkounis and Mario Rubalcaba, both of whom drummed on prior Hot Snakes releases but never on the same one. For Reis, reactivating his creative partnership with Froberg was one of the most rewarding aspects of the process: "Our perspectives are similar. Our tastes are similar. He is my family. And what more is there to say? My favorite part of making this record was hearing him find his voice and direction for this record. I came hard." 
http://
In tandem with a full back catalog reissue series and the new album, Hot Snakes will return to the road in 2018 to incinerate the villages, and they're already looking ahead to more music. Says Gar Wood, "There're already 2 more records written and recorded. We wanted to come out with this one using the more mainstream sounding stuff to give people a chance to catch up."
Releases March 16th, 2018