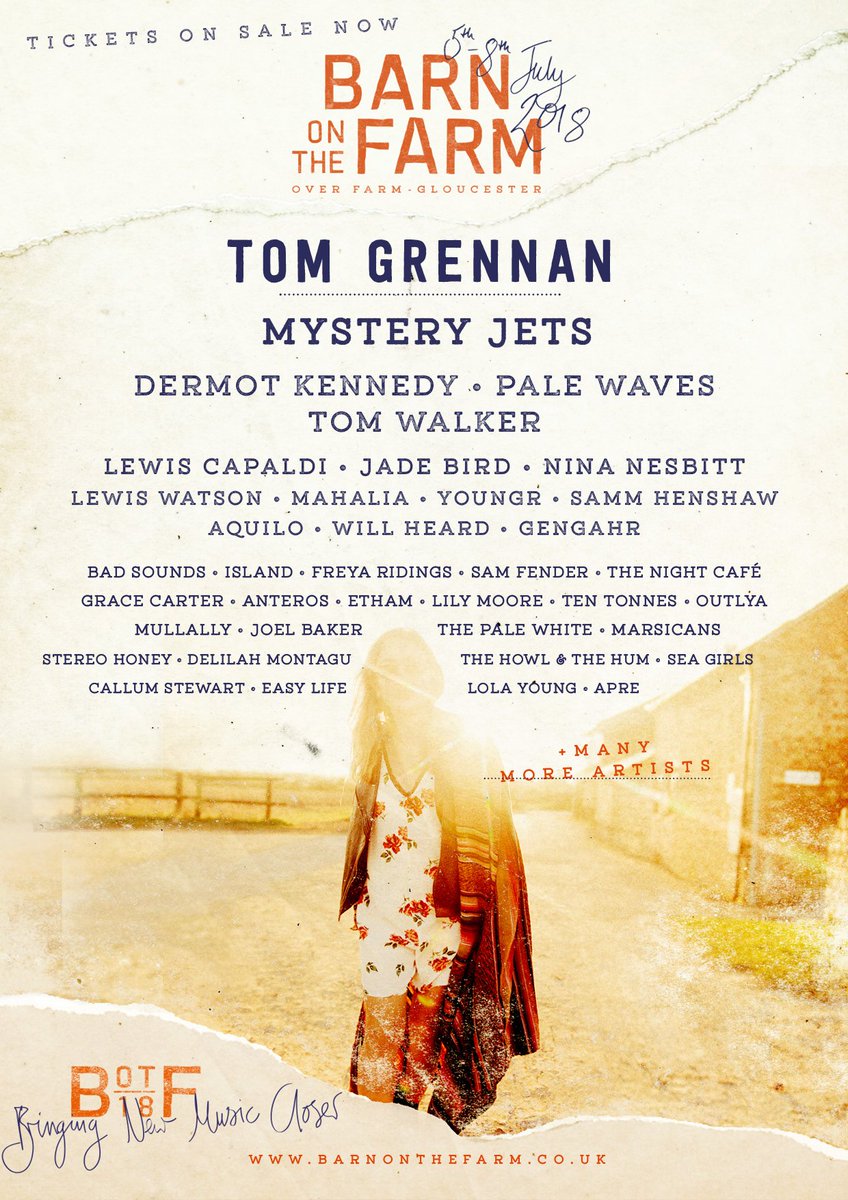 Barn On The Farm started the same year Popped Music was born and we've been welcomed into the fold over the last few years. We've had such a great time that we practically begged to come back again this year.  We've also named Barn On The Farm our favourite outdoor festival of 2016 and 2017! It's a special place full of friendly people.
A festival that is special for the people who run it, the people who play it and the people who visit. It's a small boutique festival with a special kind of attention to detail that delights. They have had the creme de la creme in live music play for them and this year is no different. Barn On The Farm takes care to bring their acts back time after time, pushing them further up the stages as their careers develop. Something that's really lovely to see when it's such a small festival.
As always there is an abundance of acts available to watch this year and we would happily watch every single one, so here are just a few of our ones to watch to whet your appetite.
Fours

My first pick is a band I've been wanting to see for over a year and haven't managed to yet. London's Fours make indie pop that really blows my skirt up. There's an edge to it, a spunky attitude and frontwoman Edit has a vocal that is more than your average indie pop vocal, it would sit well among peers such as Yonaka and Estrons should she decide she wanted to go darker and harder. Really excited at the prospect of seeing them at such a brilliant setting.
Lily Moore

I don't even really know where to begin with Lily Moore. I've seen her as recently as 2 days ago and before then sometime in 2017 and she impressed equally on both occasions. She is self-assured and really lets her emotions shine through her songs. Aside from being amazing, you really couldn't ask for more from a performance. She also knows how to engage her crowd, chatting away in between. It's an absolute pleasure and her vocal … just watch it below and go see her, I won't spoil it.
Anteros
A band, I believe, were initially introduced to me by our pals Flying Vinyl, Anteros have been working the festival circuit hard over the past 2 years and it shows. They're growing in so many ways and it's been a while since I last saw them even if other Popped writers have been there more recently. With uptempo tracks and a really entertaining live show, Anteros have more than earned a place on our ones to watch list!
Bad Sounds

I've been somewhat quietly obsessed with Bad Sounds since their debut single landed with me almost 2 years. This time last year I felt ashamed that as a new music blog I'd not shouted about them more so it was a no-brainer to change that, and I have.  I watched them play Barn on The Farm last year and since then if there's ever a chance to see them… take me there! If you've not seen them yet… add them to your to do list. The fun comes in thick and fast.