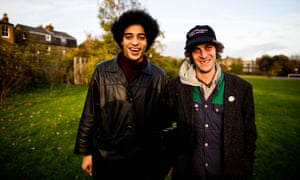 It's seldom that anything involving Fat White Family comes with a heartwarming story . Their music springs from a grimy personal world of mental torment and hard drug use. And yet, there is something at least vaguely cheering about the story behind the eponymous album by Insecure Men, a project that really came to life when the band's chief songwriter, Saul Adamczewski, was asked to leave temporarily after – and this is a very Fat White Family kind of story – refusing to vacate the Paris venue the band were playing on the night of the Bataclan attack because he'd arranged to meet a heroin dealer there later on.
After a fairly harrowing spell in rehab, Adamczewski has emerged not only clean, but eager to make music more tuneful and less unsavoury than the oeuvre of Fat White Family, in the company of his schoolfriend Ben Romans-Hopcraft. The latter is no stranger to unexpected musical transformations: his own band, Childhood, converted themselves from a middling shoegazey alt-rock combo into the makers of last year's Universal High, a brilliant, unfairly overlooked album rooted more in the tradition of British street soul than in indie music.
Anyone familiar with Adamczewski's previous work might point out that suggesting an album is more tuneful and less unsavoury than Fat White Family's work isn't really saying much, and they would have a point. It is perhaps worth noting that the lyrics on Insecure Men variously deal with Operation Yewtree, Gary Glitter's post-prison sojourn in south-east Asia, Adamczewski's brief period as a crack-addicted building site labourer in Penge and the respective deaths of Whitney Houston and her daughter Bobbi, retold from the viewpoint of the latter's ghost.
Insecure Men is often more unsettling than the last Fat White Family album, because, rather than the wilfully tuneless and grey noise that was Songs for Our Mothers' stock in trade, its tracks set this stuff to naively pretty melodies, at which Adamczewski is considerably more adept than his past work might lead you to believe: unashamed pop choruses abound, presumably stockpiled while attending to a different musical agenda. The Whitney Houston track features a children's choir, made up in part of the members of Rough Trade's young trio Honey Hahs (aged 11-16), singing about a celebrated, mythic cure for reviving a victim of a drug overdose.
Elsewhere, the music carries echoes of glam, the showtune-inflected singer-songwriter stylings of Harry Nilsson, 80s synthpop, and the kind of cheap drum machine and saxophone-assisted lounge music you might once have encountered in the bar of a provincial hotel. Deliberate or not, the preponderance of clangorous, trebly guitars, Adamczewski's disconsolate, estuary-accented vocals and the way the grimy production drowns everything in reverb recalls the early 80s work of indie pioneers the Television Personalities.
It also avoids the biggest failing of the last Fat White Family album in that the songs never seem to be trying to shock you for the sake of it: set to a fragile, off-key piano, the closing Buried in the Bleak depicts the dysfunctional relationship between Adamczewski and Fat White Family frontman Lias Saoudi far more effectively than the similarly themed tracks from Songs for Our Mothers that dragged Hitler, Goebbels and Ike Turner's abuse of Tina into the equation. Once you get over your initial queasiness about its subject matter, Whitney Houston and I is desperately and affectingly sad, a portrait of a young woman who never escaped her mother's shadow even in death, while Mekong Glitter is horrified by its subject's lack of repentance and by the old pop world's willingness to turn a blind eye.
It adds up to an album that feels like far more than just a repository for the tunes and musical influences, a slice of darkly skewed pop that's weightier and much better than the side-project label suggests. Whether it represents a one-off diversion or an ongoing path that runs parallel to Adamczewski's main musical outlet remains to be seen – there's apparently a third Fat White Family album due later this year – but Insecure Men is good enough to make you hope it's the latter.