Robert Plant  –  Carry Fire
Robert Plant releases Carry Fire, his 11th solo album on Nonesuch Records. The self-produced album is Plant's first since since 2014's Lullaby and…The Ceaseless Roar. As with that record, Robert is accompanied here by The Sensational Space Shifters, along with some guests, such as Chrissie Hyde and Seth Lakeman.
CD – The CD packaging is deluxe thick card with a beautiful satin finish and is accompanied with a 12-page booklet featuring lyrics.
2LP – Double 140 Gram Vinyl with side four etched. The vinyl packaging is thick card Gatefold with a beautiful satin finish and is accompanied with a 4-page booklet featuring lyrics.
King Gizzard and the Lizard Wizzard – Sketches Of Brunswick East
Sketches Of Brunswick East is King Gizzard and the Lizard Wizard 3rd album of five in 2017 and a collaboration with LA's Mild High Club. Just when you think you have King Gizzard and The Lizard Wizard sussed they throw a curveball – in the wake of two albums released in 2017 already, including most recently the dystopian end-times concept album Murder Of The Universe, which tackled in no uncertain terms the rise of robots and the downfall of mankind, comes Sketches Of Brunswick East, an entirely altered beast. Australia's finest and most productive rock band have done this before, of course: while the world was still reeling from their 2014 breakthrough psych-punk masterpiece I'm In Your Mind Fuzz (2014) they casually released 2015's expectation-confounding Paper Mache Dream Balloon (2015), a pastoral, sun-drenched acid-folk album. Sketches Of Brunswick East is a collaboration between King Gizzard and Mild High Club, the Los Angeles based tripster troupe signed to Stones Throw Records and led by Alex Brettin – the two bands formed a strong friendship touring together throughout the USA, Europe, and Australia. Recorded at the band's own Flightless HQ in East Brunswick, Melbourne Australia earlier this year and mixed at Stones Throw studios in L.A. it's the third of five projected albums to be released in 2017.
The Barr Brothers  –  Queens of The Breakers
All versions come with a bonus 5 Track CD of demos. Queens of the Breakers is The Barr Brothers' finest work yet, a collection of 11 hypnotically fluid songs that speak to the raw, elemental power of reflection, forgiveness, loss, and growing up. The record finds the band, featuring brothers Brad (guitar) and Andrew Barr (drums), and Sarah Pagé (harp), further on their thrilling path of exploring the outer limits of folk, blues, rock and Americana made north of the American border.
LP – Black Vinyl with Download.
LP+ – Gatefold Jacket with embossed titles with 2 pockets open. Translucent Light Blue Single Vinyl hosted in dust sleeves. Limited Edition including 12''x24'' Exclusive Folded Poster. MP3 download included.
Lomelda  –  Thx
Hannah Read has written and performed as Lomelda for most of her musical life. The project has been her outlet from the slow, shaggy days in her east Texas hometown of Silsbee, through moves to Waco and Austin, and into her wandering present. Her music is textural and spacious. Her words are suggestive snapshots of loosely knitted observations, depicting quiet moments between friends and lovers and half-remembered celestial occurrences. In her songs, the memory of the past and glimpses of future stretch out on either side of you, and the present is unsteady and always shifting.
Courtney Barnett and Kurt Vile  –  Lotta Sea Lice
A conversation between friends, documented in raw, unvarnished song form, brimming with personal history, crackling with energy and shot through with humour – this is the collaborative album of Courtney Barnett and Kurt Vile.Two of the most acclaimed and gifted song writers of our generation Lotta Sea Lice also sees them roping in friends such as Dirty Three, Stella from Warpaint and Mick Harvey to create a body of work that sounds organic and candid. Their shared chemistry is immediately apparent in the breathtaking jam of opener and first single Over Everything, while Continental Breakfast showcases a more melodic side as the two harmonise over finger-picked acoustic guitars. The two pay homage to 90's cult heroes Belly with a gorgeous cover of their classic Untogether and even celebrate their mutual respect by covering each other's music later in the album. This is an intimate glimpse into the shared musical world of Courtney Barnett and Kurt Vile.
HMLTD  –  Satan, Luella and I / Kinkaku-ji
HMLTD have emerged over the last twelve months and established themselves as the most thrilling and vital new band in years. Music, fashion and art collide to create an assault on the senses, their highly-individual pop a whirlwind of creativity and ideas. Satan, Luella and I is the latest instalment, following the singles To The Door and Stained. It's a six minute kaleidoscopic, rapturous musical joyride. Flamboyant and freewheeling, the band's imaginations have created a musical world that envelops the listener. The track is backed by live favourite Kinkaku-ji. Natural born performers, their live shows are already a vital experience as they turn each room they play into their own, blurring the lines between concert and exhibition, and between performers and audience.
Josienne Clarke and Ben Walker The Birds EP
Rough Trade Records release The Birds EP as a very limited edition 12" – 650 copies worldwide. The Birds is a suite of six songs that explore the themes of migration and departure. These are songs of autumn and shorter days, of flying south and the first feelings of early winter. It is deliberately dark and melancholic and ever so slightly sinister in places. In contrast to the full band-sound so exquisitely captured on their 2016 album Overnight, Josienne and Ben chose to record in a minimalist way using only instruments that they could play in Ben's basement home studio. It also allowed Ben the opportunity to experiment with Moog and drum machine rendering the songs with a subtle electronic text.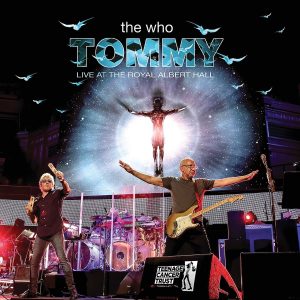 The Who, Tommy  – Live at the Royal Albert Hall
In spring 2017, in support of the Teenage Cancer Trust, The Who played the classic Tommy in full, plus an encore set of seven greatest hits at London's historic Royal Albert Hall.  This release includes every song from the 24-track studio album performed live, including Side Four's "Welcome".  Available in a variety of physical formats plus digital video and audio.
King Crimson – Official Bootleg: Live in Chicago, June 28th, 2017
Two CD set, taken from the band's most recent US tour. Media-book presentation with 24 pages booklet featuring photography by Tony Levin & David Singleton. Sleeve Notes by Robert Fripp & David Singleton. Featuring many iconic King Crimson pieces performed live by this line-up for the first time – some being played live for the first time ever, including: Islands, The Lizard Suite, The Errors, Fallen Angel, Cirkus & more.. "If we are looking for a KC live (show); Chicago was exceptional" – Robert Fripp "One of our best" – Tony Levi.
The Replacements –  For Sale – Live at Maxwell's 1986
Super limited copies with promo stuff – Postcards, Matches, Cut out figures and posters. In February 1986, The Replacements performed a classic live show at Maxwell's in Hoboken, NJ. Until now, that pristine recording of the legendary performance has only been available in low-quality bootleg form. Even so, Pitchfork has called the show "a fiery, focused set that would make a true believer out of any skeptic." For Sale: Live At Maxwell's 1986 finally make its commercial debut as a double-LP. This marks the first live album by the band to see an official release on this format. The show at Maxwell's would prove to be one of the last great performances by the four original members of the Replacements, a much beloved line-up including Bob Stinson on guitar, before his departure from the band in 1986. The songs they played spanned the band's entire history while giving prominence to new material from Tim, including Bastards Of Young, Left Of The Dial and Kiss Me On The Bus. Mixed in were favourites like I Will Dare from Let It Be (1984) and Color Me Impressed from Hootenanny (1983). The original 24-track master tapes of the show sat in the Warner Music vaults until being given a proper mix in 2007, but it would still be another decade before the concert would get its official release. Mehr writes in the album's liner notes: "Now, a decade later, and more than 30 years after the original concert, Replacements For Sale finally offers high-fidelity proof of the peculiar alchemy and unadulterated majesty of one of rock and roll's greatest bands."
2CD – Gatefold Softpack with Booklet.
2LP – Double 140 Gram Vinyl housed in Gatefold Sleeve.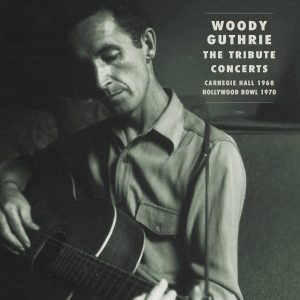 Various Artists  – Woody Guthrie, The Tribute Concerts
There's no shortage of celebrations for the legendary folk troubadour, but few as star-studded as the landmark concerts held in 1968 at New York's Carnegie Hall and then in 1970 at the Hollywood Bowl.  These remarkable affairs saw Guthrie collectively saluted by such luminaries as The Band, Bob Dylan, Odetta, Joan Baez, Jack Elliott, Arlo Guthrie, Country Joe McDonald, Richie Havens, Tom Paxton, and Pete Seeger.  Bear Family has boxed up these amazing pieces of history as a lavish 3-CD box set that's not to be missed!