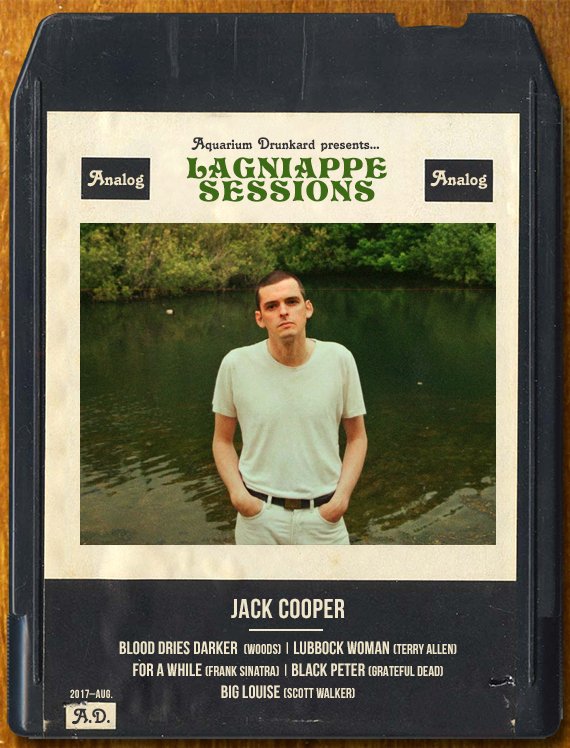 Lagniappe (la·gniappe) noun ˈlan-ˌyap,' – 1. An extra or unexpected gift or benefit. 2. Something given or obtained as a gratuity or bonus.
Earlier this year Ultimate Painting's Jack Cooper slid us an early version of his new solo album, "Sandgrown". At nine tracks we were immediately drawn to its sparse, tranquil, yet personal offerings inspired by his hometown of Blackpool off the coast of England. The effort finds Cooper waxing nostalgic about his time growing up on the Fylde Coast and the cast of characters that come with living and working in a seasonal resort town. Often compared to the Velvets, Sandgrown finds Cooper acknowledging other influences including Terry Allen and The Grateful Dead, mixing them with the experimental textures of John Cale and Robert Wyatt.
Jack Cooper :: Blood Dries Darker (Woods)
Woods have a special place in my heart because my wife and I are both big fans and we always listen to them together. I first saw them in 2008 in Manchester and it's been a pleasure seeing them so many times since then. This is my favourite song of theirs and although they never really play it, Jarvis dedicated it to my wife and I last time they played London. It's a pretty perfect song.
Jack Cooper :: Lubbock Woman (Terry Allen)
Terry Allen's Lubbock (On Everything) was a big influence in this solo album of mine. The framework of writing about a town or place opens up a world of possibilities. I've been writing about Blackpool since I lived there but the idea to do something centered on that was really inspired by this record and Watertown by Frank Sinatra. The words and the delivery is all about Terry, so it felt weird singing them. I scrapped the idea 4 or 5 times, before thinking 'fuck it'… it's a great song.
Jack Cooper :: For A While (Frank Sinatra)
Frank Sinatra's Watertown is just the most melancholic, downbeat, comforting record I've ever heard. It's his best album and his finest acting performance. Again…the delivery and words are all about him but I gave it a good shot. My friend Phil Anderson recorded some piano for me…it's blown out and weird.
Jack Cooper :: Black Peter (Grateful Dead)
I'm not too sure why I chose this apart from being a huge fan of the Grateful Dead. Robert Hunter was on fire around this time…such rich, interesting imagery and narratives. I really can't think of a better lyricist, and around this time in particular.
Jack Cooper :: Big Louise (Scott Walker)
Most of these songs I'll class as misses, in that they're all so hard to do justice too. The vocalists are way too singular and this one in particular I've included just for the hell of it. The phrasing and way he sings is so incredibly complicated. I couldn't even begin to get right. I've listened back to all of these at some point and become to self conscious about even submitting them (laughs). I guess there's something liberating about taking a shot at something and just going with it.