Merge Records hits the three-decade mark. Founded by Superchunk's Mac McCaughan and Laura Ballance in 1989, the imprint initially issued a series of 7-inches and cassettes before releasing the first full-length LP, Superchunk's Tossing Seeds singles compilation.
Of course, it's grown quite a bit since then. Though at first it was a DIY affair that saw their now-iconic logo slapped on recordings by a handful of local Chapel Hill groups along with bands from Kansas (Butterglory) and New York (Bricks), eventually the roster expanded to include some up-and-coming acts from Canada (Arcade Fire, Destroyer) and London (The Clientele, Ibibio Sound Machine), as well as some artists that even influenced the bands on the Merge roster (Bob Mould). It was once an outpost for promising young underground bands, and it still is. But it's also become a respected brand, and home to too many great bands to mention.
As the label launches a year's worth of anniversary festivities, we've assembled a list of 30 of our favorite tracks from Merge Records' history. There are, of course, plenty more where these came from. So think of it as a starter's sampler of essentials, and then go from there.
There is no Merge Records without Superchunk, but there is arguably no Superchunk without this song. Merge's seventh release overall would define both the label and the band, their first single not credited under their old name Chunk. Superchunk's version of power pop with fuzzed-out punk guitars and screamed melodies wouldn't propel a full album until at least 1991's No Pocky for Kitty on the Matador label. Instead, it was early vinyl sides like "Slack Motherfucker" that showed them in their best light for the first few years of their career. They could not have kicked things off better and tighter than with Mac McCaughan's desperate, matter-of-fact portrait of a lazy coworker. If members of the freaking Minutemen themselves were keen enough to cover it, surely Superchunk were on to something.
Founded by Superchunk's Mac McCaughan and Laura Ballance in 1989, the North Carolina based indepenent label MERGE RECORDS grew to become one of America's respected and essential indie labels for 25 years. Merge has always stayed true to its Indie roots with some highly acclaimed and influential releases over the years. from bands like Arcade Fire, Neutral Milk Hotel, Magnetic Fields. and The Mountain Goats.
Drive Like Jehu only released 20 songs during their career, which is an astonishing bit of trivia to be sure, considering the influence and legend of the band. Two years before they issued their landmark album Yank Crime, the San Diego post-hardcore quartet released a double-sided selection of bruisers on Merge—along with a couple of singles from John Reis' other band Rocket from the Crypt and the Reis-produced Superchunk album On the Mouth. The b-side to "Hand Over Fist" is the explosive standout, a song that sounds like it's speeding toward oblivion without brakes. That's what a lot of the band's taut, intense anthems sounded like, but even so this one feels just a little bit more like an impending collision, one of the most dangerous-sounding things the label ever released.
There has been enough written about In the Aeroplane Over the Sea at this point that adding much more to the analysis, discussion and legacy of the piece is practially impossible. However, "Two Headed Boy" Jeff Mangum's lyrically cryptic lo-fi solo endeavor is a haunting, mysterious masterpiece. Mangum's vocal range here feels like a full band, overshadowing his own guitar work with nuanced pace, breathy, at times smooth like velvet, at times pensive and afraid of its power. The guitar tone and work is perfectly serviceable, but it's the lyrics with perhaps allusions to Anne Frank, or the exposure of fame and success, that regardless become a powerful, spellbinding communion between listener and artist.
The 3-CD psalmbook 69 Love Songs—arguably the most adored self-imposed homework assignment in music history—is just as overwhelming a presence now as it was 20 years ago, even as a few of its lesser-acclaimed tracks have sifted themselves off the cubicle playlists of sub-romantics. About a third of its songs could plausibly be in this article, but "Papa Was a Rodeo" is as close to a centerpiece as it can claim, and probably the most popular track by points. As one generally does when they're writing 69 love songs in one go, Stephin Merritt rendered down a bunch of pop styles and personas for closer examination. "Papa Was a Rodeo" benefits the most from his off-hand gender agnosticism and very careful romantic distance. That this collision between two down-on-their-luck saloon dwellers has an atypically happy ending enhances its charm. If you'd rather, substitute it with any 69 Love Songs track that clocks in at 90 seconds or more (except "Love Is Like Jazz").
Nashville's Lambchop have never quite fit in comfortably anywhere someone would have them. Though they sometimes feature pedal steel and hail from country music's capital, they're not exactly country themselves. Sometimes they'll Auto-Tune the better part of a double album, sometimes they'll sound more like '70s soul. But "Up With People," the highlight of their career-high Nixon—a kinda-sorta concept album about our former president (kinda)—-more than anything showcases them as a powerful ensemble guided by the songwriting talents of Kurt Wagner. A backing choir implores "Come on progeny!" against an alternately noisy and jazzy Americana strut that feels a bit like Glen Campbell playing through Lee Ranaldo's amps, and though on a marketing level it's probably a head-scratcher, through headphones it's sublime listen.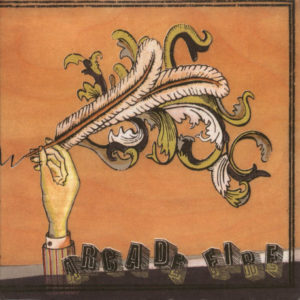 It just had to be. Arcade Fire have had more popular songs as their success has skyrocketed, but nothing captures the rise of the Canadian indie powerhouse quite like "Wake Up." Though they eventually made the move to major label Columbia, Arcade Fire actually remained loyal to the independent label for a long time after they'd achieved superstar level fame. That's in no small part thanks to the shot Merge gave them due to the songs on Funeral. There's something undeniably exhilarating about it, the crunching guitar quartets and that indomitable chorus of "aah aah aaaaaah"s get the blood going in a way that inspires action and made it the obvious choice for soundtracking a plethora of adventures, from Where the Wild Things Are to Walter Mitty. Bigger things have come from Arcade Fire, but "Wake Up" is a snapshot of a time when their raw energy was enough to sustain them.
"Wasting your days chasing some girls alright, chasing cocaine through the backrooms of the world all night." The opening lines of 'Kaputt' easily play into the vibe of the song; washed out, decadent and indulgent. But as with everything Dan Bejar and Destroyer do, there's far more layers to unwrap here. Kaputt means broken, and that's exactly where Bejar stands on such a life. Drawing on the lush sounds of the early '80s, the smoothest of saxophones gamboling through the reverb-drenched chords; the title track of Destroyer's ninth album and fifth with Merge explores the emptiness of hedonism with a numb and dreamlike quality. "I wrote a song for America, who knew?" Bejar wryly muses; ever subversive and critical, this is some of his finest songwriting from his finest album to date.
M. Ward has always made new music that's sounded like it might have been found on an old cassette, or even an antiquated 78, though he gradually embraced a less lo-fi, less stylistically vintage approach. Transistor Radio is essentially the middle point between his higher fidelity later recordings and the warm, fuzzy plucks of his earlier records. Many of the songs are really short, though on something like "Sweethearts on Parade," it does all it needs to in just over two minutes. A dense, almost shoegaze-like fuzz fills the background, letting effects-pedal distortion win out over tape hiss as Ward crafts a climactic melody that gets out just as it gets going
M.C. Taylor's prolific songwriting has been a large part of Hiss Golden Messenger's story—ten albums in ten years for those playing at home—with his country infused folk-rock stylings praised more for their consistency than any kind of broken ground. But this perception is elevated by the true gems that lie within the catalogue. "When the Wall Comes Down," the lovely folk closer to 2017's exemplary Hallelujah Anyhow, is one such. Playing out almost as bonafide gospel classic, it feels plucked out of the pages of history to be buried in the back-end of one of Taylor's collections, discovered only by the lucky few. "What'cha gonna do when the wall comes down, what you oughta do is let it lie," his whisky-soaked gravel voice sings over his strummed acoustic. Drawing further on the gospel traditions, the talk of walls and message of togetherness and reconciliation takes on weight now more than ever – even in two short years.
Based in North Carolina Merge Records is celebrating its 25th anniversary this year. From taking over baseball games to planning their own four-day festival, they've been doing so in style. The next part of their celebration is a 24-minute documentary chronicling the rise of their indie label. It features interviews with employees and artists and narration from Daniel Handler, the author of A Series Of Unfortunate Events who has his own history with Stephin Merritt and the Magnetic Fields. In addition to the documentary, the label has also shared videos of Merge Recording artists covering each other as part of a free sampler with contributions from Superchunk, Telekinesis, the Mountain Goats, Saint Rich, and Hiss Golden Messenger. Watch the documentary.