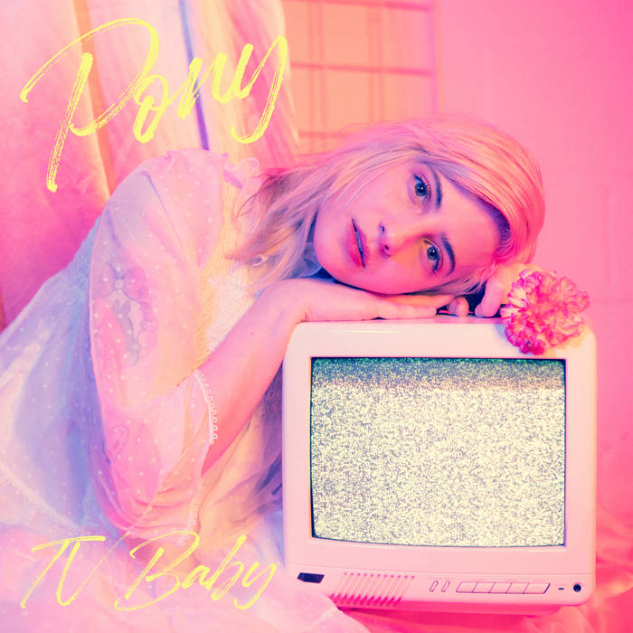 Toronto power pop band Pony have announced their debut LP "TV Baby", out on April 9th via Take This To Heart Records. The news arrives alongside their new single "Couch," which follows their previous track "WebMD." "Couch" has a gloriously nostalgic pop/rock feel that would be right at home in the trailer of a teen movie circa the Clueless era. The video takes us back even further with an intro straight out of an '80s low-budget religious broadcast, which eventually goes awry and features a guest appearance from the Zodiac Killer.
TV Baby, the debut LP from Toronto power-pop act Pony, feels like it's programmed from a different era. Driven by vocalist/guitarist Sam Bielanski's sharp vocal tones and flashy, driving rhythm, the band combines cheeky 1980s style with 1990s self-reliance and modern production sheen for an experience caught between worlds. It's hooky and vibrant, but don't mistake exuberance for extroversion. TV Baby is an album dedicated to the indoor cats, the introverts, and those who value their independence above anything else.
Bielanski, along with close friends Matty Morand (Pretty Matty) and Lucas Horne, have taken a piecemeal approach to worldbuilding here. They'll take you to the band computer, where Sam's frantically typing symptoms into a search bar into "WebMD," where body horror meets sugar-rushed guitars. Next comes a thorny survey of the "Furniture," fuzzy and scuff-marked, before letting you crash on the "Couch," a pop-punk ode to discovering new parts of yourself while the world rolls past. When others are present in this internal monologue, like those hurt and driven to "Cry," they're greeted with the same maximalist pop-rock. In Pony's gig economy, riffs beat out the rear-view mirror. Saddle up alongside them and your joyride is guaranteed.
Watch the video for "Couch" and preorder the album PONY – "Couch" (Official Music Video) From their upcoming album "TV Baby" Out April 9th via Take This To Heart Records