Ork Records: New York, New York  without the Velvets it's clear that Ork Records, a label began by Terry Ork and guided into temporary sustainability by Charles Ball, would never have been. Numero Group drops Ork's entire run onto 4LPs or 2CDs, opening with Television's majestic debut "Little Johnny Jewel" and offering Richard Hell, Alex Chilton, dB's, Lester Bangs, Cheetah Chrome, and more. The aborted Feelies 45 is an utter gem, "Fa Cé La" seeming birthed from VU's "I Heard Her Call My Name."
In the beginning there were three record labels putting out music from America's burgeoning punk scenes. There was Bomp Records In Los Angeles, Titan in the midwest, and, in New York City, Ork Records. 
Ork was founded by Terry Ork (born William Terry Collins) in 1975. Described by Patti Smith Band member  Lenny Kaye as a "cherubic individual", Ork had moved from California to New York as part of Andy Warhol entourage at the Factory , helping out on Warhol's films, He hung around the Factory until he was escorted out of the building under a cloud of suspicion of selling black market copies of Warhol's screenprints.
In need of a job, Ork went to work at the Cinemabilia bookstore, where he met punk pioneer Richard Hell.  Despite having no experience, soon afterwards Ork started managing Hell's band, Television . "He didn't come from the rock'n'roll world, but he was definitely enjoying his entrance into it," says Kaye.
"Terry definitely had a tremendous amount of charisma," says Jane Fire, whose band The Erasers is featured on a recently-released Ork records retrospective box set. "He had kind of a worldliness about him. He just was cultured. I mean, he could talk to you about Jean Genet and the Ramones . He was just as versed in both things."
Before launching his record label, Ork was already a regular at CBGBs, well known on the scene – enough to feature in the 2013 film CBGB , where he was played by The Big Bang Theory's Johnny Galecki.
"I began hanging out at CBGBs with Patti Smith on Easter of 1974," says Kaye. "That was the first time that we saw Televsion. I met their manager Terry Ork."
Kaye noticed that Ork wasn't a stereotypical band manager, but was more interested in helping the band achieve their purpose more than profits. It's an ideology he carried over into his record label, Ork records, which was eventually buttressed by his partner, Charles Ball, and two Hasidic men known as "the Hats" who helped finance the record label by, it was rumoured, dealing drugs.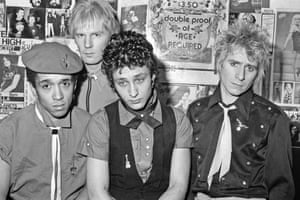 "Ork records began as a way to present some of the local bands that CBGBs featured," said Kaye. "Looking at the box set, it surprises me how deep their musical sensibilities went." CBGBs was the crucible for a lot of mould-breaking bands the Ramones, Blondie, Talking Heads – but while Ork released tracks by more well-known acts like Television, Richard Hell, the Feelies and Big Star frontman Alex Chilton, the bulk of their catalogue was made up of scratchy, trebly, energy-infused bands that never quite made it to that level of fame.
The likes of Cheetah Chrome, the Erasers, Marbles, Idols and Chris Stamey and the dBs were the more obscure bands of an already underground scene. "The scene was so much bigger than Blondie and Television and the Ramones," says Fire. "A lot of these bands, I mean, I guess we fit in that category too, were so important to the scene, but never got their due. If Terry hadn't been around, they may have been forgotten."
The Numero Group, known for re-releasing back catalogues and out of print albums, stumbled on the story of Ork records when one of the owners, Rob Sevier , bought a few of the 45s released on the label and decided to collect the lot. His partner Ken Shipley soon caught the fever, too, and they decided to assemble Ork's first full retrospective. Some of the songs hadn't even been released, thanks to Ork's flakiness about paying the studio bills. "This was like the first punk label in the world," said Shipley. "Their sole mission was to document an emerging scene."
And what a scene it was. "I don't think we ever realized how amazing it was," says Fire. "We had this loft and there were always these big parties where Allen Ginsberg and Iggy Pop would come by and Johnny Rotten would stay at our house. But you don't really realize what you're in when you're in the middle of it."
Ork records sputtered to a halt in 1980, Ork fleeing to Europe and then Los Angeles. He spent time in prison for fraud, adopted a new pseudonym and edited a film magazine, finally dying of colon cancer in 2004. The Numero Group leapt at the chance to allow his label to reclaim its place in history. However, as excited as they were to unleash Ork's musical vision on the world (again), Shipley and Sevier had their work cut out.
"Terry Ork is dead, and he didn't marry, he didn't have any children, how are we going to do this?" said Shipley. "There's no paperwork here, there's no contracts. This isn't what they did." Without any other option, Numero set out to contact every artist who had released music on Ork to find out what it would take to re-release the songs.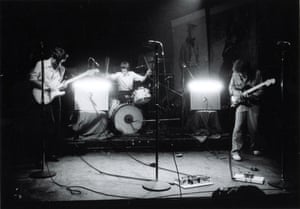 "We felt like Richard Hell, Television and the Feelies were going to be the biggest stumbling blocks, and it was a good thing that we approached them first because the Feelies took the longest to coming around," said Shipley. Hell told them he would participate, but only if they got every other act on board. "We kind of gambled, and said OK, we have to get everybody," said Shipley. "And if we have to get everybody, let's get everybody. We started finding people who were just tertiarily involved with the scene."
Because of the type of reissues that they do, Numero Group is used to doing a fair amount of detective work. "We use the same computer systems that they use to find deadbeat dads and credit card debtors," says Shipley.
They hit the motherlode when they got in touch with the owners of an Ithaca, New York, record store called Angry Mom Records. "He had bought the contents of a storage space that belonged to Terry Ork's partner Charles Ball, and in there came lots of records, but more importantly, all the paper," said Shipley.
As the project's scope became apparent, the partners threw themselves into it, sometimes at a risk to their own business relationship. "We fought about the sequence. We fought about the art, we fought about everything. Just because when you really love something, you want it to be perfect," said Shipley.
It took Shipley a year to write the book that accompanies the box set. "It's 190 pages, and it's close to 70,000 words," he says. The book and the musical retrospective offer a portrait of a man, Ork, while shining a new light on New York's punk scene. "The story has never been told," said Shipley. "All these people are only getting older, some of them are dead. If you don't tell it right now, there's never going to be an opportunity to tell it.
"It's not about the Ramones and it's not about Blondie and it's not about Talking Heads. They already have their own legacy sealed up," said Shipley. "This is like there's this world that existed after dark and, it was gone like that [snaps]. And the story that's inside of them – this is the account. It will be here forever. We set it down."
"I really believe that they helped document a very important scene and made it real," said Kaye.
CBGBs may be a clothing store now; the Bowery has some of the most expensive real estate in Manhattan; and the Ramones may be on T-shirts sold at Urban Outfitters, but thanks to Numero, Ork records won't be forgotten, which is good news for those who knew and loved Terry Ork. "He deserves that," said Fire. "At least that."
Ork Records Box Set is out now on Numero Group.
Patti Smith's independent debut "Piss Factory" came out in 1974; the following November, manager Terry Ork put out Television's first single, "Little Johnny Jewel", on his own label. They were the first flowerings of the New York renaissance.
By 1976, big labels had carved up the CBGBs underground; Television went to Elektra, Patti Smith to Arista, Talking Heads joined the Ramones on Sire, Blondie went to Private Stock and then Chrysalis. It was a feeding frenzy that drew aspiring oddballs to the Bowery in droves.
For a few months between 1976 and mid-1977, Ork – the scene's only active independent – had their pick of the new arrivals, snaring Richard Hell & The Voidoids, Alex Chilton, a pre-dBs Chris Stamey and The Feelies among others. This lovingly assembled, 49-track collection pieces together the projects – completed, abandoned and otherwise – that Ork helped to instigate, as the hustler-cum-superfan and sometime business partner Charles Ball seized their moment.
He completed the wiring of Television by introducing Cinemabilia employee Hell and Tom Verlaine to his leechy flatmate, guitarist Richard Lloyd ("There was a great love between us," Lloyd remembered of Ork. "For him it was romantic, for me it was platonic"). Ork managed Television until their ascent demanded a more astute approach, but he kept busy, releasing the American version of Hell's "Blank Generation" EP, before finding one member of bowl-cutted power-poppers the Marbles working at Cinemabilia, and making 1976's gloriously feeble "Red Lights" his third release.
Excited by some audio verité demoes recorded in Memphis by journalist-turned-producer Jon Tiven, Ball and Ork hauled Alex Chilton up to their studio of choice ¬ Trod Nossel in Connecticut – to put down the five tracks that make up 1977's surly "Singer Not The Song" EP. Chilton's stag-horned "Free Again" and the excitable "Take Me Home And Make Me Like It" are deliriously grubby, though his excitable whoop of "call me a slut in front of your family" on the latter seemed a little far-fetched; so poor during his couch-surfing year in New York that for a while he did not even own shoes, Alex Chilton was in no state to be introduced to anyone's parents.
Almost as an afterthought, Ork simultaneously put out "Girl" by Tiven's band Prix – a delicious analogue to Chris Bell's Big Star contributions. Tiven was not destined to be Chilton's new musical foil, though, his time as a sideman ending when the singer tried to stub a cigarette out in his face. Stamey had a much more successful dalliance with the ex-Box Top, Chilton helping piece together the North Carolina moptop's skinny-tie thunderbolt "The Summer Sun" – the final Ork release of 1977.
With the label momentarily buoyant, a major-label distribution deal was sought, but Ork and Ball's failure to snare one meant a raft of projects were mothballed. A Rolling Stones tribute LP vanished without trace, and tapes of The H-Bombs – featuring Stamey's future dBs foil Peter Holsapple – and Lester Bangs were farmed out to other labels. A first release from New Jersey's splendidly uptight Feelies also went begging, the frenetic version of "Fa Ce La" here canned at the band's request, though the song resurfaced as their Rough Trade debut two years later.
Ork, meanwhile, enlisted new financial backers – Hassidic Jews with decidedly unorthodox heroin habits. "Little Johnny Jewel" was repressed as a 12", but the reactivated label evidently found the CBGBs waters of 1979 much over-fished. Ork's final releases featured uninspiring cock-rock from the Idols – featuring ex-New York Dolls Arthur Kane and Jerry Nolan – and unremarkable one-offs from the Revelons and the Student Teachers. The last Ork release – former Dead Boy Cheetah Chrome's "Still Wanna Die" – was an Iggy Stardust glam-punk classic, much undermined by an incongruous flower-power sleeve.
"I like Terry," Verlaine said in 1979, showing uncommon generosity as he summed up Ork. "He has no business sense, but he's a great guy." At the bottom of the rear sleeve of Television's era-defining Marquee Moon is a note reading: "This album is dedicated to William Terry Ork." Like this collection, a small credit where it was due.
EXTRAS 8/10: A pleasantly bitchy book gives all Ork acts their due, a raft of rare tracks completing the picture. Prix offcuts are essential listening for Big Star fetishists, while unreleased Ork singles by Patti Smith-worshippers the Erasers, and angry loner Kenneth Higney feature, along with both sides of Link Cromwell's "Crazy Like A Fox" – the 1966 Brit-invasion knock-off voiced by Patti Smith Group guitarist Lenny Kaye, which was re-circulated by Ork. Another discovery is the first version of Richard Lloyd's sparkly "I Thought You Wanted To Know", later re-voiced and released by Chris Stamey on his Car label when it emerged that the object of Ork's affections was still under contract at Elektra.

Ork Records: New York, New York Track List:
1. Television – "Little Johnny Jewel"
2. Feelies – "Fa Ce La"
3. Richard Hell – "(I Belong to the) Blank Generation"
4. The Revelons – "The Way (You Tough My Hand)"
5. Erasers – "I Won't Give Up"
6. Alex Chilton – "All of the Time"
7. Chris Stamey and the dBs – "(I Thought) You Wanted to Know"
8. Prix – "Zero"
9. Marbles – "Red Lights"
10. Alex Chilton – "Take Me Home & Make Me Like It"
11. Prix – "Girl"
12. The Idols – "Girl That I Love"
13. Mick Farren and the New Wave – "Lost Johnny"
14. Cheetah Chrome – "Still Wanna Die"
15. The Idols – "You"
16. The Student Teachers – "Christmas Weather"
17. Erasers – "It Was So Funny (The Song That They Sung)"
18. Richard Hell – "(I Could Live With You) (In) Another World"
19. Chris Stamey – "The Summer Sun"
20. Alex Chilton – "Free Again"
21. Richard Lloyd – "(I Thought) You Wanted to Know"
22. The Student Teachers – "Channel 13"
23. Chris Stamey – "Where the Fun Is"
24. Prix – "Everytime I Close My Eyes"
25. Feelies – "Forces at Work"
26. Marbles – "Fire and Smoke"
27. The Revelons – "97 Tears"
28. Cheetah Chrome – "Take Me Home"
29. Richard Hell – "You Gotta Lose"
30. Chris Stamey and the dBs – "If and When"
31. Mick Farren and the New Wave – "Play With Fire"
32. Richard Lloyd – "Get Off My Cloud"
33. Alex Chilton – "The Singer Not the Song"
34. Richard Lloyd – "Connection"
35. Alex Chilton – "Summertime Blues"
36. Mick Farren and the New Wave – "To Know Him Is to Love Him"
37. Link Cromwell – "Crazy Like a Fox"
38. Link Cromwell – "Shock Me"
39. Kenneth Higney – "I Wanna Be the King"
40. Lester Bangs – "Let It Blurt"
41. Alex Chilton – "Bangkok"
42. Peter Holsapple – "Big Black Truck"
43. Prix – "She Might Look My Way"
44. Alex Chilton – "Can't Seem to Make You Mine"
45. Prix "Love You All Day Long"
46. Alex Chilton – "Shakin' The World"
47. Prix – "Love You Tonight"
48. Lester Bangs – "Live"
49. Kenneth Higney – "Funky Kinky"