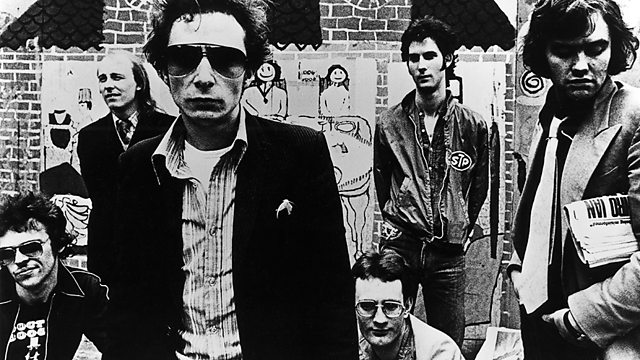 After he emerged in the pregnant pause between pub rock and punk, stardom never quite happened for the Camberley rocker, although his band's spiky sound has echoed through artists from Elvis Costello to REM.
A few months before punk, the first sign a new order on the way was an awkward little rocker called Graham Parker. he appeared on the bill at Dylan's concert at Blackbushe Aerodrome in 1978, only a few miles from his Camberley stamping ground, it was already clear by that time that the superior sneer, machine-gun delivery and catchy tunes of Elvis Costello
He was a skinny, T-shirted figure in shades; rough, honest, and angry. Heat Treatment has a Dylanesque snarl to it; a thirst for revenge in the light of the lost years mentioned above, and a sense of cutting to the chase, that there was no more time to waste.
One of the finest English songwriters of the past several decades, Graham Parker made a name for himself as the "angry young man" before the flurry of punk rock took over his native U.K. Sailing in on the smouldering embers of the pub rock scene, Parker came armed with attitude, amplification and an armload of great songs. From his first classic LP 'Howlin' Wind' (produced by Nick Lowe) and right up to his most recent outing with the reunited Rumour, 'Three Chords Good,' GP has never stopped traveling his own unique road. Caught between the preceding wave of Bruce Springsteen and subsequent rise of Elvis Costello, GP, through no doing of his own, somehow got lost in those waters.
'Howlin' Wind' (1976)
For most intents and purposes, Graham Parker emerged fully formed on his debut album, Howlin' Wind. Sounding like the bastard offspring of Mick Jagger and Van Morrison, Parker sneers his way through a set of stunningly literate pub rockers. Instead of blindly sticking to the traditions of rock & roll, Parker invigorates them with cynicism and anger, turning his songs into distinctively original works. "Back to Schooldays" may be reconstituted rockabilly, "White Honey" may recall Morrison's white R&B bounce, and "Howlin' Wind" is a cross of Van's more mystical moments and the Band, but the songs themselves are original and terrific. Similarly, producer Nick Lowe gives the album a tough, spare feeling, which makes Parker and the Rumour sound like one of the best bar bands you've ever heard. Howlin' Wind remains a thoroughly invigorating fusion of rock tradition, singer/songwriter skill, and punk spirit, making it one of the classic debuts of all time.
'Don't Ask Me Questions' put the lid on Parker's debut, 'Howlin' Wind,' with a perfect swagger. Employing a reggae inspired backdrop, GP delivers an attitude-laced gem. Lines like, "Well I stand up for liberty but can't liberate /Pent up agony I see you take first place" are delivered with pure venom as GP has this little conversation with God. Often accused of being too much the "angry young man," Parker used that anger to his benefit. Meanwhile, the Rumour never let up from their rocksteady groove. A live version of the song was released as a single in the U.K. in 1978 and made it up to No. 32.
'Heat Treatment' (1976)
On his second album Heat Treatment, Graham Parker essentially offered more of the same thing that made Howlin' Wind such a bracing listen. However, his songwriting wasn't as consistent, with only a handful of songs — like "Pourin' It All Out" and the title track — making much of an impression. Unfortunately, the record was also tamed by the production of Mutt Lange, who polishes the record just enough to make the Rumour sound restrained. Which means, of course, the sheer musicality of the band can't save the lesser material. Heat Treatment still remains an enjoyable listen — at this stage of the game, Parker hadn't soured into a curmudgeon, and his weaker songs were still endearing — but it's a disappointment in light of its predecessor.
In Parker's early years, the influences of soul music and Van Morrison were a constant presence. 'Heat Treatment' is a perfect merger of those influences and one of the highlights of his second LP. The jumpin' R&B feel of the song is complimented by the horn section, a staple of his early records. The song's chorus is so irresistibly catchy that if your toes aren't a tappin', you better check your vitals. The other great track. 'Fool's Gold' from Heat Treatment is again indicative of Parker's affinity for soul, and while producer Mutt Lange would go on to fame and fortune after aligning himself with pop-metal sounds of Def Leppard, his production here is crisp, direct and well suited to the sounds Parker was dishing out. A soul classic.
'Stick To Me' (1977)
Released in the fall of 1977, 'Stick To Me' was Parker's third LP in less than two years. The album was recorded once again with Mutt Lange at the board, but a problem with the tapes forced a re-recording with Nick Lowe back in the hot seat. The result was a more stripped-down approach that, despite critical indifference, ultimately suited the album perfectly. 'Watch the Moon Come Down' is as perfect a GP song as you're likely to stumble upon. The air of despair never sounded so beautiful. Graham Parker and the Rumour's third new studio album to be released in 18 months finds the bandleader running short of top-flight material; "Thunder And Rain" and "Watch The Moon Come Down" are up to his usual standards, but songs like "The Heat In Harlem" find him dangerously out of his depth. As a result, although fiercely played, this star-crossed release (it had to be re-recorded when the first version suffered technical problems) is a cut below Parker's first two albums.
Parkerilla (1978)
In 1978, Graham Parker & the Rumour's career was on the rise in the U.K. but going nowhere in America, despite rave reviews for his first three albums and a growing reputation as a powerful live act. Most observers, including Parker himself, blamed his U.S. label, Mercury Records, for failing to give him the promotion he needed Stateside; eager to find a more suitable corporate partner, Parker opted to finish off his contract with Mercury via that time-honored form of contractual obligation filler, the double-live album. In many respects,
The Parkerilla practically screams "Let's get this over with," from the skimpy running time (54 minutes, including a studio re-recording of "Hey Lord, Don't Ask Me Questions" that filled side four) and unimaginative set list, to a slightly dodgy mix that keeps losing track of the horn section, and a sequence that has a hard time keeping one of the most exciting acts of the day in forward gear. However, Parker and the Rumour were too good on-stage for The Parkerilla to feel entirely like a throwaway; Parker's vocals are tough and soulful at every turn, the Rumour get more of a chance to show off their instrumental prowess here than they did on their studio recordings, and when the players connect with the right song, as they do on "Back to Schooldays," "Soul Shoes," and "Gypsy Blood," it's hard not to wish this hadn't been such an obvious rush job, since the potential for a great concert set was clearly there. (The live take of "Hey Lord, Don't Ask Me Questions" is also superb, and makes mincemeat of the silly disco-influenced studio recut that closes out the album.) The Parkerilla has a reputation as a tossed-off disaster, and while it's a lot better than that, you don't have to know the back story to hear a band biding their time until something better comes along on this set.
'Squeezing Out Sparks' (1979)
Generally regarded as Graham Parker's finest album, Squeezing Out Sparks is a masterful fusion of pub rock classicism, new wave pop, and pure vitriol that makes even his most conventional singer/songwriter numbers bristle with energy. Not only does Parker deliver his best, most consistent set of songs, but he offers more succinct hooks than before "Local Girls" and "Discovering Japan" are powered by quirky hooks that make them new wave classics. But Parker's new pop inclinations are tempered by his anger, which seethes throughout the hard rockers and even his quieter numbers. Throughout Squeezing Out Sparks, Graham spits out a litany of offenses that make him feel like an outsider, but he's not a liberal, he's a conservative. The record's two centerpieces  "Passion Is No Ordinary Word" and the anti-abortion "You Can't Be Too Strong" — indicate that his traditionalist musical tendencies are symptomatic of a larger conservative trend. But no one ever said conservatives made poor rock & rollers, and Parker's ruminations over a lost past give him the anger that fuels Squeezing Out Sparks, one of the great rock records of the post-punk era.
With the 1979 album 'Squeezing Out Sparks,' Parker and the Rumour were finally starting to make headway in the American market. Ironically, the band was capitalizing somewhat on the success of acts like Elvis Costello and Joe Jackson, both of whom came late to the party Parker helped establish. Regardless, this new-found "spark" was full of charge, making one of GP's finest all-around albums. The R&B influences had been usurped by an urgent, straight-ahead pop approach. This proved to be a good move commercially, as well as artistically, as the songs here are all vibrantly full of life. The Rumour are rock solid throughout what may be Parker's finest LP. 'Saturday Nite Is Dead' is a real raver this full-on rocker stands as a testament to the power and urgency of the Rumour in their prime. Straight ahead, no frills, traditional rock 'n' roll, delivered full steam ahead, 'Saturday Nite Is Dead' was one of many high points on the fourth GP album. The Rumour tear it up while Graham spits it out. Perfection in action.
'Squeezing Out Sparks' ranks as one of Parker & the Rumour's finest hours, and 'Local Girls' is one of their catchiest singles. The sound of 1979 is in full bloom here as Parker does his thing amid a pure pop setting. It was released as a single in America with video to accompany it, but failed to even make the Top 100. It's a shame, since to this day, there's pop gold to be mined from these grooves.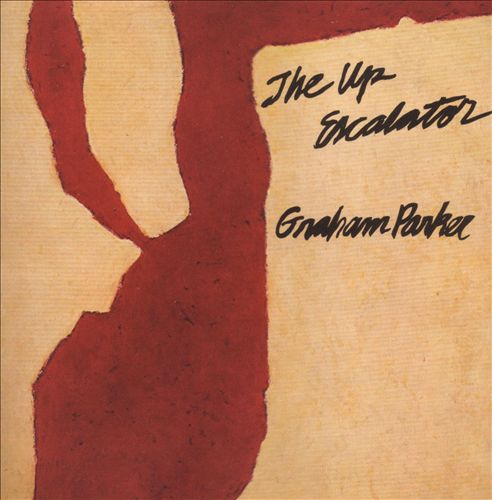 'The Up Escalator' (1980)
'The Up Escalator' (1980) would be the final album Graham would make with his legendary backup band, the Rumour, until their fine reunion effort 'Three Chords Good' in 2012. Produced by mainstream mainstay Jimmy Iovine, the album was an attempt to push Parker more into the mainstream, which worked modestly, as the album barely dented the U.S. Top 40. Chock full of great songs like the classic 'Stupefaction,' the album kicked off a rough decade for Parker artistically, as '80s production values often clashed with his style. Not so on this one though, as the pure pop washed with grit here ranks as one of Parker's best.
While it was something short of a hit, Squeezing Out Sparks did win a measure of richly deserved American recognition for Graham Parker & the Rumour, and for the follow-up, Parker's American record label, Arista, paired him up with hotshot producer Jimmy Iovine. The idea looked good on paper; Iovine had produced or engineered great sounding hard rock records for Bruce Springsteen, Tom Petty, and Patti Smith, and his tough but vibrant sound would seem the perfect match for Parker and his band. But one listen to The Up Escalator reveals that Iovine's trademark sound somehow escaped him for this project; the recording and mix are flat and poorly detailed (Brinsley Schwarz's lead guitar and Stephen Goulding's drums suffer the most), and the often mushy audio manages the remarkable feat of making the Rumour, one of the most exciting rock bands of their day, sound just a bit dull. But Parker fights the muddy sound every step of the way, and if his batting average as a songwriter is a shade lower than on Squeezing Out Sparks, he certainly offers up his share of A-list material, including the incendiary "Empty Lives," the passionate "The Beating of Another Heart," and "Endless Night," which features one Bruce Springsteen on backing vocals. Parker's singing is sharp and commanding, and even though the mix lets them down, the Rumour's performances are tough and precise throughout. The Up Escalator failed to catch the ears of the mass audience, and Parker would soon part ways with the Rumour, but if this album doesn't present them in the best light, it shows that they could play tough, passionate rock & roll that could survive even the most adverse recording conditions.
The Real Macaw' (1983)
Parker's 1983 album 'The Real Macaw' was another solid offering, stocked full of instantly catchy tunes and a solid crisp production. Despite all the checks in the plus column, no one was taking the bait. The album wandered up to No. 59 in the U.S. charts, but fell as quickly as it arrived. 'Just Like A Man' is another in a long run of dead-on, glowing pop songs from GP. Street-smart lyrics over a power-pop backdrop should have gone a long way to turn people's heads, but by 1983, Parker sadly at this point was yesterday's news to most.
Also check out the "Live at Marble Arch" album, On this promotional live album, Graham Parker and the Rumour combine selections from their just-released debut album, Howlin' Wind, and their upcoming second album, Heat Treatment, with such influential oldies as "Chain Of Fools" and "You Can't Hurry Love."
1977 BBC Top of the Pops with their version of The Trammps "Hold Back the Night" from The Pink Parker EP