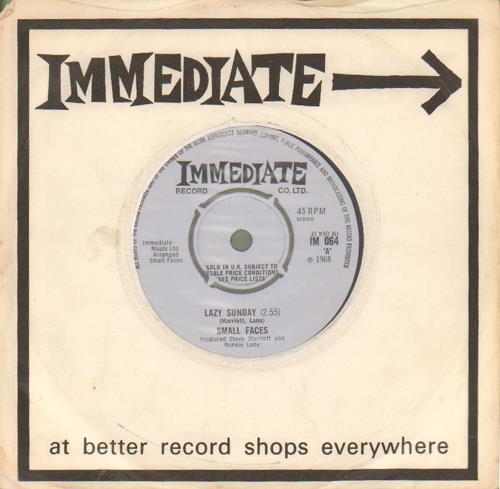 The Small Faces' third album arrived in 1968, just as every other rock band was getting ambitious. 'Ogdens' Nut Gone Flake' is no different. It was a concept album (well, at least Side Two is), centered on a sort of fairy tale. The narrative, like many from the era, is confusing. But the music – big, brash and way more complex than anything attempted by the group's spin-off band, Faces – is tops all the way.
"Lazy Sunday" reached number two on the UK Singles Chart in 1968. It was written by the Small Faces songwriting duo Steve Marriott and Ronnie Lane, and appeared on the band's 1968 concept album Ogdens' Nut Gone Flake and preceded the album as a successful single, despite being released against the band's wishes.
The low-budget promotional video for "Lazy Sunday" was filmed at drummer  Kenney Jones' parents' home on Havering Street in Stepney, East London and features his next door neighbour pretending to strangle Marriott.
"Lazy Sunday" has a traditional cockney East End of London music-hall sound. The song was inspired by Steve Marriott's feuds with his neighbours  and is also noticeable for its distinct vocal changes. Marriott sings large parts of the song in a greatly exaggerated cockney accent; he did this partly due to an argument he had with the Hollies, who said that Marriott had never sung in his own accent.  In the final bridge and the last two choruses, he reverts to his usual transatlantic (singing) accent.
The backing melody quotes "Colonel Bogey March" by F. J. Ricketts and "(I Can't Get No) Satisfaction" by the Rolling Stones played on kazoo. At the end of the song the tune dissolves into birdsong.