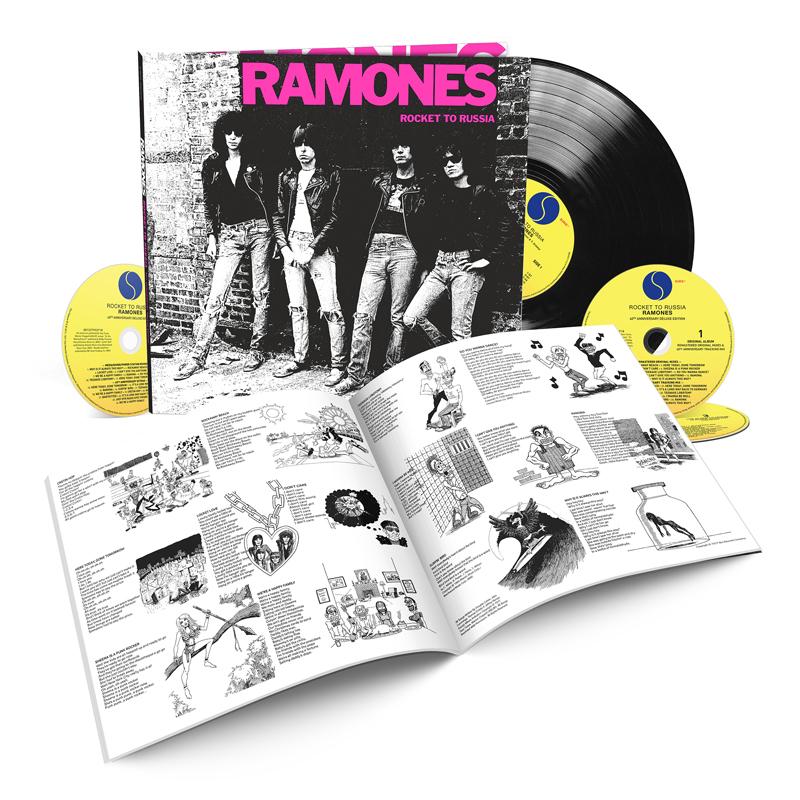 A third 40th anniversary deluxe edition is coming from the Ramones and Rhino Records, featuring the band's third album, "Rocket To Russia".
With punk rock reaching a fever pitch in the summer of 1977, the Queens quartet and Leave Home's producer and engineer, Tony Bongiovi and Ed Stasium, again came together to record another hard-hitting album of urgent but melodic tunes. Drawing from surf rock influences (and featuring a significantly bigger budget than their previous two records), Rocket To Russia was praised by critics for its humor and pop-friendly sensibilities, with tracks like "Teenage Lobotomy," "Sheena Is a Punk Rocker" (released in an alternate single version that spring) and "Rockaway Beach" becoming punk classics. The album also marked the end of an era; after Rocket To Russia, drummer Tommy Ramone stopped performing with the band, but continued as an intermittent writer/producer for the group.
Like the deluxe editions of Ramones and Leave Home, Rocket To Russia features 3 CDs, an LP and a photo-filled book within its 12″ x 12″ box packaging. A total of 63 bonus tracks (only two of which have been made available before) will be included in this set. Alongside the original album, Stasium has created a back-to-basics "tracking mix" of the original album, featuring some alternate takes and songs that were unused on the original album. A bonus disc of rough mixes from Mediasound and The Power Station studios, plus alternates, B-sides and even an original radio promo with frontman Joey Ramone, is also included, as is a previously unreleased 1977 concert recorded in Glasgow. The package is rounded out with an LP of the tracking mix.
This rocket takes off November 24th. Rocket To Russia: 40th Anniversary Edition (Sire/Rhino, 2017)