I already knew about Page and Keith and Clapton but…?! ,Those were the questions going through my head when I discovered this record. I was blown away. I picked this record up on recommendation in my local record shop because the guy who owned the shop—the older, wiser, connoisseur of rock 'n' roll vinyl—told me that I must have it.
Put on "Let Me Love You" at a loud volume, and you are instantly a cooler person. It's just true. I don't know the science, but it adds up, And Jeff Beck's solo in that tune… still one of the very best.
Beck, fresh out of the Yardbirds, released his first solo album in 1968 with help from Rod Stewart and Ronnie Wood. They weren't yet christened the Jeff Beck Group, but they were clearly a band at this point. (Other luminaries like Jimmy Page, John Paul Jones and Keith Moon also help out.) But most of the flash is provided by Beck, who slings his guitar into some new territory on 'Truth,' firing up old traditional and blues numbers with instrumental tricks.
By 1968, Jeff Beck had become a major pioneering force on the electric guitar, following Eric Clapton in the Yardbirds, before clocking up two pop hits with Tallyman and Hi-Ho Silver Lining. By the time he was assembling the band for "Truth" he determined to make an album for himself.
With Beck having established himself as a guitar player of the first degree on a quartet of bold and wickedly wonderful Yardbirds albums in 1965 and 1966 (For Your Love, Having A Rave Up With The Yardbirds, The Yardbirds [Roger The Engineer] and Over Under Sideways Down), producer/manager Mickie Most, thinking to capitalise on the guitarist's visibility, conceived the notion of turning Beck into a pop crooner. All but forgetting that Beck was first and foremost an instrumentalist, Most shackled him with a series of less-than-guitar-focused songs.
"I always kept my fingers on players," Beck commented in the 70s. "Every musician around London always knew what the other one was doing. All groups used to come and see each other play, and it was really nice. There seemed to be a purpose. It was like a competition: 'They're doing that in their act, so we'll have to cut that out'. It was great fun; nice, hot competition. I really liked the scene then.
"I had to round up a singer," he continued. "I couldn't think of who to get. I always liked Rod [Stewart], I dug him, with the teased hair and all the rest of it. "He was out of work at the time. He was hanging around a [London] club called The Cromwellian. I asked him if he wanted a job and [thinking Beck was drunk] he said: 'Yeah, but I don't believe you. Ring me tomorrow'. And I was more sober than I've ever been that night. And I couldn't believe that he said yeah, because I thought he was a snob."
With a singer in tow, Beck then set out to look for a bass player. Ronnie Wood continues the story: "I knew Jeff, but I'd never had a chance to go and sit through a whole show. I'd just heard little bits of him when he used to play with a band called The Tridents [Beck's pre-Yardbirds band]. I suppose Jeff was one of my best friends, even though he was in another band."
After the relative ease of getting the first two band members, finding a drummer was a nightmare. Beck went through Ray Cook, his former bandmate in The Tridents, the Pretty Things' Viv Prince, ex-John Mayall drummer Mickey Waller (we'll come back to him), Rod Coombes (later of The Strawbs), and another former Mayall graduate, Aynsley Dunbar. Although the last named held real promise, it resulted in yet another drum debacle. "I played with Jeff for four months,".
"He was a bastard," Dunbar complained of Beck. "He was so loud I couldn't hear. I didn't have any mics on my drums; the band had 100-watt Marshall amplifiers blaring; no monitors. With drummer Mickey Waller re-hired, and after several months of gigs, the quartet went into Abbey Road Studios on May 14, 1968, to begin recording an album. The material the group recorded was a combination of the live set, reworkings and some odds and ends. The album opens with a devastating slow version of the Yardbirds' hit Shapes Of Things, with Beck turning in a virtuoso performance. Let Me Love You was part of the stage set and one of the few self-written pieces, setting up the call-and-response sequence between guitar and voice that Beck and Stewart had perfected live.
On July 29, 1968, Jeff Beck, along with a kick-around vocalist, a future Rolling Stone, and a drummer with a lot of bash released Truth. The album was a miracle of fury and berserk beauty, a testament to the jaw-dropping chops of a 24- year old guitarist who, over the course of 10 tracks and around 40 minutes, ran the gamut from electric blues and modified R&B to psychedelically influenced rock, classical, and even a little heavy-metal instrumentalism. With Truth, released just months before Led Zeppelin's debut  album release – and with songs and personnel in common.  Jeff Beck, vocalist Rod Stewart, bassist Ronnie Wood, and drummer Mickey Waller (the core band) made an album that would become every guitar player's bible and every hard rock band's Holy Grail.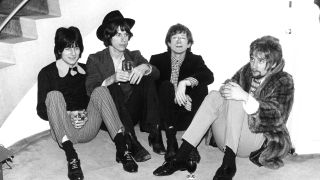 With Ronnie Wood on bass, Rod Stewart on vocals and guests like Jimmy Page, John Paul Jones and Keith Moon Nicky Hopkins, Aynsley Dunbar and Madeline Bell.  popping up for guest spots on Beck's Bolero, it was an album that not only helped establish the British blues rock sound, but featured many of its best exponents. Audacious and experimental, it smashes genre conventions at every turn.
Morning Dew, another song from the touring circuit, is a pulsating interpretation of Tim Rose's classic, and it's given a dirge-like solemnity from Beck's breathtaking mastery of the wah-wah pedal. Here (and on closer I Ain't Superstitious), Beck demonstrates amazing prowess with the then-new effects pedal.
Then there is the great catastrophe of You Shook Me, the old blues chestnut written by Willie Dixon and originally recorded by Muddy Waters. The song was on Truth, and was then re-fashioned by Led Zeppelin for their debut album some months later.
Ol' Man River, the Oscar Hammerstein II/Jerome Kern standard is an odd little creature. With Beck on bass, John Paul Jones on Hammond organ, and tympani by 'You Know Who' – actually Keith Moon – it is one of the album's lesser moments. But it did prompt Truth engineer Ken Scott to recall The Who's drummer living up to his 'Loon' nickname. "One has to remember Mr Moon playing tymps.
On vinyl, side two of Truth opens with Beck having picked up an acoustic for a shaky but stirring version of the classical… er, classic Greensleeves. "It was just an idle mess around in the studio while I was waiting for Mickie," he said. "Why not? It was the vital last track of the album, and nobody could think of what to play, so I just played it. That's why there's all the plinking and plonking and bad notes in it. I can't play acoustic guitar very well."
Rock My Plimsoul is a track Beck recorded back during his Mickie Most/solo career period. That staggered little drum lick from Aynsley Dunbar (who is uncredited) sets the song in motion, and provides a rhythmic trampoline on which Beck's guitar jumps and twirls.
Willie Dixon's You Shook Me and I Ain't Superstitious are masterfully reinvented, even Broadway hit Ol' Man River and the Henry VIII-authored Greensleeves are dragged into Beck's musical vision.
And then there is the timeless and epic instrumental Beck's Bolero. Recorded in May 1966, this rendition of Ravel's famous Bolero was the B-side of Hi Ho Silver Lining and was meant to serve as the launching pad for Beck's idealised supergroup. Players include Jimmy Page on electric 12-string, Keith Moon on drums, John Paul Jones on bass, and Nicky Hopkins on piano.
'Truth' is surely one album to consider as a forward thinking, Blues Rock to Rock Metal template for the future of guitar music. Some of the tracks were written as early as 1966, which just makes you realise how cutting this album is for something released in 1968.