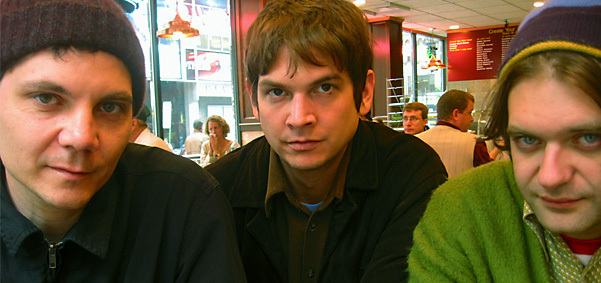 Jeff never disappoints. Totally dig everything he's done. This is no different. Great record.  The "supergroup" featuring Jim O'Rourke, Glenn Kotche, and Jeff Tweedy, who all together make Loose Fur ! If you were ever curious, their debut, self-titled record leaves no doubt – these dudes can really fuckin' play!
Recorded during downtime on "Foxtrot" and refined in the two years since, however, this experiment mostly serves to reinforce what we're already well aware of: Jeff Tweedy's formidable strength as a songwriter, the pervasive nuance of O'Rourke's by-now trademark production, and Glenn Kotche's unconventional, sometimes overly ambitious approach to percussion.
Oddly, the most predictable elements of Loose Fur are its most "arty" and "experimental"– songs that either follow the laws of entropy and dissolve in a rising swell of dissonance (Like the opener "Laminated Cat") or defy them entirely, allowing melodies to emerge gradually from the sonic clutter ("So Long"). Despite its relative brevity (six cuts over forty minutes), Loose Fur establishes a familiar pattern early on, and it's actually the more conventional music– exhibiting Tweedy and O'Rourke's common soft spot for classic rock– that leaves a more lasting impression.
"Laminated Cat" will be instantly recognizable to Wilco archivists as a more sedate reading of the Foxtrot castoff "Not for the Season". In its original incarnation the song was a somewhat generic rocker drawn by loops of distorted guitar and gently evocative laptopery into an improbable seven-minute jam. Tweedy's lyrics are mostly incidental to the tidal pull of the rhythm and O'Rourke's otherworldly fuzz– a stoner's recognition of time passing exponentially faster, years spent accumulating piles of books "not worth reading." Kotche's percolating thumps grow progressively (and predictably) louder as the tune ambles self-consciously towards the imploding plastic inevitable.
Loose Fur released Domino Recording