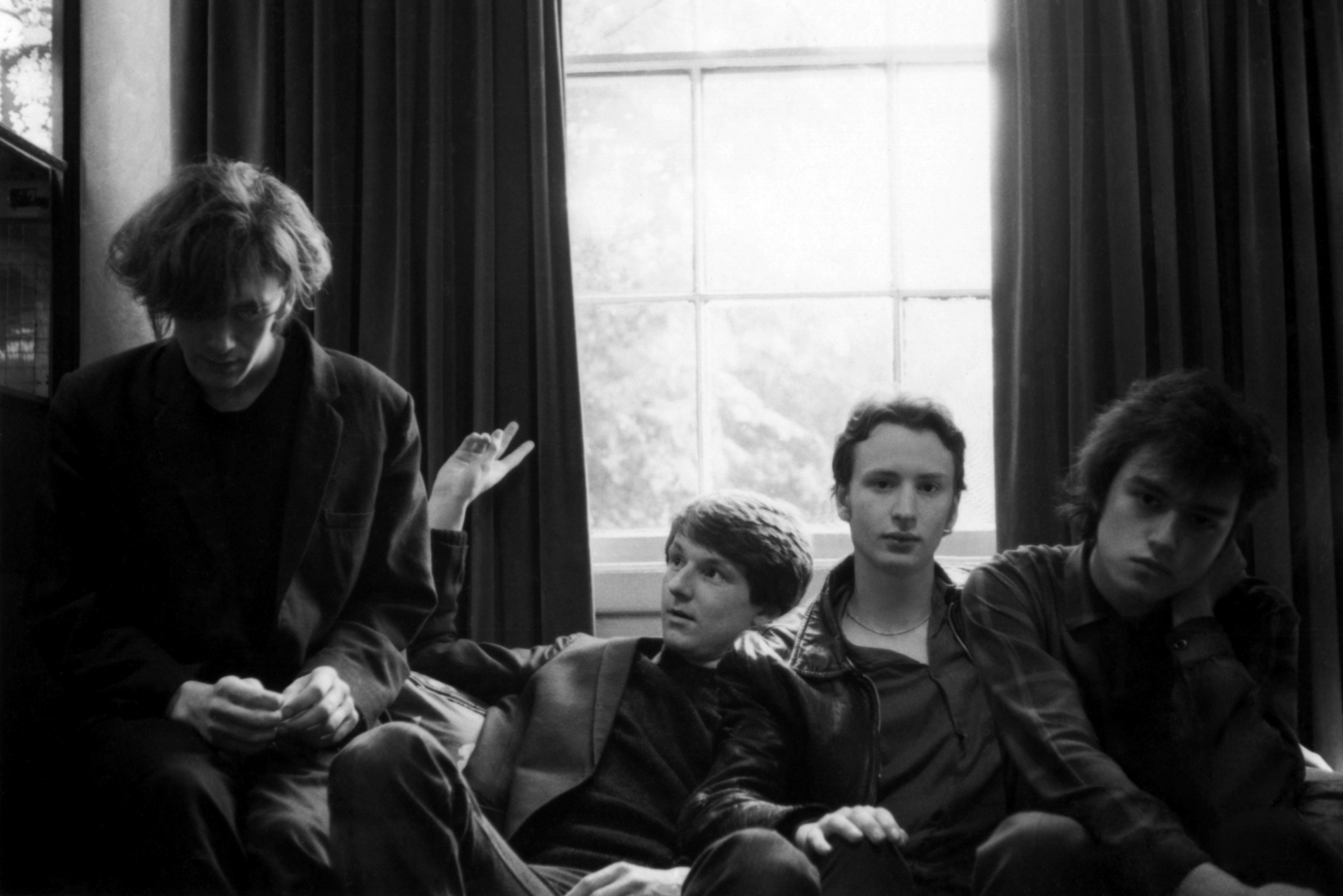 He's fronted three of the UK's most cherished cult bands (Felt, Denim, and Go-Kart Mozart) written stacks and stacks of brilliant songs, conceptualized and then realized everything he's ever set out to do. Except one thing. And that one thing means a lot to him. That one thing is to be famous. Lawrence—like Madonna, he's mutated into an almost entirely mononymous figure to the point where it is just as difficult to imagine anyone ever calling him "Mr. Hayward" he hasn't picked up a guitar inside his own house for a long time. "I refuse to play an instrument in this flat until its ready," he tells me, as we sit in his living room. He moved in seven years ago.
Which isn't to say that he's spent that time sitting around getting through the extensive stacks of first editions and paperbacks that litter his flat, a collection crammed with the kind of esoteric material you'd expect from a songwriter beloved by a certain kind of bookish music fan.
The reason that I've been summoned to his house for the afternoon, a task which is virtually a rite of passage for writers who own a Field Mice album, is because he's on the verge of releasing the fourth Go-Kart Mozart record, the chintzy, synthy Mozart's Mini-Mart(due February 23 on Cherry Red) . Go-Kart Mozart is the third act of a career that begun just outside of Birmingham as punk was in bloom. For nearly 40 years now Lawrence has played the underdog to perfection, honing an air of misunderstood talent, revelling, or at least seeming to revel, in never quite being as big as he believed he should. Here lies Lawrence, his pose seems to say, The great indie enigma.
On the last day of his secondary education, the 3rd of May, '77, he abandoned his friends, and trekked alone to the Odeon in Birmingham to see seminal New York punk-adjacents, Television.
"I'd never seen a band like that before," he says, a smile crawling across his thin, sharp face. "I didn't expect it to be the way it was. I was in shock. They just stood still, didn't talk to the audience, and they were very moody." He was going to be somebody. So he started work on the project that would, and still does, hang like a shadow over his life's work; he started Felt. Over the course of ten albums—technically nine, as Lawrence contributed nothing but song titles to the 1988 LP, Train Above the City—Felt created their own world.  They'd release 10 albums in 10 years over the course of the 80s, retiring, so the plan apparently went, in the face of the desperate protestations of the millions of fans they'd garner over their time together. Fame awaited, maybe fortune too.
Though Lawrence wasn't ever really responsible for chart smashes, that doesn't mean he shouldn't have been. From pretty much the very beginning of the band, he had a knack, his hyperliterary lyrics and writing simple, direct songs as immediate and approachable as any of guitar wielding pop songwriter. He writes subtly and evocatively about love and loss, but even when he's straining under the weight of the world, he imbues the band's best songs with an otherworldly glow. He has a preternatural knack for writing these glorious pop songs that don't compromise their bleak worldview, singing devastating lines a joyous smirk (see: the delicate wheeze with which he delivers this immortal barb "Your mind's a vacant lot that's for sale).
A big part of the charm of these songs comes from his childhood acquaintance Maurice Deebank's guitar work. Without ever smudging them with distortion, or many effects at all, he has this freewheeling, lyrical way of twisting around Lawrence's genteel chords, filling Felt's more upbeat tracks with an impossible color. Even as Lawrence sings sometimes—as on the the golden-hour refractions of "Spanish House"—your ear can be more drawn to Deebank's gleaming leads, which flutter with speedy stillness in the margins. It's no wonder they wrote so many instrumentals, some of Deebank's leads are hooky enough to be pop songs of their own.
"When we were doing the first album, I wanted to release the best English debut album ever," he says of 1982's spindly, embryonic Crumbling the Antiseptic Beauty LP. "It'd be too conceited to say 'I want to make the best album in the world,'" he admits. From the earliest of early days—the Lawrence-only debut single "Index," a vocal-free, Velvet Underground-y thrash through a few chords. The best Felt songs, tunes like "Crystal" and "Sunlight Bathed the Golden Glow" and heart-stoppingly broken-down, "The World Is As Soft As Lace," are truly perfect pop songs.  Drawing on the spindly guitar work of Television and the general chilly climate of the best British underground music of the era, he made a brittle-yet-brilliant version of guitar pop. Across the 10 records, he made tracks full of ghostly whispers, surrealist asides,
From Felt's first single, very first single, the tape-fuzzed guitar experiment "Index," Lawrence has often made room on Felt records for dazed instrumentals amid all his winking poetry. Most of them have a wispy, spectral quality to them, as if he's suddenly ghosted away from his own band, leaving only a chill in his absence. Whether on something like the classical guitar nods of "Sempiternal Darkness" or the Ballad of the Band EP's hazy piano curio "Magellan," Lawrence tends to let his instrumentals float, offering space and respite amid the squirrelly upbeat numbers.
The closest they came was the 1985 single "Primitive Painters," taken from Ignite the Seven Canons, a record which largely saw the group embracing their baroque tendencies. "Primitive Painters"—a churning, six-minute mini-epic featuring Liz Fraser of the Cocteau Twins—reached the top of the UK independent charts. It was the biggest hit they'd ever have.
He's got a great song about deposing a king, and a letter to a former lover simply called "I Can't Make Love to You Anymore." His two best moments as a misanthrope came early in his band's career, writing an awkward anti-everyone anthem called "All the People I Like Are Those That Are Dead," which as its title might suggest, is full of couplets like "Maybe I should take a gun / And put it to the head of everyone," sung with anxious desperation. Lawrence, ever the malcontent, also buried one of his best burns on what might be their best pop song, a takedown of pseudo-intellectuals called "Sunlight Bathed the Golden Glow" on which he tauntingly, "You're trying to fool somebody, but you end up fooling yourself / You read from A Season in Hell but you don't know what is about." There's also a version on which he taunts spiritualists instead for brainlessly parroting the Tibetan Book of the Dead, proof that that there's a diss buried in the Felt back catalog for just about everyone.
It also marked the departure of Maurice Deebank, the group's guitarist. "We grew up together, but we weren't friends," Lawrence says of him. "I'd seen what he could do when he came to tune my guitar once. He could do solos. I wanted to be in a band with solos." Deebank's genius is all over those early Felt albums—his spindly, tight, jangles ricochet around songs like "Cathedral", "I Don't Know Which Way to Turn", and "Evergreen Dazed", his guitar sounded part Roger McGuinn, part Tom Verlaine.
Lawrence is as much of a master of conjuring the exact opposite. While he and Deebank tended to shy away from guitar effects, the way their playing intersected with each others (and eventually with Martin Duffy's delirious organ parts) had a way of lowering a dreamy fog over the proceedings. Early songs like "The World Is Soft as Lace," found Lawrence presenting a gentler face to universe,
February 23rd also sees UK indie label Cherry Red Records reissue of the group's first five albums, spanning what is arguably their best period."It is a band that's never let anybody down." Describing them as "the ultimate English cult band," Lawrence maintains that, "you'll never be ashamed if you say you like Felt. You'll only get respect."
"The fourth Felt album [Ignite the Seven Cannons] was produced by Robin Guthrie of the Cocteau Twins," he says, explaining just one of those wrongs. "And he messed it up big time."
Banned from the studio—a contract was drawn up that essentially said "I, Robin, will produce the album if Lawrence doesn't come to the mixing,"—Lawrence spent his days in Edinburgh, biding his time. "Consequently he ruined my record. All my best songs, he ruined."
It is the only moment during my time with Lawrence where any hint of hard feelings edged into view. Even then, there's a happier outcome than looked previously possible. He'd kept hold of the master tapes for that album's five vocal tracks, and 30 years later, he's finally happy with it. "They're amazing," he says of the reissues. "Absolutely amazing." Of course they are, because they are Felt in their prime, premiere exponents of a sound that no one has touched before or since, But of course, over the last couple decades, there have been bands that were directly inspired by their sound too, stretching from the delicate guitar pop underground breakouts like Girls and Real Estate,
During the years the band was signed to Creation Records, they occasionally pushed even further into the fog, offering near ambient balladry on their cover of the Beach Boys "Be Still" and the slow, creeping single "The Final Resting of the Ark." These songs are why it's sometimes buying Lawrence's proclamations that he was singlemindedly focused on success,
Felt wasn't the end of Lawrence's story, however big of a chapter it may be in his biography. True to his word, Lawrence disbanded the group in 1989. Shortly after he found himself living in New York. Homesick, he dreamt up Denim, a proto-Britpop-cum-glam-rock-revialist outfit that signed to acid house DJ Terry Farley's label, Boy's Own Recordings. After two albums of 70s-inspired sardonic and brash bubblegum, followed by yet another refusal on the part of the general public to embrace him as a radio and TV-friendly megastar, Denim faded from view.
Go-Kart Mozart—founded in 1998 and named after a line in "Blinded By the Light"—saw Lawrence swapping guitars for synths, and the result is a set of albums that have an almost end-of-the-pier-show sensibility about them.
thankstonoisey