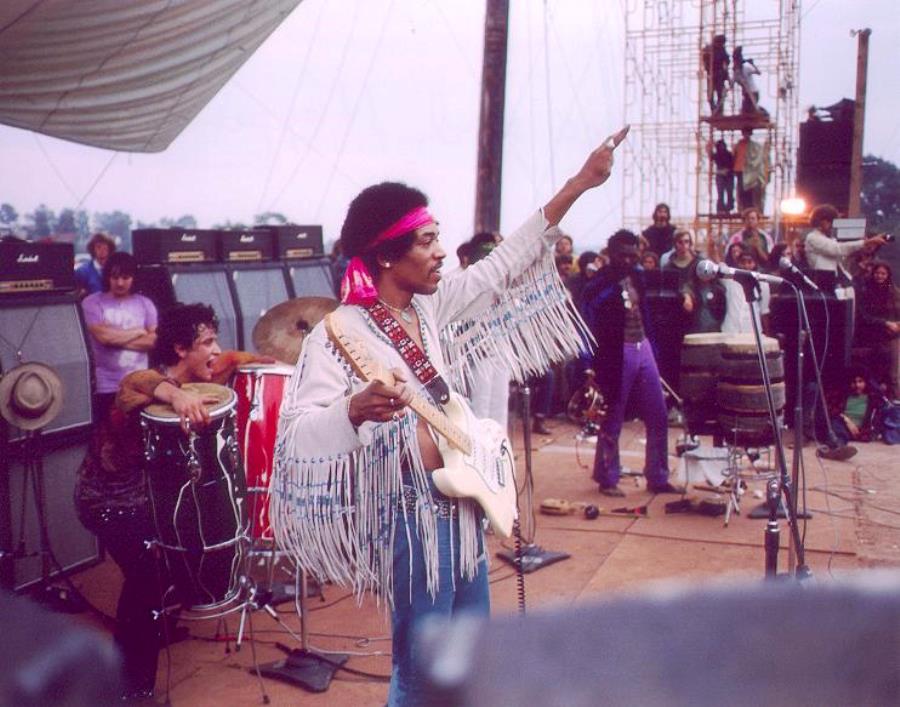 Today would have been the 78th birthday of the great Jimi Hendrix. Born James Marshall Hendrix on November 27th, 1942, the guitar god rose to fame for his insane guitar playing abilities during the British blues revival period of the mid-1960s. Hendrix was a powerhouse musical entity, commanding attention with his unique style like never before. He redefined the instrument, and what it meant to perform with it.
Though Hendrix only lived until the age of 27, his influence on music has been enormous ever since. His work with the Jimi Hendrix Experience was second to none, and perhaps no performance captures the essence of his abilities better than his apperance at Woodstock. Though it may not have been his best show of all time, Jimi Hendrix took the stage at 9AM on August 18th, 1969, launching into otherworldly versions of well known jams like "Fire," "Izabella" and the famed "Star Spangled Banner."
Few performances in the history of rock 'n' roll are more iconic than when Jimi Hendrix cemented his legendary status and delivered the show of his career on the biggest stage of them all, a moment when the mercurial artist headlined the inaugural Woodstock Festival in 1969.
The whole weekend was a watershed moment for music, but one specific part was the most poignant of all. As the subversive edge of America's youth descended upon a small town, with fear of crime and panic sweeping the outer limits, Hendrix paid tribute to his country. One of the most enigmatic performances of the weekend came when Hendrix rolled out an unexpected, distorted rendition of the US national anthem. The performance was considered as an offensive moment and it sent a ripple through America and when he appeared on the Dick Cavett show some months after his headline show — he had to answer why he made this statement on such a grand stage.
Hendrix cunningly decided to use the music's own bombastic nature to project the violence carried out under his nation's flag. He managed to do this by holding a keynote longer than he usually would and also applied a little more pressure to his Stratocaster's tremolo bar which then created an unsettling effect. With a guitar in his hands, he was more effective than his words could ever be. He then stopped playing the song in its original form and just turned the lyrics about bombs bursting in air and rockets lighting up the night into music.
This was Hendrix's way of kicking back at the idea of military power being the only thing that is great about America and, through the use of just his instrument, he managed to evoke the opposite feeling of what the anthem was intended to cause and is one of the great political statements in the music history.
"I don't know, man," Hendrix said on his decision to play the track before adding, "I'm an American, so I played it. They made me sing it in school, so it was a flashback." Cavett then pointed out that Hendrix is likely to find himself on the receiving end of a barrage of hate mail because of his decision to cover the national anthem in an unorthodox manner, to which Hendrix proudly stated, "It's not unorthodox, I thought it was beautiful." Cavett would later reflect on the interview years later and said that he should have supported Hendrix's version rather than opening him up for criticism: "I suppose I could have added that since we somehow acquired the most dismal, virtually unsingable dirge of a national anthem of any known nation, we should decorate Hendrix for turning it into music."
The band was scheduled as the last performance of the festival, Sunday night. Due to several delays, they eventually played on Monday morning, 9:00 am, when most of the audience had already left.
Hendrix's performance at Woodstock came at a major transition point in his life since the Jimi Hendrix Experience disbanded earlier that summer. He took to the stage with his newly formed band Gypsy Sun and Rainbows, a.k.a. a Band of Gypsys — consisting of Experience drummer Mitch Mitchell, bassist Billy Cox, guitarist Larry Lee and percussionists Juma Sultan and Jerry Velez.
The irony about the legendary performance is that few people actually saw it in person since so many fans had fled the upstate New York farm by that point. He went on late because he wanted to be the final act, not realizing that would mean playing on Monday morning to a virtually empty audience. The crowd had gone from "half a million strong" to a handful of diehard fans sitting in a giant ocean of garbage.
1. Hendrix performed with a temporary band. The Jimi Hendrix Experience, with which he had recorded three smash albums and electrified crowds at the Monterey Pop Festival two summers before, had broken up. Hendrix assembled a group he called Gypsy Suns and Rainbows, which included two musicians he had played with at the start of his career on the Chitlin' Circuit in Nashville: bassist Billy Cox and guitarist Larry Lee. Neither had ever performed in front of a large crowd before. Drummer Mitch Mitchell, who was part of the Experience, and two percussionists rounded out the band, one of the largest Hendrix ever appeared with. The group performed just twice more before disbanding.
2. It was the only Hendrix band that included a second guitarist. Larry Lee backed up Hendrix on a number of songs, played some lead on Jam Back at the House, and contributed several lead choruses to the 12-bar blues Red House. He played some lead on both Voodoo Child (slight return) and Spanish Castle Magic and sang lead on two numbers. Lee's solo guitar work accounts for much of the footage of the Hendrix Woodstock set that has never been made public. In fact, no recordings, audio or visual, have ever been officially released of Lee's two featured numbers: Mastermind and a medley of Gypsy Woman and Aware of Love.
3. It was the only major performance that Hendrix gave in the morning. By 1969, Hendrix was a major star who had earned the traditional headliner's position: playing last. Technical and weather delays caused the festival to stretch into Monday morning. The organizers had given Hendrix the opportunity to go on at midnight, but he opted to be the closer. One benefit of the delay: the morning light made for excellent filming conditions, which may be part of the reason this particular Hendrix performance is so well known.
4. Hendrix did not perform for half a million people. In fact, when he took to the stage at 9 a.m., the crowd, which once numbered 500,000, had dwindled to fewer than 200,000–perhaps considerably fewer. With the demands of work and school weighing on them, many of those fans waited just long enough to see Hendrix begin his set, and then departed themselves.
5. The Woodstock performance had the potential to be a disaster for Hendrix. Recordings made at the house in upstate New York where Hendrix and the Gypsy Suns and Rainbows rehearsed and of a performance they gave at the Tinker Street Cinema in Woodstock show that the band "simply could not play well together," Brattin says. "After listening to those tapes, you would not have guessed that the Woodstock performance would be so good. The credit has to go to Jimi and the strength of his onstage presence."
6. Woodstock was a time of transition for Hendrix. He had left behind one long-term band and not yet formed another. He was beginning a period of musical experimentation that was risky from a commercial perspective. While the Experience was dominated by white musicians (both his bandmates were white Englishmen), he was now appearing with more black performers (bassist Cox, guitarist Lee, and percussionist Juma Sultan were all African American). It is interesting, Brattin notes, that while so much of the Woodstock set pointed to Hendrix's future, the performance also included songs that harked back to his beginnings. In particular, two of the songs Lee sang, Gypsy Woman and Aware of Love, were written or co-written by Curtis Mayfield, with whom Hendrix had performed within the early 1960s. It was the only Hendrix concert that included these songs.
7. The Star-Spangled Banner was not played on its own. It was part of a medley lasting over half an hour, one of the longest such medleys. The medley also included hits like Voodoo Child (slight return) and Purple Haze, and an unaccompanied improvisation lasting nearly five minutes. Hendrix performed the national anthem as a solo in the midst of this medley.
8. It was not the first time Hendrix had performed the Star Bangled Banner–by a long shot. In fact, there are nearly 50 live recordings of Hendrix playing the national anthem, 28 made before Woodstock. They range from about a minute to more than six minutes; the Woodstock version was three minutes and 46 seconds. It was among the best, Brattin says. "And, certainly, no other version is so iconic."
9. Hendrix performed an encore, a rarity. He almost never performed encores, but at Woodstock, despite the vanishing crowd, he did. On recordings, he can be heard considering Valleys of Neptune, which he never performed publicly, before or after Woodstock. He opted, instead, for Hey Joe, his first hit song.
10. Hendrix was not supposed to close Woodstock. Steeped in childhood memories of the song, Woodstock organizer Michael Lang wanted Roy Rogers to come on after Hendrix and play Happy Trails. The cowboy crooner declined.
Setlist :0:01 (message to love) 7:38 (spanish castle magic) 14:29 (red house) 19:56 (lover man) 24:50 (foxey lady) 29:30 (jam back at the house) 37:28 (izabella) 42:48 (fire) 46:10 (voodoo child) 58:28 (star spangled banner) 01:02:11 (purple haze) 01:05:39 (woodstock improvisation/villanova junction blues) 01:13:15 (hey joe)
In honour of Jimi Hendrix's 78th today, check out a full video from his Woodstock performance