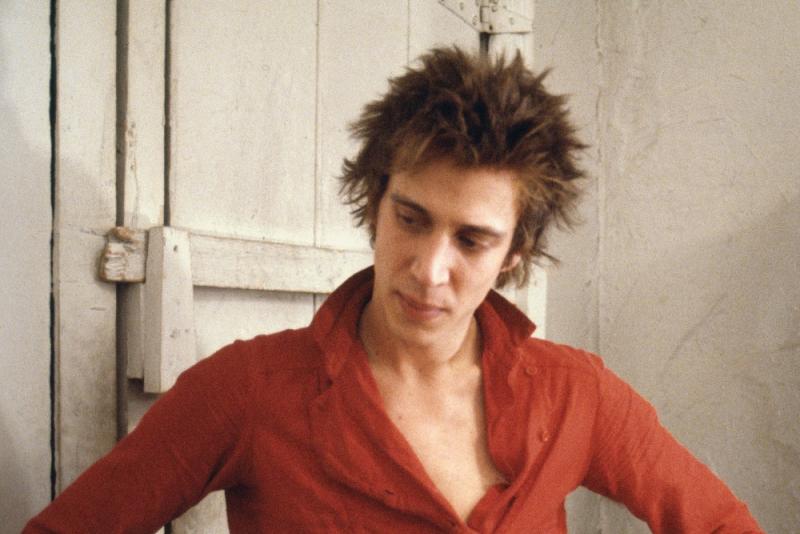 Three plus versions of the same album. It's ridiculous, but I'm glad." The first paragraph of Richard Hell's text in the booklet accompanying "Destiny Street Complete" lays it out. There are, indeed, three versions of his and his band The Voidoids's album released originally in July 1982 album "Destiny Street" on this double-CD set. It seems excessive but this is a major release of a classic in the making .
Reviews of "Destiny Street" at the time of its release were positive. Creem Magazine said "Hell himself has hit on a style – part Nuggets-era basement rock 'n roll, part speed-balling protest (not in content, but in attitude) rock, part confrontational CBGB psychodrama – that gives the album its pungent reverberations." When considering the album, the New York Times frothed "Mr. Hell is the most soulful, emotionally compelling singer to have emerged from punk rock, and his lyrics are in the tradition of Rimbaud and Lautremont."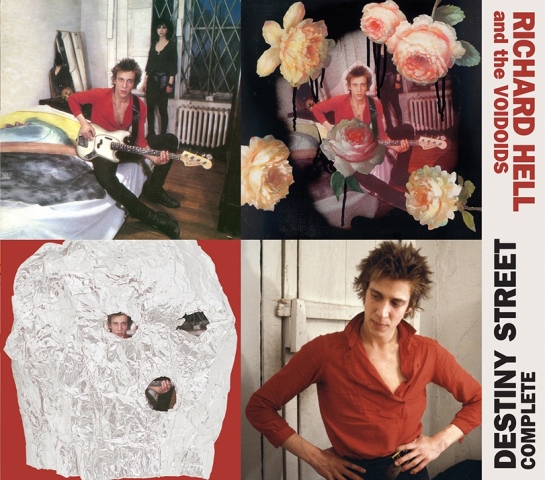 Really though, Destiny Street was scrappy, overly short and bulked-out with cover versions and reworked old tracks. There was Dylan's "Going Going Gone", The Kinks's "I Gotta Move" and Them's "I Can Only Give You Everything". There were also remakes of "The Kid With the Replaceable Head", first heard on a single three years earlier, and of "Time", which had been on an April 1980 EP. New inspiration appeared to be lacking. Destiny Street sounded messy too. Its trebliness was counterbalanced by muddiness. In his text for Destiny Street Complete Hell says "The final mix [of the album] was a morass of trebly multi-guitar sludge."
Even so and despite its flaws, the original Destiny Street has some power-packed moments. The version of "Going Going Gone" is poignant. "Downtown at Dawn", "Lowest Common Dominator", "Staring in Her Eyes" and "Time" are all superb songs, however scrambled they come across.
What's collected for Destiny Street Complete is the original album and a version titled Destiny Street Repaired, which was issued in 2009. This was created from a cassette of the album's rhythm tracks which were overdubbed with new guitar solos (by Bill Frisell, Marc Ribot and former Voidoid Ivan Julian) and vocals.
These are on Disc One. On Disc Two is Destiny Street Remixed: a new mix of most the original album fashioned from the three of the four original multi-track master reels (one reel has been lost). The gaps in Destiny Street Remixed are plugged by three tracks from Destiny Street Repaired. 
Destiny Street Repaired is a curio, an exercise in post-fact bricolage which is neither a new album or a remake – a half-way house. The new Destiny Street Remixed is aurally more up-front and punchier than the original album but doesn't alter perceptions about the source album's creative shortcomings.
Another inescapable problem with the original Destiny Street  is that it was released close to five years after the debut Richard Hell & The Voidoids album, October 1977's Blank Generation. It came too late. The moment had passed. Hell was integral to the New York scene, had been in Television, then The Heartbreakers and first played live with The Voidoids in November 1976. But the forward motion of 1976 and 1977 dissipated, and momentum was lost. Thereafter – fits and starts. Hell should have made a second album in 1978 or 1979, rather than 1982 (Destiny Street was recorded in 1981).
A broad hint at what could have been a more timely second album comes with what follows Destiny Street Remixed on Disc Two. There's the careening January 1979 UK-only "The Kid With the Replaceable Head" / "I'm Your Man" single , nine demos from July 1979 (three of which are previously unreleased) and a live track from 2004.
The demos open a window into Hell's pre-Destiny Street world, when he was still being facilitated by former Dr Feelgood road manager and Stiff Records co-founder Jake Riviera. A Hell supporter, Riviera had seen The Heartbreakers in 1976, tried to get the newly band-less Hell to play August 1976's Mont-de-Marsan punk rock festival with Nick Lowe, issued the "Blank Generation" single on Stiff Records and organised support slots for Hell with Elvis Costello. "The Kid With the Replaceable Head" single was on Riviera's post-Stiff label Radar. The 1979 demos heard here were made for Riviera and could have become the ground floor of an album, but in his essay Hell says "It was clear by the end of the summer that I wasn't going to be dependable enough to warrant Jake investing in a full-scale album. So that plan was scrapped."
Of these nine tracks from 1979 (misleadingly credited as "Destiny Street Demos"), six have been out before: "Don't Die" and "Time" were on the 1980 Shake label EP mentioned above; "Crack of Dawn", "Going Going Gone", "I Lived my Life" and "Ignore That Door" were on the 1984 cassette album R.I.P. In full, the 1979 recordings sound terrific. Coherent, kinetic and spikey, this is wonderful stuff. The previously unheard "Smitten" brings in a Gang Of Four slant. But there was no immediately ensuing album, and Destiny Street arrived three years later.
Anyone with a passing interest in this ever-intriguing figure will need the 1979 demos. They're as essential as the "The Kid With the Replaceable Head" single. But overall, the thought-provoking Destiny Street Complete says more about Richard Hell's urge to wrestle with his past than it does about the original Destiny Street album itself.
 Hell may have saved the best for last. Disc two of this set also includes Destiny Street Demos, an essential collection of raw early recordings and singles spanning from 1978 to 1980. This stuff smokes, plain and simple; it might even be the best argument for the Voidoids as one of the finest bands to emerge out of NYC during this period. Almost all of Demos has shown up on various collections in the past, but presented as a whole here, it's as powerful a statement as Hell and co. ever made. Worth the price of admission alone.
Richard Hell, under exclusive license to Omnivore Recordings. Released on: 22nd January 2021