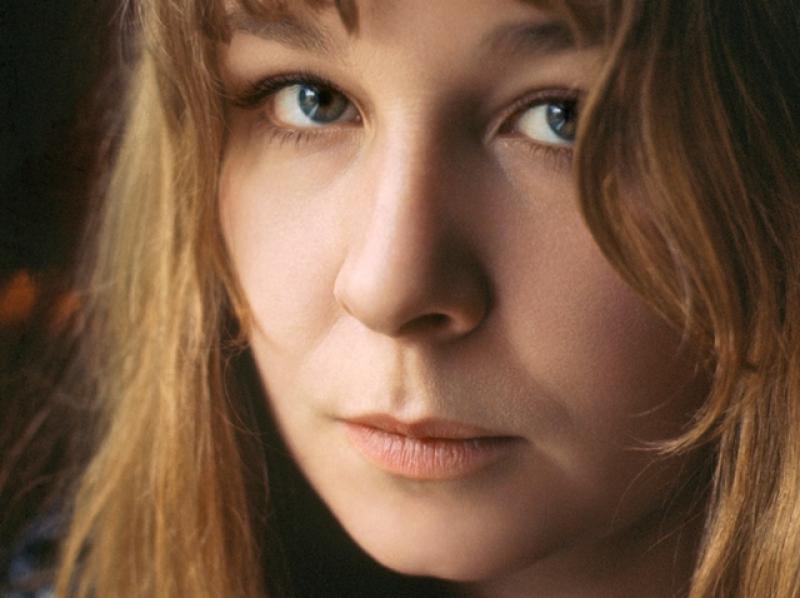 Robert Plant called her his "favorite singer out of all the British girls there ever were." But a compliment of her singing alone undercuts the holistic talents of the musician Sandy Denny. To be sure: Her sublime voice stands on its own in the Anglo-folk canon, but her songwriting and lyricism are equally impressive. Both aspects of her talents remain essential to the fabric of the British folk-rock movement of the 1960s and '70s. Though the modern music press frequently portrays Denny as a cartoon-ish caricature of a temperamental singing faerie, she in fact endures, 40 years after her death, as an unexampled lyricist and songwriter, and an equally magnetic performer.
Born Alexandra Elene MacLean Denny and raised in the London suburb of Wimbledon, Denny was inspired early on by her grandmother, Mary Smith MacLean, whom she didn't know well, but whose presence was fierce. MacLean insisted the young Denny be called "Sandy," the Scottish shortening of Alexandra. She also brought to Denny's blood a musical prowess and passion, as she'd been a known balladeer of arcane Scottish traditional tunes in her time.
After finishing primary school Denny began a short stint training as a nurse at a London hospital, at the behest of her prim parents, who didn't see music as a viable career. Inspired by Bob Dylan's Freewheelin', and encouraged by her older brother David, she began working out covers by American folk singers, as well as Scottish traditionals, on a hand-me-down acoustic guitar. After learning a few chords and practicing at home, she became an audience fixture among London's folk music houses, which were inspired by the American folk scenes in Greenwich Village and North Beach in San Francisco, and were spreading like spores across the Big Smoke. Denny soaked in each performer studiously, and often sang covers on the floor as an unpaid warmup between acts.
With a growing passion for music and live performance, Denny became acutely aware that nursing would never be a good fit. In the fall of 1965 she was accepted into a foundation course at Kingston College of Art—required studies for acceptance in a bachelors program—where there was a swelling folk music scene in nearby clubs like The Barge (an actual barge docked on the Thames). She'd already performed at the beloved floating club a couple of times and was becoming engrained in the local folk circuit, hobnobbing with scensters like visiting American Jackson C. Frank, and locals Bert Jansch and John Renbourn, who'd go on to form folk-fusion act Pentangle.
She didn't last long at university. A busy schedule of performances at local nightclubs led to her earliest recordings with local folkies Johnny Silvo and Alex Campbell: Alex Campbell and His Friends and Sandy and Johnny, both released by London's Saga label in 1967, when she was just 20 years old. On each LP Denny performed covers by Jackson C. Frank and Tom Paxton, as well as a number of traditionals. These earliest LPs endure as momentos of Denny's budding folk club repertoire. Her stirring version of trad "Make Me a Pallet on Your Floor" prelude her emotive and heartrending original compositions soon to come.
A chance encounter at The Troubadour coffeehouse swung open a gate for Denny's interest in songwriting. Dave Cousins of London folk outfit The Strawberry Hill Boys asked Denny to join the group after seeing her perform onstage in the club's cellar. All Our Own Work by Sandy Denny & The Strawbs was recorded over two weeks in Copenhagen. Twelve songs were captured, including Denny's breakthrough and most enduring composition, "Who Knows Where The Time Goes?," which showcases her emotive power and palpable solitude simply and immediately in the first verse, over minor-key acoustic guitar:
"Across the purple sky, all the birds are leaving
But how can they know, it's time for them to go?
Before the winter fire, I will still be dreaming,
I have no thought of time.
For who knows where the time goes?
Who knows where the times goes?"
But with the release of that album greatly delayed, the world would have to wait two more years to hear that beauty, on Fairport Convention's excellent third LP, Unhalfbricking. By the time Denny joined Fairport Convention in 1968, they were already the most besainted act of the British folk-rock scene, having magnetized UFO Club owner and noted producer of the period Joe Boyd, who'd helped them secure deals with Polydor Records and then Island Records. Denny won over the group with a cover of Jackson C. Frank's "You Never Wanted Me" during her audition and replaced singer Judy Dyble, who'd founded the group with bassist Ashley Hutchings, guitarist Simon Nicol, and guitarist Richard Thompson, notable for his later solo works and collaborations with his wife Linda.
Denny brought a more plaintive, less pop-oriented intensity to the group with her wide vocal register and open-ended songwriting style. Under Denny's leadership, they became less focused on ape-ing American folk acts, and instead carved out a signature appreciation for British traditional songs and the negative space between notes. The Denny-penned original "Fotheringay," which opens Fairport's second album, What We Did on Our Holidays, is the shaky and incongruous LP's saving grace, a mystical meditation on isolation and death, inspired by the story of Mary, Queen of Scots.
The cover of her second album with the group, Unhalfbricking, released in 1969, features a portrait of Denny's parents, Neil and Edna, standing outside their family home in Wimbledon—the band barely visible in the background. Though the Unhalfbricking version of "Who Knows…" is notable, and prompted a slew of covers, its full band noodling and subdued vocals temper its fire, making it more pleasant than powerful. Denny stayed on with Fairport through the recording of the heralded album Liege & Lief, their first record comprised mostly of adapted British and Celtic traditional songs, with Denny's profound delivery front and center. Today, it's considered the most important record in the British folk-rock movement, a beacon of modernity inspired by antiquity.
Conjecture about Denny's departure from Fairport Convention abounds to this day. Some cite a new relationship with Australian folk musician Trevor Lucas—others, her increasing thirst for alcohol. Regardless, Denny left the band shortly after the release of their most prestigious album, as unceremoniously as her audition in a humble folk music dive.
Her short-lived collaboration with Lucas, also called Fotheringay, was unremarkable, and Denny soon embarked upon a solo career that yielded mixed results. As magnetic a performer as she was, her personal insecurities and alliance to folk music traditions muddied a clear path to crossover audiences. She wasn't a pop singer.
Her 1971 solo debut for Island Records, The North Star Grassman and the Ravens, is no clearer testament to that. An album comprised of mostly Denny-written songs, the only time it veers off course is when she covers others—Dylan's "Down in the Flood" and Charles Robins' "Let's Jump The Broomstick." Of the album's 11 original songs, eight are phenomenal. The title track, a core-rattler. It leaves one to wonder what Denny might have been capable of earlier, if empowered to write and record more originals by her peers in The Strawbs and Fairport Convention.
Her single album with The Strawbs, All Our Own Work, finally saw a release in 1973 via the Hallmark label, a nascent subsidiary of Pickwick International. For the first time, folk-rock fans heard Denny's masterpiece, "Who Knows Where the Time Goes?," in its purest and most arresting form. Though Denny would die five years later due to a brain hemorrhage, her compositions on the passing of time, loss, love, and tradition, and her unparalleled voice, live on.