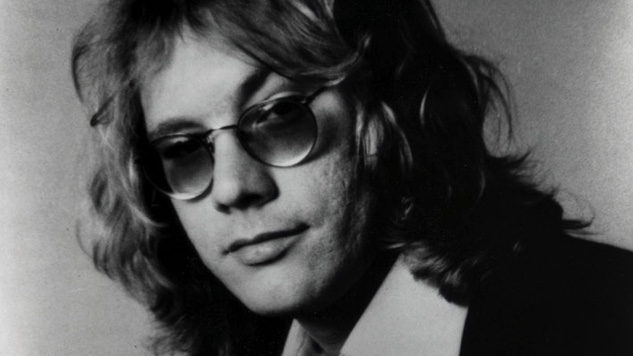 Surely does Warren Zevon  not belong in the Rock & Roll Hall of Fame?
Well, there are two ways of looking at this. On the one hand, Zevon is more deserving than a lot of selections already in the Hall: Kiss, Yes, Rush, Chicago, Journey, Bon Jovi and so on. On the other hand, Zevon is less deserving than some acts still waiting to get in like: Radiohead, Whitney Houston, Gram Parsons, Graham Parker, the Replacements, the Zombies.
So let's look at a  proper evaluation of Warren Zevon's place in music history? Last week marked the 15th anniversary of his death at all too young an age of 56 on September. 7th, 2003. This summer James Campion published his critical biography, Accidentally Like a Martyr: The Tortured Art of Warren Zevon, a 290-page argument that the singer/songwriter deserves better from rock history than he's gotten so far.
In his gushing, heart-on-his-sleeve prose, heavy on first-person pronouns, Campion is trying to transform the standard critical take on Zevon: that the tremendous promise of his early work was left unfulfilled by his struggles with drugs, alcohol and self-aggrandizement. Campion doesn't evade those struggles, but he argues that Zevon was able to use those challenges as the raw materials for some of his best work on his final records.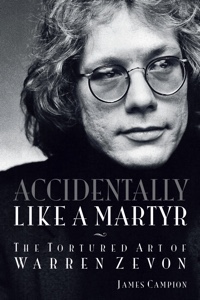 Campion has some famous musicians willing to testify on his behalf. In 2004, the posthumous tribute album 'Enjoy Every Sandwich'—The Songs of Warren Zevon featured contributions from Bob Dylan, Bruce Springsteen, Steve Earle, Jackson Browne, Bonnie Raitt and Ry Cooder, often performing songs from later in the songwriter's career. The author calls on many of them and their peers in the book to bolster his case.
In the end, though Warren Zevon made one brilliant album, his 1976 breakthrough "Warren Zevon", almost duplicated it on his 1978 follow-up, "Excitable Boy", but never came close to such a triumph again. Individual songs stood out subsequently, but they were eclipsed by a lot of showboating, and the recycled musical motifs and underwhelming singing . Zevon never lost his facility with words, but mere cleverness is not the same as great art.
Campion undermines his own argument with the examples he selects. He justifiably raves about the lyrics in "Desperadoes Under the Eaves" ("Don't the sun look angry through the trees? Don't the trees look like crucified thieves? Don't you feel like desperados under the eaves? Heaven help the one who leaves…. I was sitting in the Hollywood Hawaiian Hotel; I was listening to the air conditioner hum."). But then he later extends the same enthusiasm for the much clumsier lyrics on 2000's "Fistful of Rain" ("You can dream the American dream, but you sleep with the lights on and wake up with a scream. You can hope against hope that nothing will change; grab a hold of that fistful of rain.").
Campion devotes each chapter to a song or sometimes an album using that as a lens for examining a certain stage and/or a certain aspect of Zevon's career. For example, the biographer uses "Desperadoes Under the Eaves" to examine both the events that led up to the 1976 eponymous disc and the colorful songwriting that gave the record its impact.
Then Campion backtracks in the second chapter to examine Zevon's pre-fame career as an L.A. session musician, jingle composer, songwriter, unsuccessful recording artist and eventually music director for the Everly Brothers' touring band. To focus this chapter, the biographer uses "Studebaker," a romantic ballad about an unreliable car, a song that Zevon never released nor performed live during his lifetime.
Zevon struggled to have a solo career until his music was performed by Linda Rondstadt. This launched a cult following that lasted for 25 years with Zevon making occasional returns to album and single charts until his death from cancer in 2003. He briefly found a new audience in the 1980s by teaming up with members of R.E.M. in the rock outfit Hindu Love Gods.
Known for his dry wit and acerbic lyrics, he was a guest several times on Late Night with David Letterman and the Late Show with David Letterman.
Then it's back to Warren Zevon, this time analyzed through the prism of "Poor, Poor Pitiful Me," a song sung most lustrously by Linda Ronstadt. Then it's on to Zevon's highest-charting album, "Excitable Boy", which yielded his only top-40 single, "Werewolves of London," a song that compares bohemian hipsters out on the town to marauding canines.
And yet it still stands as Zevon's most accessible, most pleasurable recording. It's precisely because he didn't take the song seriously that the singer was able to drop his pretentious posturing and artistic mannerisms and just have fun with his natural instincts for melodic hooks and irreverent satire. The fact that he never made such a carefree track again is a clue into his failure to deliver on his promise.
The title track of Excitable Boy offered a similarly hyperbolic satire of masculinity, but the chorus wasn't as catchy and the vocal wasn't as relaxed. And by playing the rape and murder of a junior-prom date for laughs, This is even more obvious in his admiration for the mercenary soldier who pillages and massacres his way across the Third World in the ghost story, "Roland the Headless Thompson Gunner." And in the braggadocio and self-entitlement of "Lawyers, Guns and Money."
This is where biography and art intersect. Campion is frank about Zevon's weakness for alcohol, drugs, guns and womanizing. But he discusses these matters as if they were merely obstacles getting in the way of the songwriter doing his work. The biographer never recognizes the ways that weakness seeped into the work. But anyone who has spent much time around alcoholics and gun fanatics can recognize the self-importance and bar-room boasting that increasingly informed Zevon's work from Excitable Boy onwards.
The singer had constructed a persona—that of a hard-drinking, gun-firing, thesaurus-toting wild man—and that character served him well in winning a following that remained loyal through the subsequent years of sporadic and uneven albums and tours.
Warren Zevon (1976)
Zevon had returned to Los Angeles from Spain, He then roomed with Stevie Nicks and Lindsey Buckingham, who had by now gained fame as members of Fleetwood Mac. There he collaborated with Jackson Browne, who produced and promoted Zevon's self-titled major-label debut in 1976. Contributors to this album included Nicks, Buckingham, Mick Fleetwood, John McVie, members of the Eagles, Carl Wilson, Linda Ronstadt, and Bonnie Raitt. Ronstadt elected to record many of his songs, including "Hasten Down the Wind", "Carmelita", "Poor Poor Pitiful Me", and "Mohammed's Radio". Zevon's first tour, in 1977, included guest appearances in the middle of Jackson Browne concerts, one of which is documented on a widely circulated bootleg recording of a Dutch radio program under the title The Offender Meets the Pretender.
Produced by Browne, was his first album to chart .The first edition of the Rolling Stone Record Guide (published in 1979) called it a masterpiece. Zevon's most realized work. Representative tracks include the junkie's lament "Carmelita"; the Copland-esque outlaw ballad "Frank and Jesse James"; "The French Inhaler", a scathing insider's look at life and lust in the L.A. music business (which was, in fact, about his long-time girlfriend and mother of his son and "Desperados Under the Eaves", a chronicle of Zevon's increasing alcoholism.
Excitable Boy (1978)
In 1978, Zevon released Excitable Boy (produced by Jackson Browne and guitarist Waddy Wachtel) to critical acclaim and popular success. The title tune is about a juvenile sociopath's murderous prom night, referred to "Little Susie", the heroine of his former employer the Everly Brothers's song "Wake Up Little Susie", while songs such as "Roland the Headless Thompson Gunner" and "Lawyers, Guns and Money" used deadpan humor to wed geopolitical subtexts to hard-boiled narratives. Tracks from this album received heavy FM airplay, and the single release "Werewolves of London", which featured Mick Fleetwood and John McVie, was a relatively lighthearted version of Zevon's signature macabre outlook .
"Roland the Headless Thompson Gunner"  Who better to explain the origins of the final song Zevon ever played live (on The Late Show with David Letterman) than Zevon himself? As he wrote in the liner notes of his anthology, "In 1974 I ran off to Spain and got a job in an Irish bar called the Dubliner, in Sitges, on the Costa Brava. The proprietor was a piratical ex-merc named David Lindell. He and I wrote this song at the bar one afternoon, over many jars."
"Werewolves of London"  Although it was cowritten with guitarist Waddy Wachtel, the title of Zevon's signature song – at least amongst mainstream audiences – came from Phil Everly who, while Waddy and Warren were part of the Everly Brothers' backing band, asked them to write a dance song for the Everlys called "Werewolves of London." Zevon reportedly came up with the opening line ("I saw a werewolf with a Chinese menu in his hand"), after which he and Wachtel traded lyrics back and forth until the thoroughly absurd song was complete.
The rock critic Dave Marsh, called Zevon "one of the toughest rockers ever to come out of Southern California".. Rolling Stone called the album one of the most significant releases of the 1970s and placed him alongside Neil Young, Jackson Browne, and Bruce Springsteen as the four most important new artists to emerge in the decade. On May 11th, 1980, Zevon along with Willie Nile appeared on the King Biscuit Flower Hour. 
His decline wasn't sudden, and it was never complete. For all its flaws, Excitable Boy was a nearly the greatest album, containing not only "Werewolves" but also Zevon's most heartfelt ballad ("Accidentally like a Martyr"), his best historical evocation ("Veracruz") and the funkiest track he ever released ("Nighttime in the Switching Yard").
Bad Luck Street in Dancing School (1980)
Zevon followed Excitable Boy with Bad Luck Streak in Dancing School, in 1980. This album was dedicated to Ken Millar, better known under his nom-de-plume as the detective novelist Ross Macdonald. Millar was a literary hero of Zevon's, who met the singer for the first time while participating in an intervention organized by Rolling Stone record reviews editor Paul Nelson, which helped Zevon temporarily curtail his addictions. Featuring a modest hit with the single "A Certain Girl" (Zevon's cover of an R&B record by Ernie K-Doe) the album sold briskly but was uneven, and represented a decline rather than commercial and critical consistency. It contained a collaboration with Bruce Springsteen, the most negligible song Bruce Springsteen ever co-wrote ("Jeannie Needs a Shooter") and the ballad "Empty-Handed Heart" featuring a descant sung by Linda Ronstadt, which dealt with Zevon's divorce from his wife, Crystal, the mother of his daughter Ariel; she has been erroneously described in some sources as his "second wife" (Marilyn "Tule" Livingston, the mother of his son, Jordan, and Zevon had been in a long-term relationship but never married.)
"Play It All Night Long" Although best remembered by many for its reference to "Sweet Home Alabama" and its follow-up lyric ("Play that dead band's song"), it should never be forgotten that it's arguably the only song of note to prominently feature the word "brucellosis" in its lyrics, thanks to Zevon having read Newton Thornburg's Black Angus around the same time that he penned the tune.
"A Certain Girl" Although Zevon's cover song inclusions were few, he invariably made the most of them, as was the case with this track by Allen Toussaint. It's actually credited to Naomi Neville, but that was the name of Toussaint's mother, who – along with his father, Clarence – occasionally found themselves the beneficiaries of his song writing royalties.
The slide began here earnest on the 1980 follow-up, Bad Luck Street in Dancing School, whose silly title track was only made sillier by its clunky chamber-music frame. and the most formulaic song ever written about teen rebellion ("Wild Age"). On the other hand, the album includes "Gorilla, You're a Desperado," a sequel to "Werewolves" that's even funnier than the original though not as catchy, and "Play It All Night Long," a fitting answer song to Lynyrd Skynyrd's "Sweet Home Alabama" and Neil Young's "Southern Man."
Zevon also had a knack for writing good songs about athletes, such as baseball pitcher "Bill Lee," boxer "Boom Boom Mancini" and the fictional hockey player in "Hit Somebody." And every album seemed to have flashes of the old talent.
Stand in the Fire (1980)
Later in 1980, he released the live album Stand in the Fire (dedicated to Martin Scorsese), recorded over five nights at the Roxy Theatre in Los Angeles.
"I'll Sleep When I'm Dead"  Between being utilized as the title of a two disc anthlogy featuring his best songs as well as the title of the memoir written by his ex wife, Crystal Zevon, it's fair to say that this was one of Warren's best-known songs, not to mention the one that summed up his predominant mindset for much of his hard-lived life.
The Envoy  (1982)
Zevon's 1982 release, The Envoy, returned to the high standard of Excitable Boy but was not a commercial success It was an eclectic but characteristic set that included such compositions as "Ain't That Pretty at All", "Charlie's Medicine" and "Jesus Mentioned", the first of Zevon's two musical reactions to the death of Elvis Presley; the other is the song "Porcelain Monkey" on Life'll Kill Ya in 2000. The album also contains the first of Zevon's writing collaborations with well-known, often respected, writers of fiction: "The Overdraft" , co-written with Thomas McGuane. The title track was dedicated to Philip Habib, U.S. special envoy to the Middle East during the early 1980s. In the liner notes for the 1996 anthology I'll Sleep When I'm Dead, Zevon stated that after the song came out, Habib sent him "a very nice letter of appreciation on State Department stationery". The lyrics of another track, "The Hula Hula Boys", were excerpted in Hunter S. Thompson's 1983 book, The Curse of Lono.
"The Envoy" Inspired by the career of Philip Habib, American diplomat and special envoy to the Middle East, Zevon later received what he described as "a very nice letter of appreciation on State Department stationery."
"The Hula Hula Boys" This particular track is a family affair, as it features Warren's son Jordan providing harmony vocals, but as far as Jackson Browne is concerned, it's predominantly prime Warren. "Do you know what the chorus of 'The Hula Hula Boys' actually means?" Browne asked during an interview. "It's a saying in Hawaii that loosely means 'get to the point', but literally means 'sing the chorus'. So when they sing the chorus, they're singing 'sing the chorus'. That is the funniest f—ing thing I have ever f—ing heard! That's Warren Zevon at his best. With one stroke, he's saying nothing and everything. Zevon is a singular writer."
In 1983, the recently divorced Zevon became engaged to Philadelphia disc jockey Anita Gevinson and moved to the East Coast. After the disappointing reception for The Envoy, Zevon's distributor, Asylum Records, ended their business relationship, which Zevon only discovered when he read about it in the "Random Notes" column of Rolling Stone. The trauma allegedly caused him to relapse into serious alcoholism and drug abuse. In 1984, he voluntarily checked himself into an unnamed rehab clinic in Minnesota. Zevon retreated from the music business for several years, except for playing some live solo shows, a period of time during which he finally overcame severe alcohol and drug addictions.
Sentimental Hygiene (1987) and The Hindu Love Gods
From his 1976 self-titled "Warren Zevon" LP to his final album, 2003's The Wind, Warren Zevon regularly garnered some incredible assistance on his recordings. A-list rock stars and music legends happily played second banana to the singer-songwriter on his records – either producing, acting like sidemen or singing backup.
In Zevon's career, no lineup is more remarkable than the one that helped him make 1987's Sentimental Hygiene. Guests included old compatriots such as Don Henley, David Lindley and Waddy Wachtel alongside luminaries from a variety of genres, like P-Funk master George Clinton, rockabilly revivalist Brian Setzer, soundtrack star Jennifer Warnes, Heartbreakers Mike Campbell and Stan Lynch, Red Hot Chili Pepper Flea, not to mention legends such as Neil Young and Bob Dylan. The core group for the sessions was three-fourths of R.E.M.: guitarist Peter Buck, bassist Mike Mills and drummer Bill Berry. "Bad Karma"While we could've included a number of different tunes from Zevon's "comeback" album, including the title track and the closing track, "Leave My Monkey Alone," we're opting for this one for a very specific reason: like the rest of the album, it features Zevon backed by Peter Buck, Mike Mills, and Bill Berry, but unlike the rest of the album, it features backing vocals by Michael Stipe. That's right, you get 100% of R.E.M. on this track!.
At the time, R.E.M. was on the precipice of massive success ("The One I Love" and the platinum Document would arrive just after Sentimental Hygiene), although Zevon had begun working with the band a few years earlier. A big fan of R.E.M.'s debut LP, Murmur, the singer had traveled to Athens, Ga., in February 1984 to record some demos of his newest material with the group.
Berry, Buck and Mills became the core of Zevon's next studio band when he re-emerged in 1987 by signing with Virgin Records and recording the album Sentimental Hygiene. The release, hailed as his best since Excitable Boy, featured a thicker rock sound and taut, often humorous songs like "Detox Mansion", "Bad Karma" (which featured R.E.M. lead singer Michael Stipe on backup vocals), and "Reconsider Me".
During the Sentimental Hygiene sessions, Zevon also participated in an all-night jam session with Berry, Buck and Mills, as they worked their way through rock and blues numbers by the likes of Bo Diddley, Muddy Waters, Robert JohnsonandPrince. Though the sessions were not initially intended for release, they eventually saw the light of day as a Hindu Love Gods album.  Zevon even joined the newly born R.E.M. side project called Hindu Love Gods for some in concert performances, in which they played some of his new tunes ("Boom Boom Mancini" and "Trouble Waiting to Happen") as well as "Werewolves of London" and an assortment of covers.
It was a bright spot in a dark time for Zevon, who had recently hit rock-bottom. After 1982's The Envoy had fizzled commercially, he was dropped from Asylum Records,
Writing was part of the process. For instance, "Trouble Waiting to Happen," which referenced Rolling Stone and obliquely mentioned his ouster from Asylum: "I read things I didn't know I'd done / It sounded like a lot of fun / I guess I've been bad or something." Meanwhile, "Detox Mansion" was more specific, but still characteristically tongue-in-cheek, with mentions of "rakin' leaves with Liza" [Minnelli] and cleaning up the yard with Liz [Elizabeth Taylor].
"I was sitting with Jorge [career-long collaborator Jorge Calderon], and he said, 'I see you're drinking Coca-Cola. I guess you don't wanna go back to Detox Mansion'," Zevon revealed about the song's sardonic inspiration.
But Zevon wrote nakedly heartfelt songs about his struggles, too. "Reconsider Me" was about a relationship that his bad behavior had destroyed and a plea for his estranged lover to return. The singer-songwriter would later say that "Reconsider Me" (along with "Hasten Down the Wind") were the most personal songs he'd ever released.
"Those are about as close as it gets," Zevon said "Those are close like, 'Maybe she'll hear this…' They're that kind of close. The women don't come back, though. They're impressed, but they don't come back. They'll tell their friends."
Because Zevon was unsigned when he wrote "Reconsider Me," he offered it to former roommate and collaborator Stevie Nicks, but the album on which she recorded it was shelved (the song was eventually released on a box set in 1998). So the tender ballad was still up for grabs after Zevon was eventually signed to Virgin Records and began making his comeback.
Having kept in contact with R.E.M. – Zevon did a guest spot at an '85 concert to sing "The Factory" with the gang and Buck showed up to play at one of his solo shows – he invited the group to back him on his new album. They agreed, joining forces to record the bulk of the material in January and February of 1987 at Record One in Sherman Oaks, Calif. Even Michael Stipe got involved, singing backing vocals on "Bad Karma."
"Warren Zevon is the quintessential L.A. songwriter," Mills said "I've learned to find the good things about Los Angeles and Warren tends to remind both of those and the darker, seamier side."
In fact, the sessions went so well that the boys ended up with extra time on their hands. After a dinner at which some members were over-served (but not the recently sober Zevon), the quartet decided to return to the studio and bash their way through an assortment of covers – mostly blues classics, but also Prince's "Raspberry Beret." Those recordings would have nothing to do with Sentimental Hygiene, but would cause controversy in 1990 when the guys felt that Zevon's management wanted to capitalize on R.E.M.'s new status as rock stars by putting the session out as Hindu Love Gods.
"I think it's really great, but unfortunately there's a whole side to it that's very black and ugly," Berry "Basically we were exploited. We love Warren and don't regret doing it at all, but his management and record company kept begging us to support it with publicity and a tour or something. But we can't just drop what we're doing. It was just one fun drunken night long ago."
After R.E.M.'s involvement with the sessions ended, they continued, with the likes of Jennifer Warnes and Don Henley adding backing harmonies to tracks, as well as other legends stopping by. Neil Young agreed to play dirty lead guitar on Sentimental Hygiene's title track. And then Bob Dylan also showed up.
"When I walked into the studio and they said, 'Bob Dylan's here,' I said, 'Why?' Zevon recalled To see you.' That's worth a million records to me."
Dylan, who Zevon often called one of the greatest (if not the greatest) of his influences, contributed a harmonica part to "The Factory." In addition, a couple of tracks were recorded without R.E.M.'s involvement. One of them was "Leave My Monkey Alone," a song about the '50s Mau Mau uprisings that became a funk tune with the help of Flea and George Clinton. Released as a single, the song earned a unique honor as Zevon's lone entry on the Dance chart (No. 18) and also turned into a very '80s music video, complete with awkward dance moves from the singer-songwriter. It was all part of the comeback package when Virgin issued Sentimental Hygiene on August. 29th, 1987. Although Zevon's sixth album would re-establish him in the music industry the level of success that was achieved was clearly less than Virgin expected. After the follow-up, Transverse City, came out in 1989, Zevon was dropped from a label again. At least this time, he didn't have to find out in the pages of Rolling Stone.
Transverse City (1989),
The immediate follow-up to Sentimental Hygiene was 1989's Transverse City, a futuristic concept album inspired by Zevon's interest in the work of cyberpunk science fiction author William Gibson. It featured guests including the Little Feat drummer Richie Hayward, the Jefferson Airplane and Hot Tuna bassist Jack Casady, the noted jazz keyboardist Chick Corea and various guitarists, including Wachtel, David Lindley, Jerry Garcia, Jorma Kaukonen, David Gilmour and Neil Young.
"Splendid Isolation" Zevon always managed to score a number of high-profile musicians for his albums, but this LP had the deck stacked in a big way, thanks to appearances by Jack Casady, Chick Corea, Jerry Garcia, David Gilmour, Mark Isham, Jorma Kaukonen, and J.D. Souther. In addition, you've got this track, which features guitar work by Mike Campbell of The Heartbreakers and harmony vocals by Neil Young.
Key tracks include the title song, "Splendid Isolation", "Run Straight Down" (which had a promotional video that featured Zevon singing in a factory while Gilmour played guitar solos), and "They Moved the Moon" (one of Zevon's eerier ballads).
Mr. Bad Example (1991)
In 1991, Zevon, once again a solo artist, released Mr. Bad Example. This album featured the modest pop hit "Searching for a Heart" and the rocker "Things to Do in Denver When You're Dead", later used as the title of the neo-noir film of the same name, directed by Gary Fleder; after some skirmishing over the unauthorized use of Zevon's song title, the Zevon track was licensed to play over the film's end credits.
On "Mr. Bad Example"  Zevon goes polka! This title track to Warren's '91 LP tells the tale of a con-man with an impressive resume of chicanery. Plus, you can do a jig to it!
Zevon also sang lead vocals on the song "Casey Jones" from the Grateful Dead tribute album Deadicated, although the cut is credited to his regular collaborator David Lindley.
Learning to Flinch(1993)
Owing to his reduced circumstances and his health, his performances were often true solo efforts with minimal accompaniment on piano and guitar the live album Learning to Flinch(1993) documents such a tour. The disc received some airplay on college radio and was considered to be Zevon's version of the MTV series Unplugged. Zevon often played in Colorado around this time to allow for an opportunity to visit with his longtime friend writer Hunter S. Thompson. Zevon also appeared on the Larry Sanders Show on HBO, in 1993, playing himself as a guest on the show, promoting Learning to Flinch. Zevon also played himself on two episodes of Suddenly Susan in 1999, along with singer and actor Rick Springfield.
The Mutineer (1995)
In 1995, Zevon released the self-produced Mutineer. The title track was frequently covered by Bob Dylan on his U.S. fall tour in 2002. Zevon's cover of cult artist Judee Sill's "Jesus Was a Crossmaker" predated the wider rediscovery of her work a decade later. The album, however, suffered the worst sales of Zevon's career, in part because his label, superagent Irving Azoff's short-lived Giant Records, was in the process of going out of business.
"Mutineer"  Another title track, this was originally going to be the final song Zevon performed live, but when he made that appearance on Letterman's show, there was some confusion over the order of Zevon's three planned songs, so Zevon rolled with it and performed "Mutineer" first. In the wake of Zevon's death, Letterman showed the performances again, and this time he rejiggered the running order made sure that Zevon got his wish: "Mutineer" was played last.
Rhino Records released a Zevon "Best-of" compilation in 1996, "I'll Sleep When I'm Dead".
Life'll Kill Ya (2000)

My Ride's Here (2002)
He followed with the album My Ride's Here (2002), with its morbid prescience of things to come; the album included "Hit Somebody! (The Hockey Song)" (co-written by Mitch Albom, the author of Tuesdays with Morrie, and featuring Paul Shaffer, and the Late Night band, and a spoken vocal from TV host David Letterman) and the ballad "Genius" (later used as the title of an anthology of Zevon's recordings, in 2002), with a string section that attests to the lasting influence of Stravinsky on Zevon's work. Comedian and TV host David Letterman was credited by Zevon as "being the best friend my music ever had"
At about this time, he and the actor Billy Bob Thornton formed a close friendship, catalyzed by their common experiences with obsessive-compulsive disorder and the fact they lived in the same apartment building.
"Hit Somebody (The Hockey Song)" This song is a rarity for a couple of reasons, starting with the fact that the lyrics were actually penned by Mitch Albom, best known as the author of "Tuesday's With Morrie" and "The Five People You Meet In Heaven". More importantly, though, the voice you hear shouting "Hit somebody!" is none other than David Letterman. Even though Zevon played the song on The Late Show, Paul Shaffer actually does the yelling during the performance, which is why we've gone with the studio version that features Dave in all his glory.
One of Zevon's compulsions was buying and hoarding identical grey Calvin Klein T-shirts.
The Wind
Zevon began recording his final album, The Wind, which includes performances by close friends including Bruce Springsteen, Don Henley, Jackson Browne, Timothy B. Schmit, Joe Walsh, David Lindley, Billy Bob Thornton, Emmylou Harris, Tom Petty and Dwight Yoakam. At the request of the music television channel VH1, documentarian Nick Read was given access to the sessions and made the television film Inside Out: Warren Zevon.
"Keep Me in Your Heart" How better to end things than with the last song written and recorded by Zevon before succumbing to cancer. By this point, he was too weak to keep going back and forth to the studio, so a studio was set up in his home to record this swan song. Just knowing that it was on his last album makes it sad enough, but now that you know the specifics, just go ahead and let the waterworks flow.
The Wind won two Grammys, with the album itself receiving the award for Best Contemporary Folk Album, while "Disorder in the House", Zevon's duet with Bruce Springsteen, was awarded Best Rock Performance by a Duo or Group with Vocal.
Preludes: Rare and Unreleased Recordings (2007)
Ammal Records, a new label started up as a partnership with New West Records by Zevon's former boss at Artemis, Danny Goldberg, released Preludes: Rare and Unreleased Recordings, a two-disc anthology of Zevon demos and alternate versions culled from 126 pre-1976 recordings that were kept in a suitcase. The album contains five previously unreleased songs: "Empty Hearted Town", "Going All the Way", "Steady Rain", "Stop Rainin' Lord" and "The Rosarita Beach Cafe", along with Zevon's original demo of "Studebaker".
Reissues of the Zevon albums Stand in the Fire and The Envoy were released on March 27th, 2007, by Rhino Records, alongside a Rhino re-issue of Excitable Boy, with all three CDs having four unreleased bonus tracks each. Noteworthy rarities include the outtakes "Word of Mouth" and "The Risk" from the Envoy sessions and "Frozen Notes (Strings Version)", a melancholy outtake from Excitable Boy performed on acoustic piano with a string quartet.
Check out this documentary about the making of the Grammy nominated album The Wind, Warren Zevon's final recording Featuring guest appearances: Jackson Browne, Billy Bob Thornton, Bruce Springsteen, Jorge Calderon, Ry Cooder, Waddy Wachtel, Don Henley, Stevie Nicks, Mike Fleetwood, Tom Petty, Timothy B.Schmit, Joe Walsh, Dwight Yoakam, David Lindley, David Letterman… With additional Extras.
So what is Zevon's place in pop music history? He was too talented to be forgotten, and too self-sabotaging to be lionized. Warren Zevon and Excitable Boy are still classic must have albums.
In the end, Zevon is overshadowed by two other misanthropic, piano-playing singer/songwriters who were working in Southern California at the same time he was: Randy Newman and Tom Waits, both deservedly in the Rock & Roll Hall of Fame. The songs of Newman and Waits sound timeless today, while Zevon's sound like artifacts of a particular time and place in L.A. warped by alcohol, cocaine, gunpowder and testosterone.
But even when he wrote a song as promising as "Reconsider Me," "The Indifference of Heaven," "Splendid Isolation" or "I Was in the House when the House Burned Down," he often undermined it with a poor performance.
Campion's is the third book about Warren Zevon, following 2017's academic study, Warren Zevon: Desperado of Los Angeles,by George Plasketes, and 2007's oral history, I'll Sleep When I'm Dead: The Dirty Life and Times of Warren Zevon, organized by ex-wife Crystal Zevon .