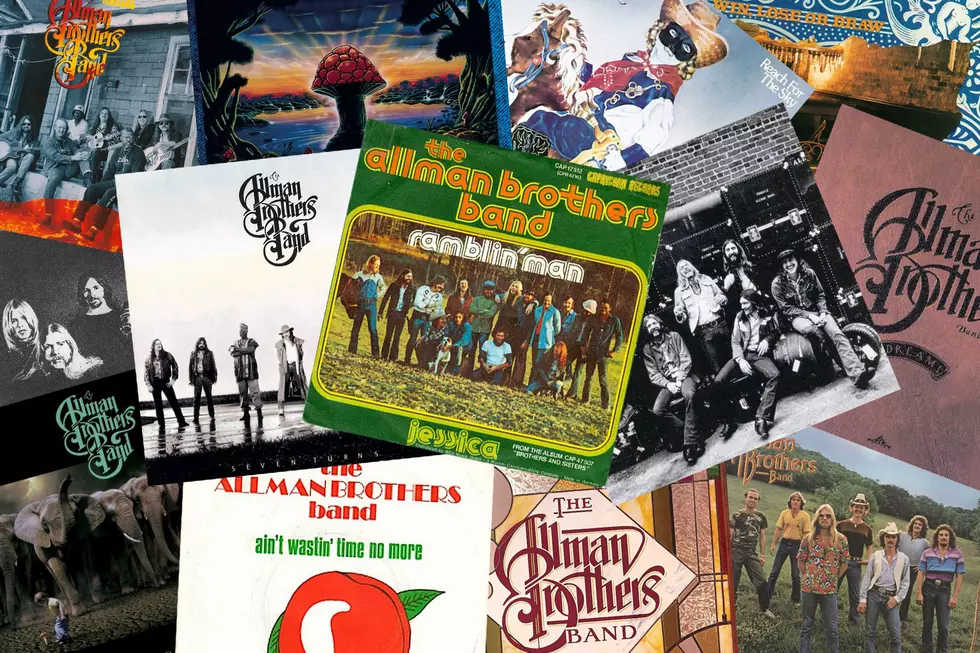 The Allman Brothers Band an American rock band formed in Macon, Georgia, in 1969 by brothers Duane Allman (founder, slide guitar and lead guitar) and Gregg Allman (vocals, keyboards, songwriting), as well as Dickey Betts (lead guitar, vocals, songwriting), Berry Oakley (bass guitar), Butch Trucks (drums), and Jai Johanny "Jaimoe" Johanson (drums). The band incorporated elements of blues, jazz, and country music, and their live shows featured jam band-style improvisation and instrumentals.
The group's first two studio releases, The Allman Brothers Band (1969) and Idlewild South (1970) (both released by Capricorn Records), stalled commercially, but their 1971 live release, At Fillmore East, represented an artistic and commercial breakthrough. The album features extended renderings of their songs "In Memory of Elizabeth Reed", "You Don't Love Me" and "Whipping Post", and is considered among one of the best live albums ever made.
Group leader Duane Allman was killed in a motorcycle accident later that year – on October 29th, 1971, and the band dedicated Eat a Peach (1972) to his memory, a dual studio/live album that cemented the band's popularity and featured Gregg Allman's "Melissa" and Dickey Betts's "Blue Sky". Following the motorcycling death of bassist Berry Oakley exactly one year and 13 days later on November 11th, 1972, the group recruited keyboardist Chuck Leavell and bassist Lamar Williams for 1973's Brothers and Sisters.This album included Betts's hit single "Ramblin' Man". These tunes went on to become classic rock radio staples, and placed the group at the forefront of 1970s rock music.
Their career began slowly, before At Fillmore East finally showed what the band could do. A wonder of power, precision and improvisational genius, the album changed the Allman Brothers Band's profile forever.
In fact, the Allman Brothers Band scored their first and only ever No. 1 hit in the years following that tragedy. But 1973's Brothers and Sisters was also their last platinum-selling project. The group broke up once, got back together and then began a lengthy hiatus in the early '80s.
The Allman Brothers Band (1969): 
This might be the best debut album ever delivered by an American blues band, a bold, powerful, hard-edged, soulful essay in electric blues with a native Southern ambience. Some lingering elements of the psychedelic era then drawing to a close can be found in "Dreams," along with the template for the group's on-stage workouts with "Whipping Post," and a solid cover of Muddy Waters' "Trouble No More." There isn't a bad song here, and only the fact that the group did even better the next time out keeps this from getting the highest possible rating.
The group's most overtly jazz-influenced song "Dreams" was part of a long string of early compositions Gregg Allman offered his fledgling bandmates . In fact, he was a dozen songs in before the Allman Brothers band decided "Dreams" would work. Unusually, Gregg Allman composed the song on the Hammond organ, instead of the preferred guitar or piano. Drummer Jai Johanny "Jaimoe" Johanson's library of old jazz records helped shape their approach, as they turned Allman's blues haiku into a waltz-time meditation that traced the same musical lines as "All Blues" from Miles Davis' groundbreaking Kind of Blue.
"When we were first putting a group together," Duane Allman once said, "we were listening to Jefferson Airplane and the [Grateful] Dead's records. We were all kicking around down South, buying records out of the Kmart and taking them home and digging them. And [Jaimoe] comes along and says, 'Well that's cool  good, but check out what I got over here, this collection.' They just turned us all around. We heard with them cats were doing. Knocked us out." "Dreams" is also the rare classic-era Allmans song featuring just one guitarist, as Duane offered a pair of brilliant solos over the band's two-chord vamp.
Idlewild South (1970)
If you're going to listen to the Allman Brothers, make sure you have the first four records. The band made The Allman Brothers Band, Idlewild South, At Fillmore East, and three-fourths of Eat a Peach with its original lineup, before Duane Allman's fatal motorcycle accident in 1971. The Tom Dowd-produced Idlewild South, their second album, comes off with a little less ferocity than their debut which is perhaps the result of reaching for new sounds the second time around. "Revival," the album's opener, introduces Dickey Betts as a composer. The countrified flavor of his songs gives an indication of where the band will head in the post-Duane era. Betts' other contribution to Idlewild South is the instrumental "In Memory of Elizabeth Reed," a centerpiece of the Fillmore East recordings. Gregg's "Please Call Home" and "Midnight Rider" are built around piano and acoustic guitar, respectively, and have a different feel than the band's usual twin Les Paul-and-Hammond sound. That sound is showcased in the balance of Gregg's tunes, however: the funky blues of "Don't Keep Me Wonderin'" (with Thom Doucette on harmonica) and "Leave My Blues at Home." The album is also notable for the rollicking version of Willie Dixon's "Hoochie Coochie Man," with the only vocal bassist Berry Oakley (who died in a motorcycle accident one year after Duane) ever recorded with the group. Though overall it packs less punch than The Allman Brothers Band, Idlewild South is all the more impressive for its mixture of chunky grooves and sophisticated textures.
The first in a string of strikingly inventive instrumentals from Dickey Betts, "In Memory of Elizabeth Reed" quickly became one the group's most recognizable songs. Betts was inspired by a doomed romance with a woman whom he was secretly meeting in a local graveyard. The guitarist liked to go there to compose, and that's where he saw a headstone bearing the title of this moving, minor-key song. Betts had actually been playing in the same style for some time, working in a symbiotic fashion with the Allmans' late original bassist. "Berry Oakley and I inspired each other's improvisational creativity while we were in Second Coming, the band that presaged the Allman Brothers," Betts later told Guitar World. "One of our favorite things to do was to jam in minor keys, experimenting freely with the sounds of different minor modes. We allowed our ears to guide us, and this type of jamming served to inspire the writing of songs like 'In Memory of Elizabeth Reed.'" The track is driven by these brilliantly harmonized guitar lines, a sound that came to define the Allman Brothers Band. Betts' interest in that approach didn't come from listening to jazz, but instead to the Western swing of Bob Wills. By the way, he wrote "Blue Sky" in the same cemetery.
At Fillmore East (1971)
Whereas most great live rock albums are about energy, At Fillmore East is like a great live jazz session, where the pleasure comes from the musicians' interaction and playing. The great thing about that is, the original album that brought the Allmans so much acclaim is as notable for its clever studio editing as it is for its performances. Producer Tom Dowd skillfully trimmed some of the performances down to relatively concise running time (edits later restored on the double-disc set The Fillmore Concerts), at times condensing several performances into one track. Far from being a sacrilege, this tactic helps present the Allmans in their best light, since even if the music isn't necessarily concise (three tracks run over ten minutes, with two in the 20-minute range), it does showcase the group's terrific instrumental interplay, letting each member (but particularly guitarist Duane and keyboardist/vocalist Gregg) shine. Even after the release of the unedited concerts, this original double album remains the pinnacle of the Allmans and Southern rock at its most elastic, bluesy, and jazzy.
"Whipping Post," like "In Memory of Elizabeth Reed," had been earlier featured on Allman Brothers Band studio recordings but both found new meaning in this live setting. In fact, the 23-minute take from At Fillmore East is not only the definitive version, it's the moment when Gregg Allman's composing genius is confirmed. Still, this is truly a band triumph. Oakley completely rearranged the song which started out as another slow blues – into an unusual 11/8 meter that provides plenty of musical space for his bandmates to fill.
Dickey Betts and Duane then soar through another ribbon of harmonized, totally off-the-cuff guitar lines. (At one point late in the proceedings, Betts impishly quotes the children's song "Frere Jacques.") "We have rough arrangements, layouts of the songs, and then the solos are entirely up to each member of the band," Duane once explained. "The naturalness of a spur-of-the-moment type of thing is what I consider the most valuable asset of our band." And perhaps nowhere more so than on "Whipping Post," which – quite fittingly – took up the entire closing side of the original Fillmore East vinyl release.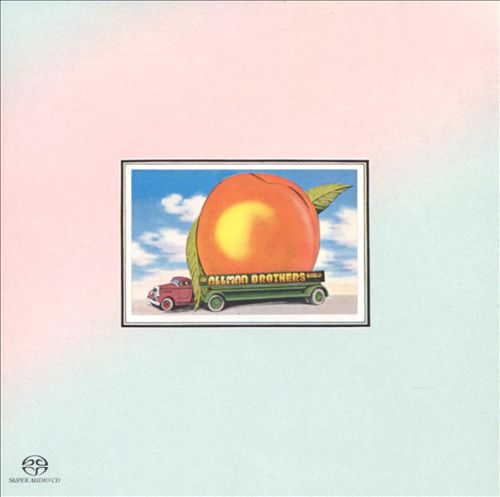 'Eat a Peach' (1972): "Ain't Wastin' Time No More"
Inspired by the tragic death of his brother, Gregg Allman's album-opening "Ain't Wastin' Time No More" offered a sturdy paean to perseverance. Betts – who Duane once praised by saying, "I'm the famous guitar player, but Dickey is the good one" seemed to be of a similar mindset as he stepped in on Allman's preferred slide. The idea on Eat a Peach was to mix newly recorded songs like this one with some of Duane's final recordings, making it both tribute and last testament to his genius. And for awhile, it sustained his heartbroken bandmates. "The music brought life back to us all," Gregg said in his 2012 autobiography My Cross to Bear, "and it was simultaneously realized by every one of us. We found strength, vitality, newness, reason and belonging as we worked on finishing Eat a Peach." Still, the prospect of touring nearly broke the band. Ultimately, they decided to go out as a five-piece. No one could replace Duane. Gregg and Oakley introduced the songs, which had also been his role. "We were playing for him," drummer Butch Trucks said in One Way Out: The Inside History of the Allman Brothers Band, "and that was the way to be closest to him." Oakley, who never got over the loss, died in a similar motorcycle crash a year later.
A tribute to the dearly departed Duane, Eat a Peach rambles through two albums, running through a side of new songs, recorded post-Duane, spending a full album on live cuts from the Fillmore East sessions, then offering a round of studio tracks Duane completed before his death. On the first side, they do suggest the mellowness of the Dickey Betts-led Brothers and Sisters, particularly on the lovely "Melissa," and this stands in direct contrast with the monumental live cuts that dominate the album. They're at the best on the punchier covers of "One Way Out" and "Trouble No More," both proof of the group's exceptional talents as a roadhouse blues-rock band, but Duane does get his needed showcase on "Mountain Jam," a sprawling 33-minute jam that may feature a lot of great playing, but is certainly a little hard for anyone outside of diehards to sit through. Apart from that cut, the record showcases the Allmans at their peak, and it's hard not to feel sad as the acoustic guitars of "Little Martha" conclude the record, since this tribute isn't just heartfelt, it offers proof of Duane Allman's immense talents and contribution to the band.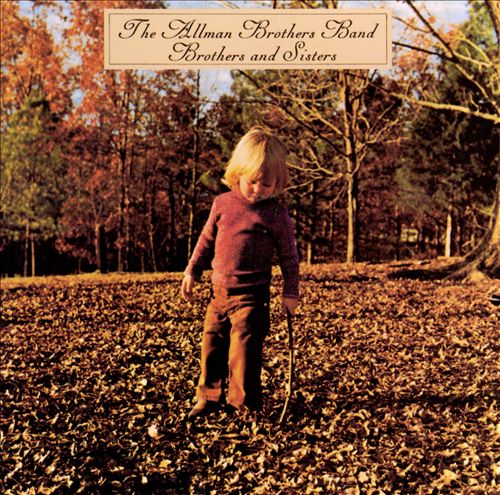 Brothers and Sisters (1973)
Released a year after Eat a Peach, Brothers and Sisters shows off a leaner brand of musicianship, which, coupled with a pair of serious crowd-pleasers, "Ramblin' Man" and "Jessica," helped drive it to the top of the charts for a month and a half and to platinum record sales. This was the first album to feature the group's new lineup, with Chuck Leavell on keyboards and Lamar Williams on bass, as well as Dickey Betts' emergence as a singer alongside Gregg Allman. The tracks appear on the album in the order in which they were recorded, and the first three, up through "Ramblin' Man," feature Berry Oakley their sound is rock-hard and crisp.
The subsequent songs with Williams have the bass buried in the mix, and an overall muddier sound. The interplay between Leavell and Betts is beautiful on some songs, and Betts' slide on "Pony Boy" is a dazzling showcase that surprised everybody. Despite its sales, Brothers and Sisters is not quite a classic album (although it was their best for the next 17 years), especially in the wake of the four that had appeared previously, but it served as a template for some killer stage performances, and it proved that the band could survive the deaths of two key members.
Dickey Betts had no intention of giving this country-rock gem to the Allman Brothers Band. But something about its searching narrative spoke to them in that moment. "I was going to send 'Ramblin' Man' to Johnny Cash," Betts told Guitar World. "I thought it was a great song for him. But everybody in our band liked that song." Smart move: "Ramblin' Man" became the only Allman Brothers Band single to reach the Billboard Top 10, streaking all the way to No. 2. The song also heralded a shift, both in leadership and musical style, toward Betts. The Allman Brothers Band somehow found a way to carry on, but not without help. Les Dudek guests on "Ramblin' Man," allowing the group to replicate their signature harmony leads. "We got into the studio and got into that big long jam at the end with all those guitar parts and everything, and we forgot about how country the song was," Butch Trucks later said "then wouldn't you know it — it becomes our only hit single." That they would never be the same was reflected in the decision to expand their official lineup with pianist Chuck Leavell as a second soloist, rather than another guitarist. "Ramblin' Man" was also the last song recorded with Berry Oakley.
The Allman Brothers Band (1969)
Idlewild South (1970)
At Fillmore East (1971)
Eat a Peach (1972)
Brothers and Sisters (1973)