Universal Music will release a 50th anniversary Allman Brothers Band box set in February. Trouble No More – named after the Muddy Waters song the band first jammed to – will be available as a five-CD package or an extravagant 10LP box set. The 10LP, 61-song set will be available on limited edition orange and red splatter vinyl as well as black vinyl. Each album is a thematic overview of the various stages of the band's recording and performance history, from their earliest demos for Capricorn Records to the band's final performance at New York's Beacon Theatre in 2014.
"The Allman Brothers Band was at their best up on a stage," writes Lynskey, "playing live music for an audience. The group played with unbridled energy, and without constraints.
"While their set list did not vary all that much from night to night in the early days, the band's desire to explore, create and improvise guaranteed that each show would be a different listening experience… their marathon concerts became the stuff of legend." The boxset was produced by Allman Brothers historians and aficionados Bill Levenson, John Lynskey and Kirk West and both CD and vinyl sets take a thematic overview of the various stages of the band's recording and performance history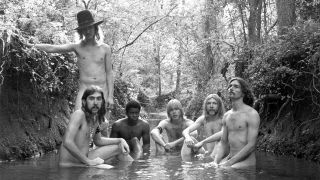 The 10LP vinyl box is incredibly expensive, but does package the five gatefold vinyl sets in a "wood veneer wrapped slipcase with gold graphics" and it includes an 56-page large format book.
The five-CD version includes an 88-page booklet and comes as a 12-panel 'softpack' with a slipcase. Both formats contain an 8,900 word essay on the 50-year history of the band by John Lynskey, unreleased band photos along with newly shot photos of memorabilia and a recap of the 13 incarnations of the band line-up. Last week it was announced that the surviving members of the last Allman Brothers Band lineup would play special show in New York in March, billed as 'The Brothers'.
Trouble No More: 50th Anniversary Collection is released on 28th February 2020.