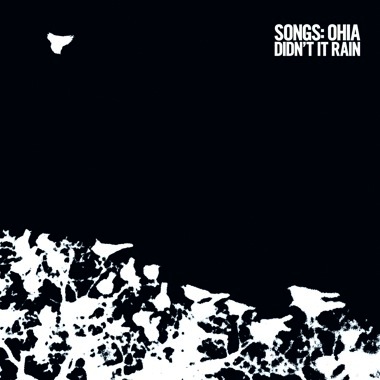 Songs Ohia – Didn't It Rain (Reissue): In 1996, Chris and Ben Swanson's upstart label Secretly Canadian issued the One Pronunciation of Glory 7" and made Jason Molina a recording artist. Six years later, the brothers released "Didn't It Rain", a masterpiece tour of darkness and despair lit only by the light of Molina's lantern and that ever-present Blue Chicago Moon. This month's reissue would be essential in any context, but with the gray having already claimed its space over Molina's midwest, it almost sounds like Didn't It Rain was pulled straight from the sky.
Didn't It Rain is Jason Molina's first perfect record. Recorded live in a single room, with no overdubs and musicians creating their parts on the fly, the overall approach to the recording was nothing new for Molina. But something in the air and execution of Didn't It Rain clearly sets it apart from his existing body of work. His albums had always been full of space, but never had Molina sculpted the space as masterfully as he does on Didn't It Rain.
Never has a Songs: Ohia album's process been so integral to its overall feel as is the case with "Didn't It Rain", the band's sixth proper full-length. The album, like the working class South Philadelphia neighbourhood in which it was birthed, has a real used goods kinda feel to it. Engineer Edan Cohen employed what some may consider "old-fashioned" recording techniques — the entire album was recorded live with no overdubs, the full band playing in one room with the players always within arms' reach of one another; singers Jason Molina, Jennie Benford and Jim Krewson (the latter two of Jim & Jennie And The Pinetops) sharing microphones singing live together, sometimes sitting in chairs, sometimes standing. The result is a sound which resembles the warmth and personality of the classic Muscle Shoals Sound recordings of the early- to mid-70s: Willie Nelson's Phases & Stages, the Rolling Stones' "Wild Horses", and others by Aretha Franklin, Boz Scaggs, Bob Seger, Lynyrd Skynyrd and Wilson Pickett.
Inspired by the Mahalia Jackson song of the same name, the title track is a beautiful song about the shifting tides of life and the old cycle of "a lot of shit going down before shit clears up". It's a damn fine place to start an album that seems in no hurry whatsoever to make a universal statement, instead perfectly content to walk its own path toward resolution. And damn if Songs: Ohia principal songwriter Jason Molina hasn't gone and created a record that is even more intensely personal and healing than any of his previous works. Neil Young had his After The Goldrush, this is Molina's "Didn't It Rain".
Indeed, this is the album with which Molina really leaves his mark as a serious songwriter and artist. On 1999's genre-bending Ghost Tropic full-length, Songs: Ohia made it clear that it could make a cohesive album that took its listener on a journey from front to back. Its dislocated feel set a haunting tone, and its largely instrumental and drone-like quality was the process of the Ohia eluding itself and its own tendencies, searching for the underside of its roots freshly yanked. With "Didn't It Rain", Molina & Co. return to the beauty of the song form and offer up a startlingly soulful and introspective song cycle in which Molina — accepting a comfortable degree of anonymity amongst the other players — meditates on what it means to feel rooted again (in the city of Chicago, where he's called home for the past three years), sounding more sturdy at his core than ever.
"It's where Molina felt the need to contract himself to a pinpoint, gathering all his energy into a lonesome quantum, before unleashing the wholehearted force of Magnolia Electric Co. He couldn't have known what was to come, including some of his best work and worst times, but it's obvious this is the sound of Molina standing on the brink of something. He didn't seem to know quite what yet, and that stark uncertainty imbues Didn't It Rain with a sickening yet heroic alchemy: the ability to make smallness and helplessness feel somehow brave"
On this day in 2002, Songs: Ohia's 'Didn't It Rain' was released on Secretly Canadian.