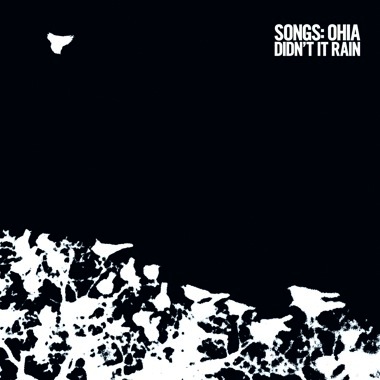 "Didn't It Rain" is Jason Molina's first perfect record. Recorded live in a single room, with no overdubs and musicians creating their parts on the fly, the overall approach to the recording was nothing new for Molina. But something in the air and execution of "Didn't It Rain" clearly sets it apart from his existing body of work. His albums had always been full of space, but never had Molina sculpted the space as masterfully as he does on "Didn't It Rain".
We expected to hear hardcore. Instead, there were the faint strums of an acoustic guitar, followed by plaintive singing. Songs: Ohia's Jason Molina doesn't sing until 25 seconds into "Didn't It Rain", and if you're fidgeting like we were, you could mistake his voice for the record's first sound.
"This isn't our record." "Yeah, no shit." "It sounds like Neil Young or something."
"Didn't It Rain" balances the most soulful songs in Molina's early catalog with an extraordinarily lonely and spacious atmosphere. The album may have been recorded in Philadelphia, but since it's laden with references to industry, the Midwest, and the Great Lakes, it's a Chicago record through and through; the songs feel made to echo down the city's lonely, beige corridors. It's an ominous album, and its tension comes from the way it quietly delivers heaviness. The second song, "Steve Albini's Blues," is an incantation, heavy metal dripping from a water tower, and it opens with the lyrics, "On the bridge out of Hammond/ See them brake lights burning."
Molina liked to work fast, recording songs in just a couple of takes and refusing overdubs. This spontaneity turns "Didn't It Rain" into a shifting, living thing as Molina's collaborators learn the music on their feet. Jim Krewson's high lonesome wail streaks to the surface of "Steve Albini's Blues," Jennie Benford's mandolin adds a sad side-to-side swing, and Mike Brenner's homemade, cello-esque "lap bass" gives highlights "Ring The Bell" and "Cross The Road, Molina" a sweeping undertow. Carrying it all is Molina's voice, in its best form yet, plainspoken and mournful, desperate and resigned.
While the follow-up to "Didn't It Rain", Jason Molina's 2003 masterpiece "The Magnolia Electric Co"., bears the Songs: Ohia name, Molina insisted that "Rain" was the last Ohia album, and it's easy to hear why. "Didn't It Rain" marks the beginning of a transition, where Molina started using American roots music to focus his previously oblique songs, pushing the blues, country, and old-school rhythm and blues that had always flowed through them to the front. With a big, rotating cast of players, "The Magnolia Electric Co". is a full-band record in the mould of Crazy Horse or the Band, and it positioned Molina within the growing indie Americana scene that he had presaged. To go with this transition, he changed the band name to the Magnolia Electric Co.
After spending the whole album warily assessing his surroundings, "Blue Chicago Moon" is a final ascent, closing the book with the sense that something new and better is on the horizon.
"It's kinda good, though."
Jason Molina was born in Lorain, Ohio in 1973 and grew up in a trailer near Lake Erie. Starting in the mid-1990s, Molina and his guitar were Songs: Ohia, a project that blended gothic Americana with High Fidelity-ready indie subgenres like slowcore and post-rock. Later, he was solo artist Jason Molina and the leader of the sprawling roots-rock ensemble Magnolia Electric Co., making music that followed his own mythology until his death in 2013. "Didn't It Rain", released 20 years is the culmination of his early career, the era when his songs slotted perfectly between Will Oldham and Karate on a mix CD from that corduroy-wearing older dude at your coffee shop job.