No other popular rock band of their era, let alone the San Francisco scene, boasted five singer-songwriters in their ranks. But "multi-faceted" isn't synonymous with "good" — and, luckily, Moby Grape had the melodies, arrangements and overall sonic vision to maximize that breadth of skill. The band released four albums in the '60s before burning out early in the next decade (and being revived later on) — but they could easily stopped after their self-titled 1967 debut, which expertly wove folk, blues, psych-rock and country into a heavily harmonized swirl.
Arguably the most talented San Francisco band from the golden era, Moby Grape was a beloved group whose debut album was released with great fanfare on Columbia Records in June 1967 amid the Summer of Love. It climbed to No24 on album charts with an unprecedented five singles dropped from it.
Each member of the group: Jerry Miller (guitar, vocals, Peter Lewis (guitar, vocals), Skip Spence (guitar, vocals), Bob Mosley (bass, vocals) and Don Stevenson (drums) all contributed to the singing and song writing, each could sing lead, and the versatility of the band was demonstrated in its fusing of folk music, blues, jazz, and rock. So, what went wrong? Why didn't the group rise to the level of other San Francisco bands such as the Jefferson Airplane, the Grateful Dead, Quicksilver Messenger Service or Big Brother & the Holding Company?
As it happened the band was entangled in legal disputes with their former manager, Matthew Katz, for many years. As described by Jeff Tamarkin "The Grape's saga is one of squandered potential, absurdly misguided decisions, bad luck, blunders and excruciating heartbreak, all set to the tune of some of the greatest rock ever to emerge from San Francisco. Moby Grape could have had it all, but they ended up with nothing and less." Anyone who saw the Grape perform at the Avalon in January, February or August 1967 or at Winterland with the Byrds in March and April 1967 knows what a singular band it was. The musicianship was extraordinary. Just a few of the band's gems: "8:05," "Someday," "Sitting by the Window," and "Hey Grandma." Moby Grape recorded five albums from 1967-1971 but after the second disc "Wow," (the band's highest charting album), the next three releases were poor sellers.
Three of the four surviving members (Skip Spence died in Santa Cruz in 1999) still are active in the music business. It is sad that the band never fully realized its true potential, but it is remembered fondly by those fans that were present at its creation.
Just over fifty years ago, the debut album by the San Francisco band Moby Grape was released on Columbia Records. Generally hailed as one of the finest recordings from the '60s San Francisco scene—and often as one of the great debuts of all time, period—its June 6th, 1967, release presaged a series of missteps, legal sagas and tragedies that have since become legend.
In this edited excerpt from Best Classic Bands editor Jeff Tamarkin's 2003 biography, Got a Revolution! The Turbulent Flight of Jefferson Airplane, he recounts the tale of Moby Grape and the band's enigmatic co-founder Skip Spence.
In the summer of 1965, the recently formed Jefferson Airplane decided to dismiss their first drummer, Jerry Peloquin. That's when a golden boy named Alexander "Skip" Spence came waltzing into [San Francisco's] Matrix club and was immediately signed up by Marty Balin, the band's co-founder.
Spence had little experience as a drummer but Balin just knew he'd be right for the group. He sent Spence home with a pair of drumsticks and he soon debuted with the band, playing on their first album, Jefferson Airplane Takes Off. Spence wasn't one for staying in the same place very long though, and he took off to Mexico one day with a girlfriend or two, neglecting to tell the band he was leaving. They decided he wasn't going to work out and Spence was soon replaced by Spencer Dryden, who remained the Airplane's drummer throughout their key years of 1966-70.
In the summer of '66, Skip returned to the Bay Area from Mexico and resurfaced with a new band, Moby Grape, this time playing guitar, his first instrument. They woodshedded in Marin County for months and played their first gig at the city's California Hall on November 4; everyone who heard them agreed that this was an astounding band.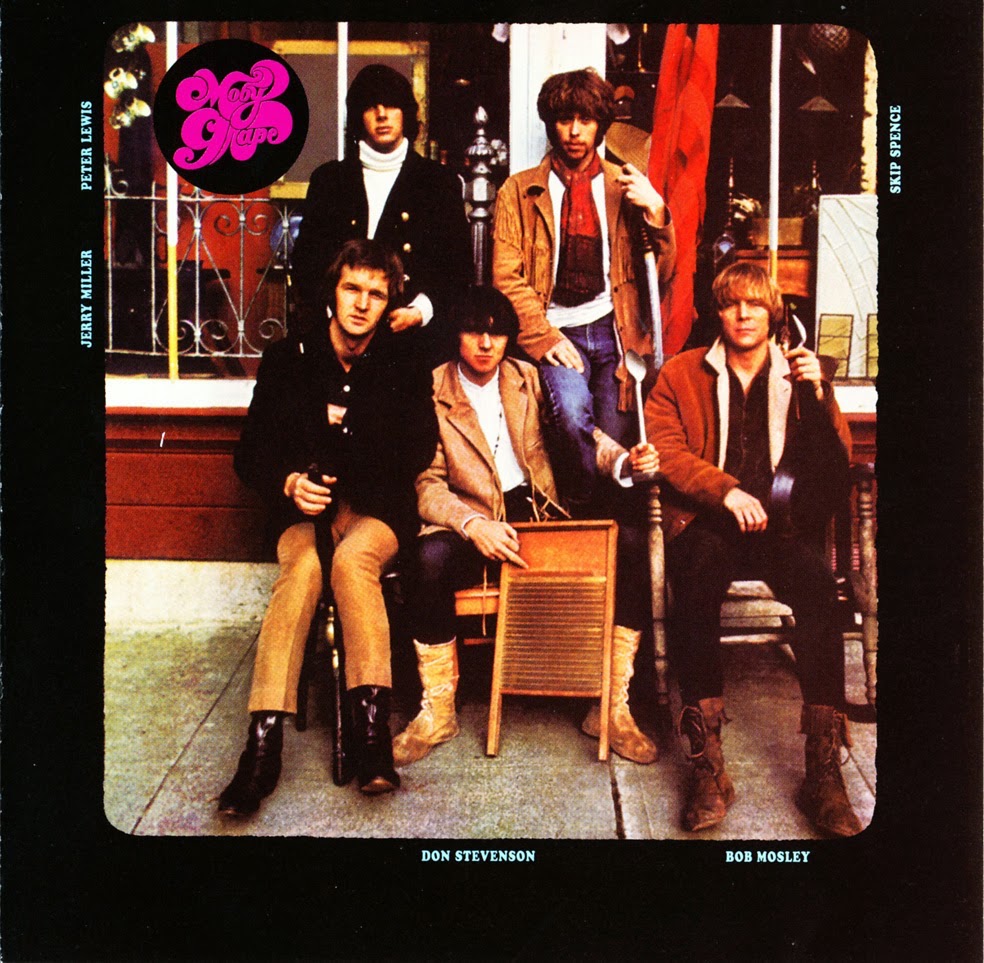 The Airplane—who'd been working in Los Angeles on their sophomore album, "Surrealistic Pillow", and playing gigs out of town—missed the chance to catch their former drummer's new band right away. What really confused the Airplane, however, was learning that the Grape was managed by Matthew Katz. Katz had also been the Airplane's first manager, and he'd given them nothing but grief. Subsequent lawsuits involving Katz would tie up the court system for a whopping 21 years. Why Skip Spence would choose to continue working with Katz was just one of the many unfortunate mysteries in which his life became entangled during the three-plus decades following his Airplane tenure.
The Grape's saga is one of squandered potential, absurdly misguided decisions, bad luck, blunders and excruciating heartbreak, all set to the tune of some of the greatest rock and roll ever to emerge from San Francisco. Moby Grape could have had it all, but they ended up with nothing, or less.
Katz had helped engineer the Grape's formation. In addition to Spence, the quintet included two other guitarists: Peter Lewis (the son of actress Loretta Young), who used to play with Spencer Dryden down in L.A. and was most recently working with a band called Peter and the Wolves; and Jerry Miller. Miller and drummer Don Stevenson had played together in a bar band in the Pacific Northwest called the Frantics, and Miller had earlier worked with Bobby Fuller, the Texan rocker who died under mysterious circumstances in the summer of '66 just months after scoring a Top 10 hit with the Sonny Curtis-penned "I Fought The Law."
The Frantics had relocated to San Francisco in 1965, where bassist Bob Mosley worked with them briefly. Mosley recommended Miller and Stevenson to fill out the line-up of the proposed new group, which took its moniker from the punch line of a dumb joke: "What's purple and swims in the ocean?"  At first, the rest of the Grape-to-be wasn't sure about working with Spence.
Jerry Miller: He was a little bit too crazy, even then. When we first met him, he looked a little bit crazed. He was one of the first guys I'd seen with ratted hair. And he'd laugh hysterically when he'd get the feeling. But he played excellent rhythm guitar. He did these things where he would muffle the strings. And he did that better than anybody, ever. And when the five of us played together, there was something happening that was undeniable.
Moby Grape was a record company's dream band when they debuted. Their complementary three-guitar lineup produced a thunderous noise, not unlike what Buffalo Springfield was doing down in L.A., and each member of the band could sing. Their songs were expertly composed and had both commercial possibilities and the integrity demanded by San Francisco audiences. They looked great onstage—they had a real presence, and real moves, unlike some of the other local bands—and put on a dazzling performance. Many felt that they were the most accomplished band on the scene musically from the moment they showed up. They were tight, and worked within structures that were anathema to some of their peers in the city.
Said keyboardist and singer Al Kooper, then working in New York with the Blues Project, "The only San Francisco band that did anything for me was Moby Grape. They adhered to more of a three- minute mentality.
.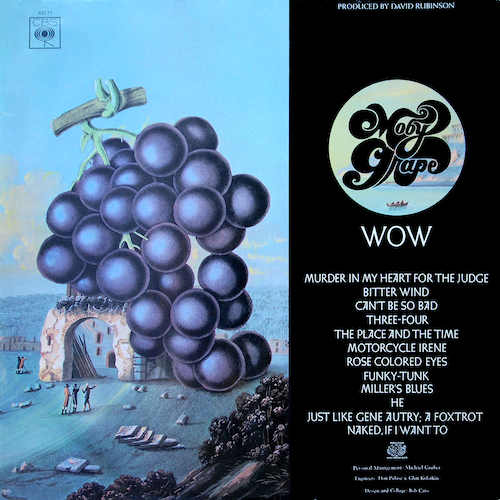 But the Grape was doomed. For starters, they allowed Matthew Katz to retain ownership of their name, precipitating legal battles that continued to tie up the court system clear to the end of the 20th century and kept the musicians from exploiting their own legacy. And in 1967, upon the release of their first album for Columbia Records, hailed by many critics as one of few perfect debuts in rock history, the Grape was the victim of one of the most misguided marketing efforts in the annals of the music industry: the simultaneous release of nearly all of the songs on the album as A-sides or B-sides of singles. By pitting the five records against one another, Columbia effectively cancelled out the possibility of any one of them gaining enough momentum to become a hit. The disaster was compounded by a press party at San Francisco's Avalon Ballroom so overblown in its hype quotient (purple flowers everywhere) that Moby Grape never really recovered.
Things got worse. There were busts and a second album, Wow/Grape Jam, generally considered inferior to the first. And then, in 1968, began the downfall of Skippy Spence. Spence had taken to gobbling tabs of LSD like Pez, and taking harder drugs, becoming increasingly unreliable and unpredictable. While the band was staying in New York, at the Albert Hotel, Spence chopped away at Stevenson and Miller's hotel room door with a fire axe, and when he failed to find them there, continued on to the studio where the group had been recording. Katz's management style proved consistent with the way he'd managed the Airplane. Jerry Miller says that he remembers the Grape missing a photo session for the high-circulation Look magazine because Katz had gotten the time of the shoot wrong. Producer David Rubinson managed to get the weapon away, but Spence was taken by police, first to the Tombs jail and finally to Bellevue Hospital, where he spent six months undergoing psychiatric care. He was never the same after that—the old Skip Spence, described by everyone as a happy-go-lucky, good-time fellow, falling into a dope-induced psychosis.
Jerry Miller: Skippy changed radically when we were in New York. There were some people there that were into harder drugs and a harder lifestyle, and some very weird shit. And so he kind of flew off with those people. They were really strange, almost Nazi-ish. Skippy kind of disappeared for a little while. Next time we saw him he had cut off his beard, and he had a black leather jacket on, with his chest hanging out, with some chains and just sweating like a son of a gun. I don't know what the hell he got a hold of, man, but it just whacked him. And the next thing I know, he axed my door down in the Albert Hotel. They said at the reception area that this crazy guy had held an axe to the doorman's head.