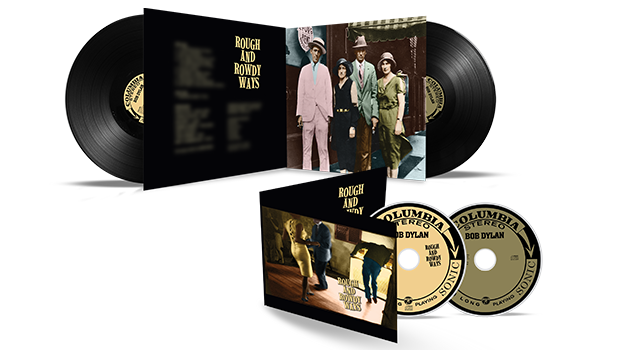 Just when it looked like Bob Dylan was settling into a semi-retirement of regular touring punctuated by strangely reverent standards collections, he comes careening back into the spotlight with his best album in a decade, if not two. Bracketed by deeply referential mirage-like epics "I Contain Multitudes" and "Murder Most Foul," Rough And Rowdy Ways fills out its run time with a career-spanning assortment of sounds, from stately ballads to stomping roadhouse blues. He also proclaims, "Key West is the place to be if you're looking for immortality" — and if anyone could speak authoritatively on that subject, it's Bob Dylan.
"Rough and Rowdy Ways" is Bob Dylan's first album of original new material in 8 years and his first since becoming the only songwriter to receive the Nobel Prize for Literature, in 2016. Its 10 tracks include the three new songs released this spring: the album's lead-off track, "I Contain Multitudes", the nearly 17-minute epic "Murder Most Foul" and "False Prophet". This is Dylan back to his best, and not a Sinatra cover in sight.
Sharp and precise in its references, descriptions, and personal confessions, Bob Dylan's Rough and Rowdy Ways is thematically universal and powerfully prescient, in many ways acting as the culminating expression of the apocalyptic spirituality that's preoccupied Dylan since his earliest recordings. It's also a masterpiece of mood as much as lyrical poetry, and as stunningly and surprisingly atmospheric as many of the major musical achievements in a career more associated with monumental song writing than sonic mastery. This is an album that showcases a similar comprehensive spectrum of ideas, attitudes, citations, perspectives, stories, and jokes as Dylan's greatest recordings. True, many of these are grave, but the few hopeful spots—like "I've Made Up My Mind to Give Myself to You" and "Key West (Pirate Philosopher)"—are well-earned and, quite simply, beautiful. Latter-day Dylan is the man behind "To Make You Feel My Love" as well as "Not Dark Yet," and along with dispensing fire and brimstone, Rough and Rowdy Ways keeps romantic and spiritual faith alive, through both the fervour of unshaken convictions concerning the high stakes of the soul as well a basic yearning for love, companionship, and peace. As with his best work, the album encompasses the infinite potential for grace and disaster that can be clearly discerned but rarely summarized in the most turbulent of ages.
It's Dylan's 39th studio album and his first long-player of original material in eight years (the last being Tempest in 2012).
Bob Dylan new album for release on CD on 19th June 2020 and double vinyl LP on 17th July.The maestro's first album of original new material since since 2012's "Tempest".
2CD and 2LP formats available to pre-order now.
Web site prices include UK shipping, the print and CD package will be shipped in a larger card envelope than a normal CD.
( UK shipping is tracked and insured for vinyl formats )
The 10 track album contains the fantastic "Murder Most Foul" and the newly released single "False Prophet".