Kurt Vile an American singer, songwriter, multi-instrumentalist and record producer. He is known for his solo work and as the former lead guitarist of the rock band The War on Drugs, both in the studio and during live performances, Vile is now accompanied by his backing band, The Violators, which currently includes Jesse Trbovich (bass, guitar, saxophone), Rob Laakso (guitar, bass) and Kyle Spence (drums).
Influenced by bands like Pavement, Neil Young, Tom Petty, and John Fahey.  Kurt Vile began his musical career creating lo-fi home recordings with frequent collaborator Adam Granduciel in Philadelphia, with whom he has participated in early work by The War on Drugs as well as various solo projects. Focusing on his solo career, Vile released two albums, "Constant Hitmaker" (2008) and "God Is Saying This to You..". (2009), compiling various home recordings dating back to 2003. Vile signed to Matador Records in 2009, and released his third album, "Childish Prodigy", that same year. The album was his first recorded in a studio and with the full participation of The Violators.  "I've always been prolific," he says. "It just took me until I was 29 for someone to actually put my music out."
In 2011, Vile released his fourth studio album, Smoke Ring for My Halo, which significantly increased his exposure. His fifth studio album, Wakin on a Pretty Daze, was released in 2013, with Laakso replacing Granduciel in his backing band. In 2015, Vile released his sixth studio album, b'lieve I'm goin down…. The lead single from the album was, "Pretty Pimpin", Vile's best performing song to date,  His project in 2017 saw him release "Lotta Sea Lice", a collaboration with Australian singer and guitarist songwriter Courtney Barnett.
The War on Drugs (2003–2008)
In 2003, after staying in "Boston" for two years, Vile moved back to Philadelphia and began collaborating with musician and songwriter Adam Granduciel The duo subsequently formed the Indie rock band "The War on Drugs  in 2005. Regarding his friendship with Granduciel, Vile noted, "We're essentially best friends. He was backing me up in my band when he started working on his own music, so I thought I'd return the favor." Granduciel and Vile released their debut studio album, "Wagonwheel Blues" in 2008 and embarked on a tour in support of its release.
Constant Hitmaker (2008)
At this time, Vile's debut solo album,"Constant Hitmaker" (2008), released on "Gulcher Records" Vile subsequently decided to leave The War on Drugs to concentrate on his solo career. The album was compiled from various home recordings and one studio recording of the song "Freeway". In 2009, Vile noted, The War On Drugs got put out on a bigger label first, so, in the some claim that The War on Drugs was my first, main band. But that's just the way it looks. I've made more music than Adam has, and have been doing my Kurt Vile thing for a little bit longer. And Constant Hitmaker came out around that same time. Right when that [War on Drugs] record came out, I went to Europe with them, and also opened as Kurt Vile. That was right when I decided I wanted to concentrate on doing my own thing. Despite Vile's departure, Granduciel remained a member of his backing band, The Violators, with Granduciel noting, "There was never, despite what lazy journalists have assumed, any sort of falling out, or resentment.
Constant Hitmaker the debut studio album by American musician"Kurt Vile" released in 2008 on Gulcher Records"  and Woodsist. Self-produced, and recorded between 2003 and 2007, the album is primarily composed of lo-fi home recordings that Vile had previously issued on "CD-R"
Following the album's release, Vile stated that Constant Hitmaker is "like a Best-of, sort of, but leaning toward the "Psychedelic pop"stuff, kind of my later material."
God Is Saying This to You. (2009)
In April 2009, Mexican Summer released "God Is Saying This to You..".; a collection of Vile's home recordings dating back to 2003 on vinyl only. Upon its release, Vile had already recorded a studio album, Childish Prodigy, which Vile described as "definitely not as lo-fi" as his previous releases, After shopping the record to various labels, Vile signed with Matador Records in May 2009. Vile noted, "It's a perfect fit. They were my number one choice. I don't really consider my music indie rock or think that Matador cater only to indie rock, but I still feel I can relate most to Matador, more than any other label. Not to mention the fact that they are way on top of their shit."
Childish Prodigy (2009)
Recorded with backing band The Violators, "Childish Prodigy" was released on October 6th, 2009, and increased Vile's exposure significantly. Support slots with Dinosaur Jr, Thurston Moore and Fucked Up followed the album's release. Regarding his new position, Vile stated, "Obviously there's more touring, more press and more hype which I won't say is not deserved. There's like a faction of people, too, who like to talk shit, which is kind of new. When I was more independent, there were people who got really excited and there still are but once I got more press people started to comment on blogs. People like to talk shit. […] It's like climbing a ladder. I like to climb it really slowly. I could probably get really professional right away, but I like to take baby steps and find my own way."
Philadelphia guitarist / vocalist Kurt Vile first came to music enthusiasts' attention with the release of 2008's 'Constant Hitmaker' on the gulcher imprint. the homemade hitmaker (also reissued on vinyl through woodsist) was a psych pop gem. his debut Matador album, 'Childish Prodigy' ups the fidelity only a little. this absorbing, addictive and richly detailed album covers an immense amount of ground compared to its predecessor, from the pounding stomp of 'Hunchback' and the hypnotic beat of 'Freak Train' to the unexpected, soaring trumpet in 'Amplifier.'
Smoke Ring For My Halo (2011)
Vile released his fourth studio album, "Smoke Ring for My Halo", in 2011. The album peaked midway in the charts and was placed highly on many end-of-year lists, and in 2013 it was named at number 475 in NME's '500 Greatest Albums of All Time'  Later in 2011, Vile released a companion EP, So Outta Reach, and appeared on his former band The War on Drugs' second studio album, Slave Ambient. Shortly after the release of Smoke Ring for My Halo, longtime Violators guitarist Adam Granduciel departed from the band to fully focus on The War on Drugs, with Vile noting, "Adam, he plays in The War on Drugs, his record came out a little after mine did, so at first he toured, and now he's obviously busy with that and now he's working on his new record.
The deluxe double cd version of 'Smoke Ring for My Halo' comes with a new colour cover. the deluxe cd includes the 'So Outta Reach' ep on a second disc. the ep contains 5 original songs initially recorded during the sessions for 'Smoke Ring for My Halo' album but not used , which were reworked with producer John Agnello this summer. in addition, the ep contains a cover of Springsteen's 'Downbound Train.' the Philadelphia singer / songwriter  returns with his second proper album (2008's 'Childish Prodigy' was a compendium of sorts). It's a gorgeously layered record. ranging from the tender breezy folk in 'Jesus Fever' to the tuff urban guitar riff of 'Puppet to the Man' Vile's distinctive philly-accented vocal ties together a sweeping and evocative project – a true american psychedelic folk album. this is no pastoral listening experience however – when Vile sings, 'society is my friend: he makes me lie down in a cool bloodbath' he sounds both exhausted and distanced from the ringing harmonics of his guitar and Mike Zanghi's pounding drums. even the gentler songs, such as 'On Tour' and 'Baby's Arms' have a distinctly dark lyrical tone. the closest that Vile gets to some kind of acceptance is in the central track, the rueful 'in my time' "i know when we get older, i'm dying, but i got everything i need here now, and that's fine, now… that's fine. recorded at the Magic Shop , the album is a massive step forward for one of the country's most beloved (not least by other musicians) rock songwriters.
Wakin On A Pretty Daze (2013)
"Wakin on a Pretty Daze" was released on April 9th, 2013. Regarding the current line-up of his backing band, Vile noted, "I'm playing with Jesse [Trbovich] and Rob [Laakso]. […] Rob Laakso is the newest member and Jesse has been a member forever. They're steady members. Our drummer is no longer with us, but other than that, different friends played drums on the record and we're doing rehearsals with that right now. But other than that, the Violators are me, Jesse, and Rob and we'll see how it evolves." Priestess drummer Vince Nudo subsequently joined the band on drums and percussion, after performing on two of Wakin on a Pretty Daze's tracks.
Steve Gunn joined the band as an "auxiliary Violator", during the band's May 2013 tour dates, with Vile noting, "It's impossible to just talk about Steve. He's too good! He's so good; just listen to him. What can I even say about him that touches that? I just want to listen to him."
On September 24th, 2013, Vile announced the release of a new EP, "It's a Big World Out There (And I Am Scared)", and also a deluxe edition of "Wakin on a Pretty Daze".
Kurt Vile is slowly, quietly becoming one of the great American guitarists and songwriters, of our time. This 69-minute double album is comprised of sweeping, expansive songs that are both very intimate and conversational. Wakin On A Pretty Daze is a timeless record that would have sounded great 30 years ago, sounds great today, and will still sound great in another 30 years' from now. Beautifully produced by John Agnello, the record is filled with hazy, swooning guitar lines and dreamy, beatific, and occasionally sardonic vocals. It is summed up by the staggeringly gorgeous 9-minute opener, Wakin On A Pretty Day. The record has other connections to Kurt's home town. Steve Powers (ESPO), the renowned Philly street artist, painted the cover mural on an abandoned building near the Northern Liberties. The album is being announced via a mini-doc of Powers creating the mural with Kurt's commentary, and the two of them talking about Philadelphian music and visual arts. The mural will be re-created in London, Los Angeles and New York. First edition CD housed in a mini-gatefold like the LP cover,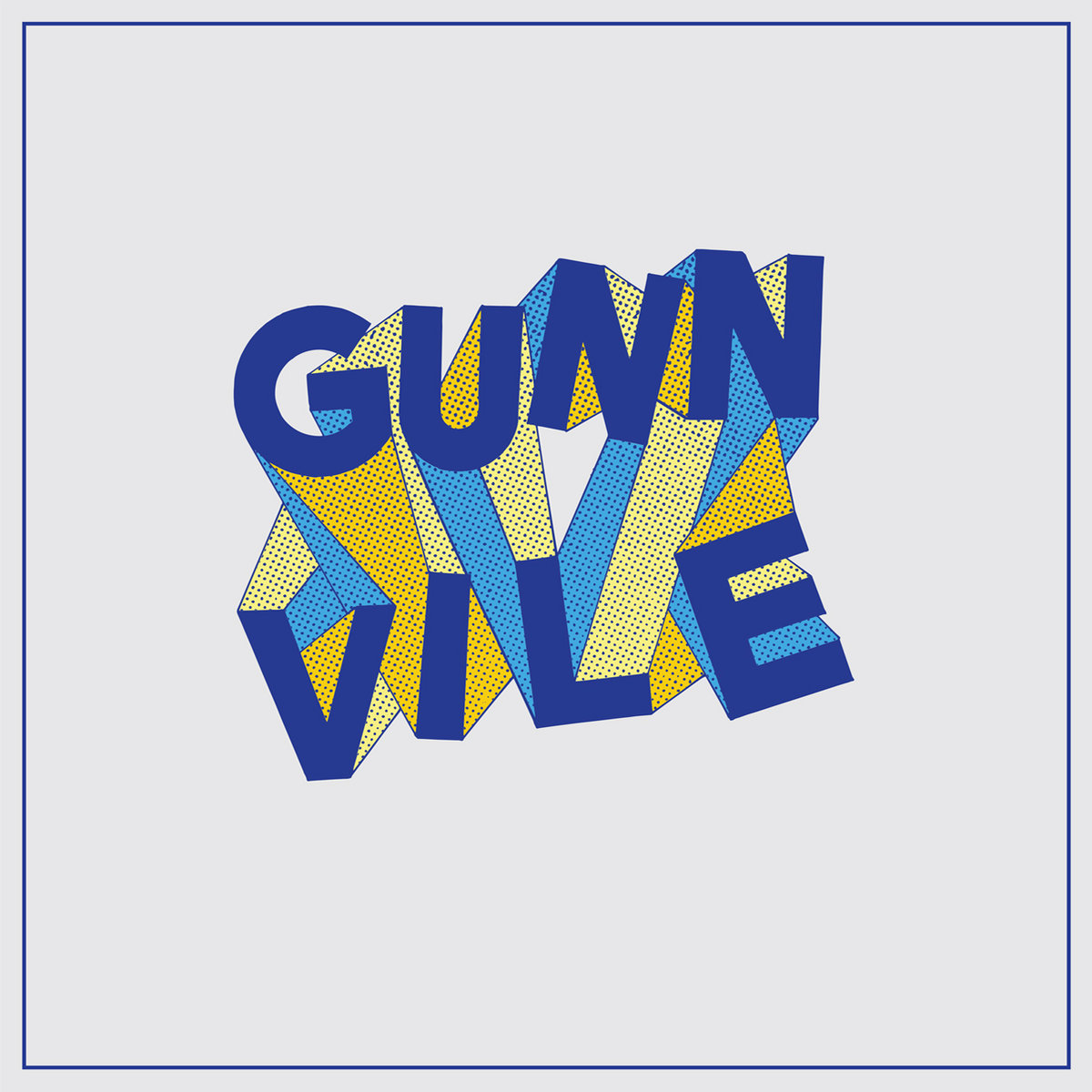 Kurt Vile | Steve Gunn (Released July 14th 2017)
Kurt Vile and Steve Gunn collaborated for their contributions to Three Lobed Recording's Parallelogram series. The two artists, originally connected by mutual friends and geographic proximity, have long pushed the other's continued artistic development. Despite sharing many live stages over the years, this installation of Parallelogram represents the first time that the two have worked together in the studio. Vile's side sees him recast tracks by John Prine ("Way Back When") and Randy Newman ("Pretty Boys," featuring some truly electric guitar flourishes from Gunn) as if they were KV originals. The theme of reinvention continues with Vile tearing through a solo banjo rendition of his "Red Apples" (originally from his "God Is Saying This To You…" LP), retitled here as "Red Apples For Tom Scharpling." Gunn takes on a late period Nico track, "60/40," and pulls a lysergic rocker out of the track's goth-ish roots. The bulk of Gunn's contribution is the epically winding "Spring Garden," a track in the vein of some of his other long-form guitar excursions. Featuring signature contributions from Vile and Mary Lattimore, this hypnotizing cut is unmistakably a new classic in Gunn's catalog.
b'lieve i'm goin down… (2015–2017)
On March 6th, 2015, Vile announced that he was working on his sixth studio album, with recording taking place across different locations in the United States. "b'lieve i'm goin down..". was released September 25th, 2015, on Matador Records. Vile has described it as "All over the place. Everything you can imagine I've done… That's where I'm at now, that I can sort of tap into every world and make it cohesive.
Whole Lotta Sea Lice with Courtney Barnett
The new album's writing and recording stretched out over many months, during which time he also made another full-length LP with his friend Courtney Barnett (2017's delightful Whole Lotta Sea Lice) and attempted to finish a film score he's since abandoned. About a year ago, feeling overwhelmed by all the demands on his time, Vile delayed the release of Bottle It In from spring 2018 to October 12th. If he hadn't, he says, "I was prepared to have a serious breakdown. Pretty normal."
Bottle It In  (2018)
On Bottle It In, Vile does his best to come back to earth. If his last solo record was a dark, lonely night of the soul, this one feels more like a friendly jam session with his longtime backing band, the Violators (multi-instrumentalists Rob Laakso and Jesse Trbovich, plus drummer Kyle Spence). Beneath the easygoing charm of its surface, though, Bottle It In is an album with serious ambitions. On highlights like "One Trick Ponies" and "Loading Zones," he sounds like he's simultaneously swinging for another modern-rock hit and searching for an inner peace that's just beyond his grasp. Among the songs Vile recorded with Everett is Bottle It In's nine-minute-plus centerpiece, "Bassackwards," a slow-burn psychedelic dream with an undercurrent of dread. In part, he tells me, it's a song about his fears for the future in a time of global warming and skyrocketing hate. "The world is backwards as fuck right now," he says.
Vile is also featured on the song "Let Me Get There" and Hope Sandoval & The Warm Inventions" released in 2016.
Vile sings lead vocals on The Sadies song "It's Easy (Like Walking)" on their 2017 album Northern Passages.
In 2017, Vile and Courtney Barnett recorded the collaborative album "Lotta Sea Lice" , released on October 13th. The lead single "Over Everything" was released on August 30th, 2017 accompanied by the music video directed by Danny Cohen.
In 2018, Vile announced his seventh solo studio album, "Bottle It In", due for release on October 12th, 2018.
Check out the these EP's
The Hunchback
Square Shells
So Outta Reach
It's a Big World Out There (And I Am Scared)