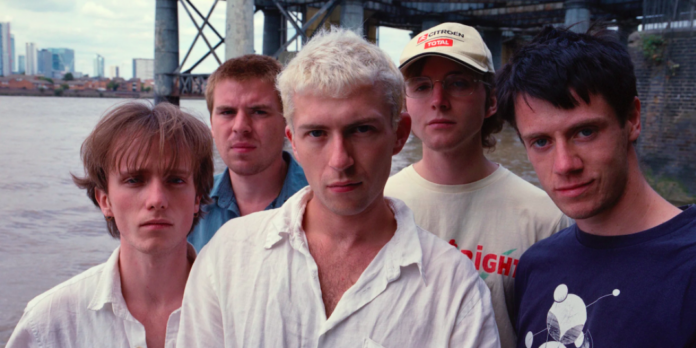 Like most Shame songs, "Alphabet" is armed with full-throttle momentum, and frontman Charlie Steen's direct yet playful vocal inflection. "Are you waiting / to feel good / Are you praying / like you should?" Steen asks. It's not so much a sonic departure as it is a distillation of their barreling punk sound. Shame have returned with a new song called 'Alphabet' via Dead Oceans Records. Produced by James Ford, it marks the UK post-punk group's first new music since the release of their 2018 debut Songs of Praise. Check it out below, alongside an accompanying music video directed by Tegen Williams.
"'Alphabet' is a direct question, to the audience and the performer, on whether any of this will ever be enough to reach satisfaction," frontman Charlie Steen said in a statement. "At the time of writing it, I was experiencing a series of surreal dreams where a manic subconscious was bleeding out of me and seeping into the lyrics. All the unsettling and distressing imagery I faced in my sleep have taken on their own form in the video."
Back in the beginning of 2018, the British post-punk group Shame released their debut album . They soon accrued a fervent following and a whole lot of attention for their intense live shows. They've also now been silent for a while, not releasing so much as a standalone single since Songs Of Praise. Shame apparently have a new album on the horizon, and they've shared the first hint of this impending new era.
Alphabet' from Shame, available now on Dead Oceans