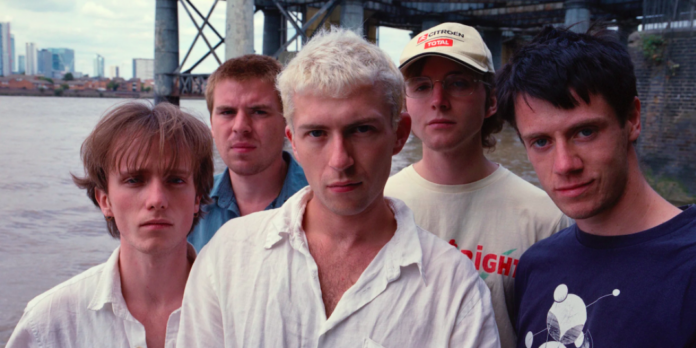 Like most Shame songs, "Alphabet" is armed with full-throttle momentum, and frontman Charlie Steen's direct yet playful vocal inflection. "Are you waiting / to feel good / Are you praying / like you should?" Steen asks. It's not so much a sonic departure as it is a distillation of their barreling punk sound. Shame have returned with a new song called 'Alphabet' via Dead Oceans Records. Produced by James Ford, it marks the UK post-punk group's first new music since the release of their 2018 debut Songs of Praise. Check it out below, alongside an accompanying music video directed by Tegen Williams.
"'Alphabet' is a direct question, to the audience and the performer, on whether any of this will ever be enough to reach satisfaction," frontman Charlie Steen said in a statement. "At the time of writing it, I was experiencing a series of surreal dreams where a manic subconscious was bleeding out of me and seeping into the lyrics. All the unsettling and distressing imagery I faced in my sleep have taken on their own form in the video."
Back in the beginning of 2018, the British post-punk group Shame released their debut album . They soon accrued a fervent following and a whole lot of attention for their intense live shows. They've also now been silent for a while, not releasing so much as a standalone single since Songs Of Praise. Shame apparently have a new album on the horizon, and they've shared the first hint of this impending new era.
Two years ago, Shame released Songs of Praise, which was not just an outstanding debut but one of the best LPs of the 2010s. It was bold, assertive, and relevant. Heck, it still remains a very pertinent record, as many of the themes covered then still apply today. The timeless quality in Shame's songwriting and post-punk style positions Eddie Green, Charlie Forbes, Josh Finerty, Sean Coyle-Smith, and Charlie Steen to be one of 2020's most important bands. To demonstrate why they are worthy of such accolades, the quintet have unleashed a roaring critique of ourselves with "Alphabet".
The song echoes the driving, raw energy of IDLES and Fontaines D.C. Every element is delivered with the desperation of a person about to perform their very last song. Nothing is held back because there is nothing left for us to lose in these times. Or is there? As the trio of guitars chime and thrust while the rhythms heavily pound, Green harshly and sarcastically asks us if "we feel good". He's asking us if we are satisfied with what we have, where we are, and what is happening. He's directly wondering whether our desires are limitless or whether we all have a point where we say "enough is enough".
Alphabet' from Shame, available now on Dead Oceans