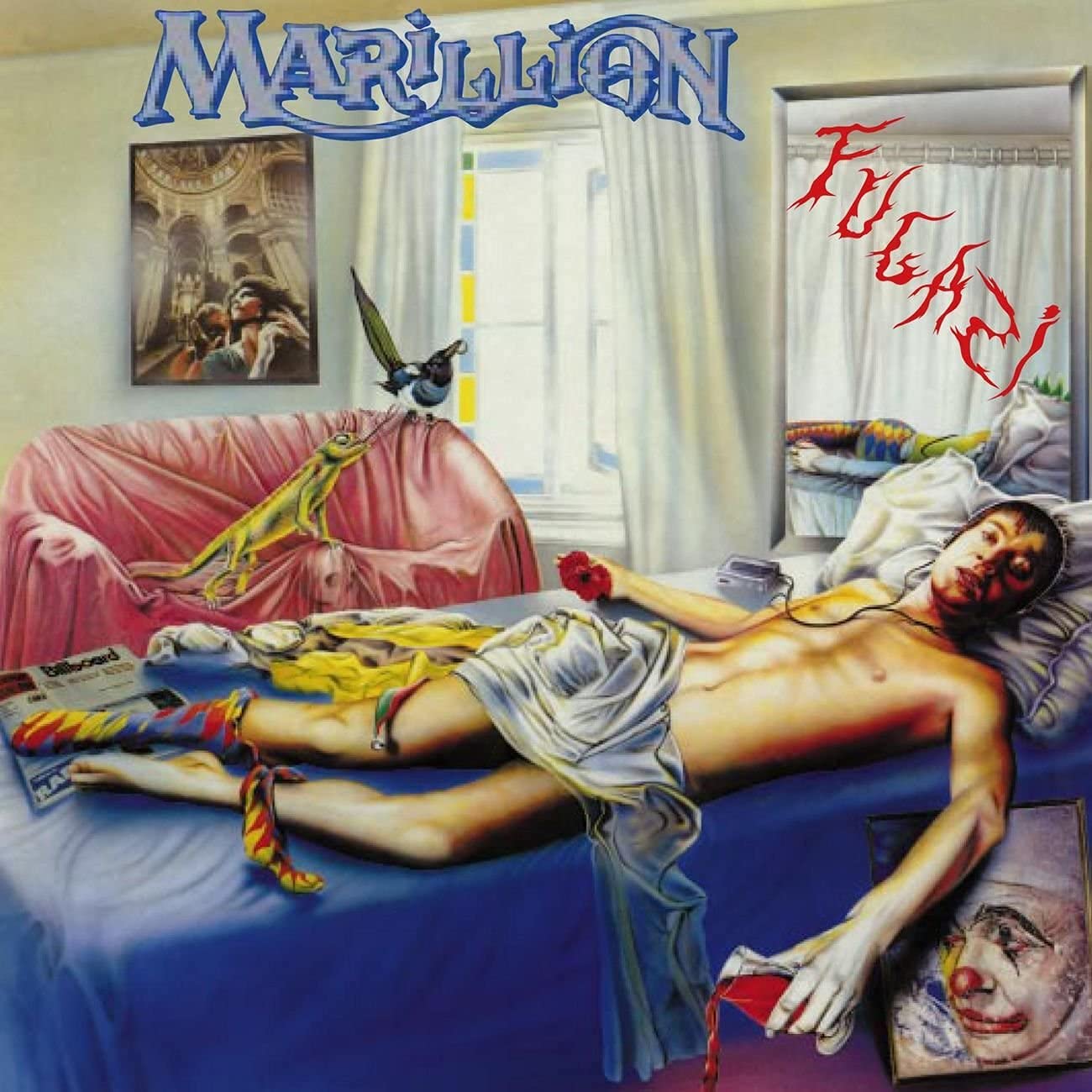 Marillion's second album, "Fugazi" usually trails a distant last in rankings of the four studio albums they made with original singer Fish. But while it lacks the spiky rush of its predecessor "Script For A Jester's Tear" and the bulletproof commerciality of follow-up "Misplaced Childhood", "Fugazi" is better than its reputation would have it. Finally the jigsaw from vocalist Fish years with the band 'Marillion' is complete with the release of the remaster of the 1984 'Fugazi' album on 10th September. In March 1984, Marillion released their second studio album "Fugazi", which went on to be certified Gold and reach number 5 in the UK albums charts. The classic album spawned two singles "Assassin" and Punch & Judy, both reaching #22 and #29 on the UK singles charts respectively. "Fugazi" is the second studio album by the British progressive rock band Marillion, released in 1984. Produced by Nick Tauber, it was recorded between November 1983 and February 1984 at various studios "Fugazi" celebrated in two versions as a 4LP boxset and as a 3CD/Blu- ray book, released on 10th September. The music also available digitally and for streaming on the same day. "Fugazi" was the first Marillion album to feature Ian Mosley on drums and percussion, replacing Mick Pointer after the highly successful "Script For A Jester's Tear". It also included Fish, Steve Rothery, Pete Trewavas and Mark Kelly.
Both sets open with brand-new 2021 remixed stereo versions by Andy Bradfield and Avril Mackintosh, who also remixed the deluxe editions of "Script For A Jester's Tear" and "Clutching At Straws". They also include a show from The Spectrum, Montreal, Canada recorded in 1984. The performance includes fan favourites from both "Fugazi" and their debut album "Script For A Jester's Tear" in the form of tracks such as "Jigsaw", "Incubus", "He Knows You Know", "Chelsea Monday" and much more. It also features a performance of the B-side "Charting The Single".
Following their first album and its support tour, Marillion found themselves behind schedule, under pressure from EMI Records to deliver a second album. Producer Nick Tauber worked the band hard, having them stop into various rehearsal and recording studios to write songs, and to find a replacement drummer for Mick Pointer, who had been fired. American drummer Jonathan Mover auditioned in London in September 1983, and two days later was performing with Marillion in Germany.
Marillion settled into the infamous Rockfield Studios in Wales to compose some songs. According to an interview with Mover, the various band members had been working separately on songs when the band's front man, Fish, asked whether they agreed with his new idea that it should be a concept album like Floyd's The Wall. The more veteran band members said "maybe," but new drummer Mover said it was a bad idea, that the current crop of songs was not connected by any theme, and would have to be scrapped. According to Mover, Fish took this as a challenge to his authority and he was fired from the band. Fish said later, "Jonathan Mover left me cold, but the musicians loved him because he was super-technical. I felt I was being railroaded. All he could talk about was drums, and he didn't fit in to the band's social element." Mover received a writing credit for the single "Punch and Judy".
"Fugazi" proved just as diverse, ambitious, even preposterous (in the best possible prog-rock sense) as "Script". They matched epic, complex musicianship with oblique wordplay to perfection on the likes of "Assassing", "Jigsaw", "Incubus", and the title track – all of which would become perennial concert favourites for years to come. If anything, the new album was, at once, more polished (in terms of both production standards and song arrangements) and a tad less consistent than its predecessor, unquestionably falling short of heightened expectations on the somewhat less-than-stellar "Emerald Lies" and certainly the subpar "She Chameleon"
The production schedule ran so late that Marillion had to begin their album support tour before the album was ready
The Blu-ray features 96k/24-bit versions of both the new "Fugazi" stereo remix and the Live at The Spectrum, Montreal, Canada concert and contains a 5.1 surround sound version of the new 2021 stereo remix of "Fugazi".
The Blu-ray also contains a compelling look at the fascinating story behind "Fugazi" in a new documentary, entitled The Performance Has Just Begun, which features all the band members talking about how the album came to fruition. This is followed by the band giving an insightful track-by-track commentary of the album, as well as the music video of "Assassin" with both the original and remix audio.
Frontman Fish told us I've been unable to announce anything until now but all I can say is that I think you'll find this well worth the wait. The gold here for Marillion aficionados comes with the lengthy and illuminating documentary on the Blu-ray disc, detailing the album's turbulent gestation, plus footage from a stellar appearance on Swiss TV and a recording of a gig at Montreal's Spectrum Club in June 1984 (a handful of tracks from which appeared on that year's "Real To Reel" live album). 
It's the live material that best represents Marillion at this stage in their career – a prog band with a punk band's energy, something they'd never truly capture again despite all the successes that followed.
The vinyl box set is £49.99 ex vat and the deluxe CD/Blu-ray is £24.99 ex vat. Those prices do not include postage and packaging which are calculated and added at checkout..
All 'Fugazi' albums, both deluxe CD/Blu-ray and vinyl box versions purchased from here will be signed by yours truly.
The album is a pre order purchase for delivery after September 10th. Nothing will be sent out from here before that date.
The 'Fugazi' titles can only be ordered as stand alone purchases and cannot be mixed with other orders/items.
This ensures a smooth mail out once 'Fugazi' stock arrives here at the Studio.
Marillion;
Fish – vocals; cover concept
Steve Rothery – guitars; photography (1998 remastered edition)
Mark Kelly – keyboards
Pete Trewavas – bass
Ian Mosley – drums
Thanks for all your support with this, especially during these difficult times for us all, it's sincerely appreciated.