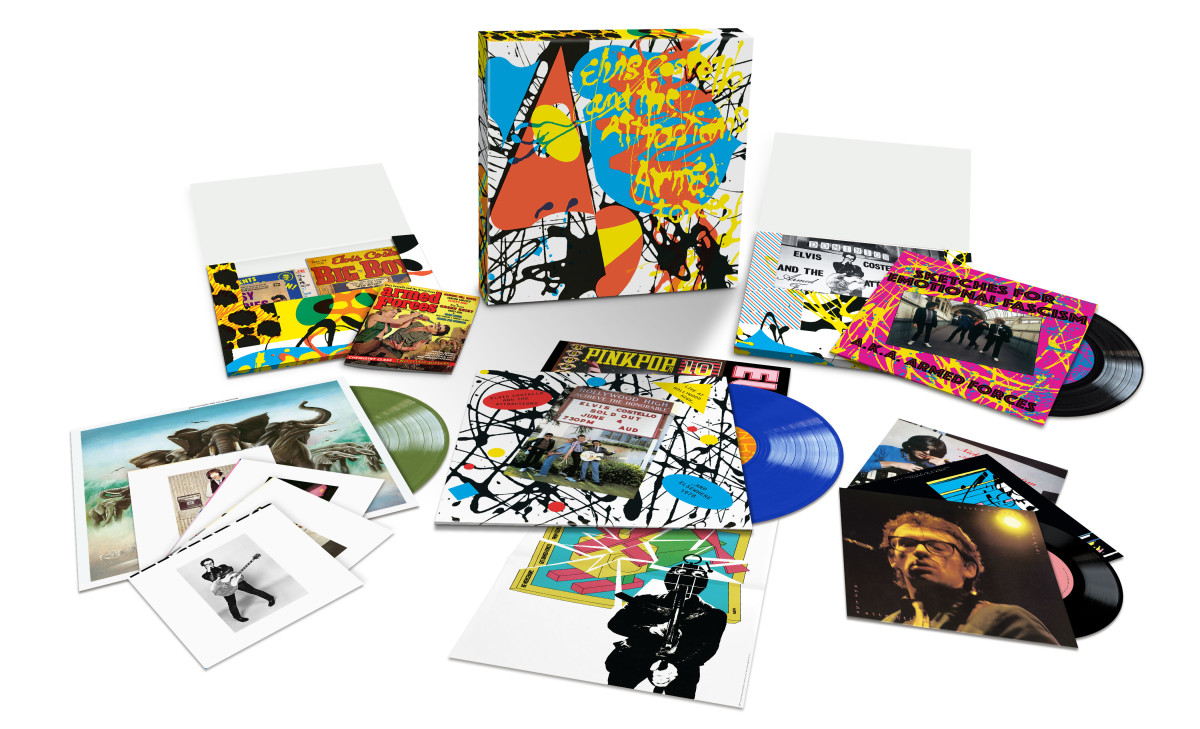 What a difference an ocean makes. In the U.K. and Europe, Elvis Costello's third album, "Armed Forces", could be heard as a leap forward in songcraft and sonic ambition, a song cycle weaving the personal and political into a survey of "emotional fascism" in a showcase for the elegant interplay of Costello's band, the Attractions, accorded far more studio polish than its full-length predecessor. Released on January 5th, 1979, the LP also marked the first time the band enjoyed co-billing with its leader.
For many North American fans, the album's legacy has been eclipsed by a last-minute swap that replaced a Costello original with a one-off cover of a Brinsley Schwarz song written by former front man and Costello producer Nick Lowe, the now anthemic "(What's So Funny 'Bout) Peace, Love and Understanding." As a warmup for their own album, Costello and the Attractions bashed out a fast and furious cover of the Lowe song, pumping up the original's rhythm guitar riffs into a virtual barrage against Costello's howled vocals.
Curated and annotated by Elvis Costello, the mammoth "Armed Forces" vinyl box is the definitive look at Costello's ground breaking 1979 LP: it includes the original album (remastered) along with B-sides, demos and a whopping 23 previously unreleased live recordings. All told, the lavishly packaged set includes 9 pieces of vinyl—three full-length LPs, three 10-inch EPs and three 7-inch singles—postcards, a promotional poster, and seven unique and highly entertaining illustrated booklets with lyrics, photos, notes, Costello's original song sketches for the album (whose working title was "Emotional Fascism"), and more. The performance is undeniably powerful—and conspicuously out of place in the sonic landscape and thematic context of the Costello album. But Columbia Records, his U.S. label, was anxious to seed radio airplay, and had already set precedent with its revised track sequences for both of Costello's prior albums. In his superb memoir, Unfaithful Music & Disappearing Ink, Costello asserts executives were worried that some of the material was "too English" in its lyric references and cultural perspective. Thus, "Sunday's Best," a sardonic waltz echoing English music hall tropes and explicit homeland allusions, was jettisoned and "(What's So Funny)…" was added as the LP's last song.
Like Costello's prior studio work, the song was recorded live with minimal overdubs. Billed as Nick Lowe and His Sound, the track was cut as B-side to the pending single of Lowe's "American Squirm," stripping away Lowe's tongue-in-cheek earnestness and power pop bloom to transform the song into a authentic, pissed-off rage.
The music is the star of the show, of course, but the booklets are rather stunning in their presentation of the album's backstory: they are designed as pulp novels and comic books of various sizes with the booklet titles mirroring many of the LP's song titles ("Goon Squad," "Busy Bodies," "Oliver's Army," etc.). The seven booklets contain more than 200 total pages of material and feature plenty of Costello's classic, quick-witted ruminations.
"Oh, I just don't know where to begin," sings Costello before the Attractions kick into gear, a line that signals the singer's frustration while offering a sly bit of misdirection. Apart from beginning the album, the statement belies the meticulous detail and verbal ingenuity heard throughout the dozen originals on the U.K. version. However angry Costello's image may have seemed, the songs convey the musical imagination of a wide-ranging pop magpie as well as word-drunk verbal acuity.
The remastered album proper sounds better than ever and remains fortified by some of Costello's finest tunes: "Accidents Will Happen," "Oliver's Army" (Costello's highest charting UK single to date at No2), and his enduring, definitive cover of Nick Lowe's "(What's So Funny 'Bout) Peace, Love and Understanding?)" "Armed Forces" found  Lowe adopting a production style that differed from other Costello releases before or since: dense, textured, sometimes ornate and often nearly Spectorian (check "Goon Squad" and "What's So Funny…") yet still radio-friendly and commercial. (It was Costello's only top 10 US album.) Quirky ditties such as the keyboard and drum-focused "Green Shirt" and the strangely hooky "Two Little Hitlers" have also aged well.
The power heard in the Attractions' tough, sinewy playing on the second album meanwhile deepened; the band's frequent touring had accelerated a learning curve. That enabled Costello and his bandmates to work out more intricate arrangements in which keyboard player Steve Nieve, bassist Bruce Thomas and drummer Pete Thomas (no relation) created interlocking parts. The thin, reedy signature of Nieve's Vox Continental organ was now cushioned by lusher synthesizers and grand piano to sculpt a wide, orchestral space decorated with Bruce Thomas' contrapuntal bass figures.
The pop instincts lurking beneath Costello's aggression surface repeatedly across the albums, most explicitly on "Oliver's Army," a scathing and, yes, very English broadside against militarism and the class warfare underlying its history in Britain. With its name-check of Oliver Cromwell, its shout-out to the cannon fodder of "the boys from the Mersey and the Thames and the Tyne," and a snapshot of British soldiers in Northern Ireland, the track is stridently political, only heightening the irony of the music: Costello's crooned vocals are set against a widescreen arrangement punctuated by Nieve's exuberant piano flourishes, a touch Costello himself cheerfully cites as influenced outright by ABBA's "Dancing Queen."
Add Costello's soulful vocal tag on the fade, a note-for-note salute to Ronnie Spector's ecstatic coda on Phil Spector's Ronettes classic, "Be My Baby," and it's clear that Costello delighted in lifting ideas from a wider swatch of styles than new wave fashionistas might have bargained for, such as the dense chromatic vocal harmonies overdubbed on the title refrain in "Moods for Moderns." At the same time, the material's Anglocentric imagery and recurrent conflation of romantic and sexual encounters with British politics provide context for both the final album title and the "emotional fascism" initially considered and then relegated to an inner sleeve copy line. The concept is evoked precisely on "Green Shirt," a song in which seduction and indoctrination mingle ominously.
Musically, "Green Shirt" typifies the band's nearly telepathic agility. Pete Thomas' drumming is rooted in economy, subtracting elements in the service of skeletal riffs that push and pull against Nieve's lean keyboard figures to provide a coiled tension the track. The lyrics' title garment serves both as a totem of sexual desire and a play on the infamous "brown shirts" of Germany's Nazi Party. Elsewhere, Costello invokes thug threats in "Goon Squad" and leans into a "final solution" as a provocative metaphor in "Chemistry Class." And in the track that closes Radar's British version of "Armed Forces", the political and personal equation is spelled out in "Two Little Hitlers." With Margaret Thatcher's election as British Prime Minister in the months after "Armed Forces' release, Costello's ominous preoccupations seemed prescient.
While critics were nearly unanimous in hailing the musical growth heard on "Armed Forces", there was less agreement about the material's dark thematic heart, a pessimism verging on nihilism that Costello would himself later characterize as steeped in "paranoia." That makes the bruised idealism of Lowe's "(What's So Funny 'Bout) Peace, Love and Understanding" stand out even more boldly. The track became the U.S. album's most recognizable moment, 
The 23 newly released live recordings from 1978 and 1979 showcase Costello and the Attractions at the top of their game, a powerhouse four piece tearing through tracks from Costello's first three records as well as previews of cuts that would find their way onto 1980's "Get Happy!!" The 13-track "Live at Pinkpop" collection included here finds Costello and company test driving the yet-to-be-released "B-Movie," "Opportunity" and "High Fidelity" with arrangements substantially different from their "Get Happy!!" Iterations. (In the notes, Costello references the "new wave arrangements" of the first two numbers and cites the David Bowie influence of the live reading of "High Fidelity.")
Those particular tunes come off as relatively reserved in comparison to the near-manic, white-hot thrust of most of the live material, with Costello and cohorts Bruce Thomas, Steve Nieve and Pete Thomas all in peak form throughout: in particular, bash-ups of "You Belong to Me," "This Year's Girl" and "Pump it Up" (from the "Riot at the Regent – Live in Sydney '78 EP) all smoulder with a near-punk intensity and splashes of Nieve's roller rink organ.
An eight-song EP titled "Sketches for Emotional Fascism A.K.A. Armed Forces" contains an alternate version of "Big Boys," a demo of "Green Shirt," Costello's version of "My Funny Valentine," and four tunes that were originally released in the US as part of 1980's "Taking Liberties" compilation. (In his notes, Costello describes one of these tunes originally slated for "Armed Forces", "Clean Money," as being influenced by Cheap Trick.)
Available in 180-gram black vinyl and limited edition 180-gram multi-color opaque vinyl editions, "Armed Forces" is an absolutely beautiful package that celebrates Elvis Costello's most commercially successful album in style.