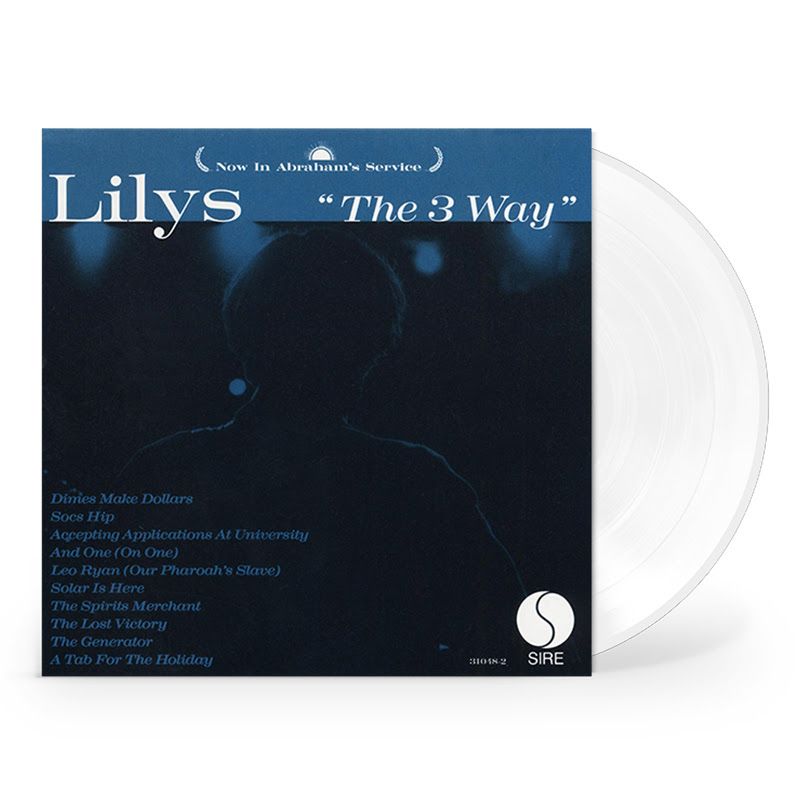 The 1999 album by the Lilys  was originally released on Sire Records and became one of those major label releases that just fell by the wayside. It is a crunching and sophisticated 60's British invasion influenced album with jangling guitars, hooks galore and adventurous song writing.
By the time of their fourth full-length album, 1999's "The 3 Way", Lilys had already gone through a more dramatic evolution in just a few years than many bands experience throughout an entire career. Centered around songwriter and sole consistent member Kurt Heasley, Lilys began as a fuzzy shoegaze band, making sounds heavily influenced by My Bloody Valentine for their first few albums before taking a dramatic left turn toward orchestral mod pop created in the likeness of the Kinks, the Zombies, and the Small Faces on 1996's "Better Can't Make Your Life Better". Compared to that album, Lilys' output from just a few years earlier sounded like the work of a completely different band. This '60s-steeped phase of the band reached its highest form with "The 3 Way", an album where Heasley's British Invasion and baroque pop influences felt less like faithful recreations, and bled more into his own cracked song writing sensibilities.
The overwhelming influence of the Kinks is still undeniable as album-opener "Dimes Makes Dollars" kicks things off with a bumbling garage rock riff and the kind of cheeky melodies Ray Davies perfected on Face to Face. As the song goes on, however, Heasley's eccentricities start leaking into view as the melodies become more angular and winding. The album splits its time between quick stomping jams and drawn out song suites like the quickly shifting "Socs Hip" and "Leo Ryan (Our Pharoah's Slave)." On these longer, more meandering tracks, Heasley assembles a pastiche made up of Left Banke harpsichord sounds, fuzz guitar borrowed from the Action, and quick-turning genre exercises following the blueprint of The Who Sell Out.
The wildly mapped song structures rarely stay in one mode for more than a few bars, and sometimes the songs start in S.F. Sorrow territory and end up traipsing through disco strings and bursts of free jazz saxophone. Throughout "The 3 Way", Heasley's distracted muse becomes the main attraction. He recalls Bowie's sultry Aladdin Sane balladry on "The Spirits Merchant" before offering up what sounds like an Arthur outtake moments later with "The Lost Victory," throwing in nods to the Monkees, lounge pop, and even the smallest traces of the blissed-out shoegaze guitar that defined earlier iterations of Lilys.
Indie bands fixating on '60s pop was fairly commonplace by the late '90s, but the way Lilys explored this muse would have more of a ripple effect. There are links in Heasley's circuitous melodies and rapid key changes to Elephant 6 peers Of Montreal and Apples in Stereo, and the sense of groove that guides "The 3 Way's" funkier experiments would resurface four years later on Belle and Sebastian's far more visible effort Dear Catastrophe Waitress. While the bold-faced influences are easy to pick out, the way Heasley used them as a starting point to break new creative ground requires deeper listening. Once you get past the Kinks references emblazoned in many of the songs, Lilys' own silent influence on the course of indie rock that followed becomes more apparent.
A lost gem that finally gets the reissue it richly deserves. For fans of The Kinks, The Small Faces and Apples in Stereo.