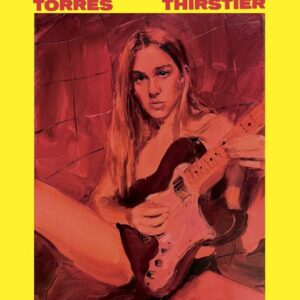 Torres the moniker of Mackenzie Scott released her new album, "Thirstier", on 30th July on Merge Records. "Thirstier" revolts against the grey drag of time, a searing and life-affirming eruption of an album that wonders what could happen if we found a way to make our fantasies inexhaustible.
She presents its title track, a thesis statement for the album as a whole that highlights its strive towards abundance. Scott sings of love that never knows scarcity: "The more of you I drink / The thirstier I get." Following a stretch of melancholy guitar, thunderous percussion crashes in along with Scott's voice: "Keep me in your fantasies / Even though you live with me." It's an urgent and intense encapsulation of desire.
"For a while, I was sinking/ But from here on out, I swear I'm swimming," TORRES' Mackenzie Scott declares on 'Don't Go Puttin Wishes in My Head', a standout track from her latest album "Thirstier". It's a moment that could've been lost between the song's titanic choruses, but Scott delivers the line with such fervour that it's impossible not to believe her, let alone pay attention. It's this rock-solid, wide-eyed conviction that marks the Brooklyn-based artist's third album under the moniker, which is packed with one anthemically bombastic song after another, save for a few welcome electronic experiments. Thundering, exuberant hooks become a vehicle for Scott's outsized ambition, but it's the yearning that persists and powers her performances, taking the songs to another level: "The more of you I drink, the thirstier I get," she admits on the title track. Scott's song writing has rarely sounded more potent, or joy more restless.
Recorded in the Autumn of 2020 at Middle Farm Studios in the UK and co-produced by Scott, Rob Ellis and Peter Miles, "Thirstier" marks a turn towards a bigger, more bombastic sound for Torres. The anxious hush that fell over much of Scott's previous music gets turned inside-out in songs tailored for post-plague celebration. Guitar-driven walls of sound surge and dissipate like surf in high winds, carrying Scott's commanding voice to the fore, as displayed in the album's first two singles "Hug From a Dinosaur" and "Don't Go Puttin Wishes in My Head."
Never one to be afraid of doing things her own way, TORRES once again shook things up for this, her fifth full-length. Ostensibly, it's a relationship record, but one that celebrates love rather than laments its loss. That attitude is enmeshed in the generally upbeat nature of its confident, anachronistic songs. They look both forward and backward at the same time, and fizzle with the excited energy of lasting love and companionship, as well as the ups and downs that come with that.
Full of stadium-friendly pop hooks and electronic undercurrents, "Thirstier" is a powerful and bold record that feels like it exists both in the past and the future. 
Thirstier is out July 30th, 2021, on Merge Records