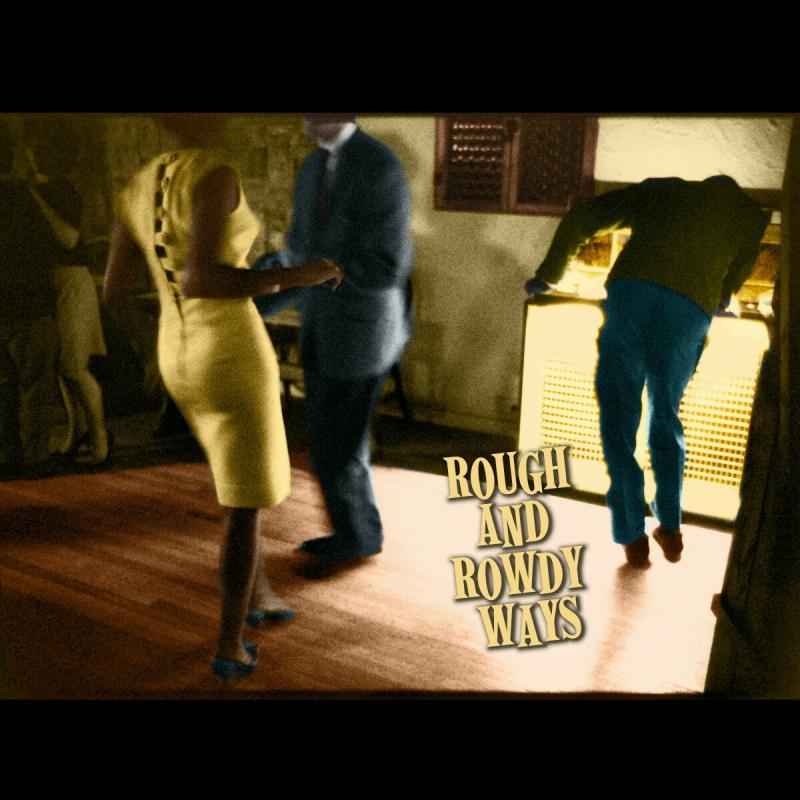 Given Dylan's last album of originals was in 2012, and his standards phase had concluded with a slightly meandering three-disc set in Triplicate, expectations of anything other than an archival release or new tour announcement from Dylan in 2020 were low. You could be forgiven if you thought in recent years that he was once again down for the count. His last album of original compositions, Tempest, had come out in 2012,
"Murder Most Foul" began with cringey rhymes and rose and revolved into a most extraordinary, time-defying meditation and reverie, pulling from the ethyr all the names of power from the 20th century's canonical list of musical greats. Two more songs soon followed its way onto the internet, and then the album itself, and what an album it was. Rough and Rowdy Ways is among one of Dylan's best, like all those great albums, it sounds like none of them, and none of them is like each other. You can all but feel Dylan wearing his years singing standards right against his skin, such is the intimacy, delicacy and force of his best performances. The skeletal web of guitar that sustains "Black Rider", the wave-like motions of the whole band working as one on "Key West" or "I've Made Up My Mind to Give Myself to You", the shimmering nature of the settings for '"I Contain Multitudes" and "Mother of Muses" – they're one of a kind.
The record's first track, the understated, percussion-free "I Contain Multitudes," features a soft blend of strings, pedal steel and guitar and sets the dreamlike, death-haunted tone for much of the album with its opening lines: "Today and tomorrow and yesterday too/The flowers are dying like all things do." Later in the same song, Dylan compares himself—all in one verse—to Anne Frank, Indiana Jones and "them British bad boys," the Rolling Stones. He also rhymes the song title with "nudes," "feuds," and—in an apparent reference to David Bowie—"all the young dudes."
Many of his long time lyrical preoccupations remain—especially mortality and love. And he's still mixing up a unique musical brew whose ingredients include blues, country and rock 'n' roll. His long time band remains magnificent and in perfect step with his moods.
Musicians such as Fiona Apple, Blake Mills and Bob Britt, who augmented Dylan's stage band – itself a fresh iteration for what are at present his final concerts of autumn 2019 – added their own signature touches to this album's soundscape.
As for the lyrics, they spill out like guts from a belly, making prophecies, and they keep on coming. As a lot of listeners have commented over the past months, it feels like you'll never get to the bottom of them. Here, Dylan's own legend has become material for him in the same way that the songs and phrases and rhymes of the Anglo-American folk and blues traditions are, as is the poetry of the Classics – this is an album diffused with the light of ancient texts, and ruled by that most strangest and most powerful of muses, memory (Dylan's is photographic, remember?).
He's also still heavily into uncredited borrowing, though not to the extent that raised eyebrows regarding 2006's Modern Times. As he has done since the beginning of his career (and as many other folk artists have done), he pulls ideas and phrases from umpteen sources and uses them as building blocks for something fresh. Here, he takes his album's moniker from an old Jimmie Rodgers number, lifts the title of "Murder Most Foul" from Shakespeare's Hamlet, and uses a Walt Whitman line for the title of "I Contain Multitudes." Dylan also weaves in a line about "the winter of my discontent" and a verse from the Who's Tommy. And the music for "False Prophet" has been said to derive directly from "If Lovin' Is Believin'," a 1954 Sun Records track by Billy "The Kid" Emerson.
There are important differences between Rough and Rowdy Ways and Dylan's other work over the past couple of decades, however. Most notably, this album seems to have been assembled more carefully. It also contains many more specific references to real places, things and especially people: he namechecks Leon Russell, Liberace, Julius Caesar, Jimmy Reed (the ostensible subject of a whole song), Allen Ginsberg, Sigmund Freud, Harry Truman, Karl Marx, and many other well-known figures.
Another standout is the melodious "I've Made Up My Mind to Give Myself to You," a touching and complex statement of devotion that echoes the lyrical intensity of songs like Empire Burlesque's "I'll Remember You." 
And then there's the accordion-flavoured "Key West (Philosopher Pilot)," a brilliant, rambling ballad that appears to be about an old man, perhaps on his deathbed. He was "born on the wrong side of the railroad track" and "never lived in the land of Oz" but has now found some kind of peace in Key West, which he calls "the place to be if you're looking for immortality."
This album's centerpiece is "Murder Most Foul," the longest song Dylan has ever recorded. ("Highlands," on Time Out of Mind, is only 23 seconds shorter, but such epics as "Tempest," "Just Like a Woman," "Joey" and "Brownsville Girl" all wind down well before this one does.) Dylan talks/sings over piano and mournful, dirge-like strings, offering a sprawling and intriguing lyric that uses the assassination of President John F. Kennedy—an event that has interested him for years—as a jumping-off point for a romp through an American dream world.
"It was a dark day in Dallas, November '63/A day that will live on in infamy," Dylan begins. "President Kennedy was a-ridin' high/Good day to be livin' and a good day to die." Subsequent verses continue the assassination theme with references to the grassy knoll, the Zapruder film, the swearing in of Lyndon Johnson, Lee Harvey Oswald and Jack Ruby, but Dylan also manages enough sidetracks to mention everything from Gone with the Wind, the Aquarian Age and Marilyn Monroe to Wolfman Jack, The Birdman of Alcatraz, Lindsey Buckingham and The Merchant of Venice. He also names more than 70 songs, ranging from "Ferry 'Cross the Mersey" and "Down in the Boondocks" to "Moonlight Sonata" and "That Old Devil Moon."
All these elements combine and regenerate into a seemingly effortless Burroughsian commingling of diverse sources and routes. There is no "I" in these songs, no single figures in a fixed landscape. These songs progress via the multitudes of the associational rather than the linear. They are songs of many shifting figures in many different landscapes where nothing is fixed and everything flows like Heraclitus said it would. There are moments that are intimate, that express love, that emit warmth and heat, but often set alongside the indifferent, the celestial, the bestial, murderous, violent and cold. Such is life, such is happiness, as one of his beautiful lines tells it. These are fully tenanted songs, lived in by multitudes. They strike me as unlike anything he's ever done, and that only he could do them.
This is special stuff. In an extraordinary year, Dylan released an album that equals and perhaps even surpasses the best work he's done. That's amazing.