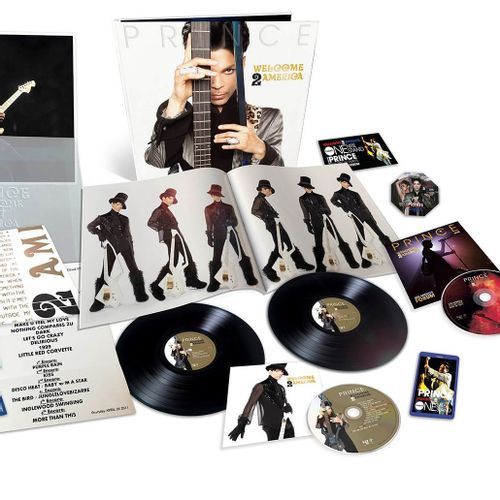 Recorded in the spring of 2010 and then mysteriously abandoned by prince before its release, the statement album "Welcome 2 America" documents Prince's concerns, hopes, and visions for a shifting society, presciently foreshadowing an era of political division, disinformation, and a renewed fight for racial justice.
The Prince Estate and Legacy Recordings are to issue "Welcome 2 America" a previously unreleased Prince album recorded in 2010. The album was "mysteriously archived" by Prince and features some of his only studio collaborations
The album features some of Prince's only studio collaborations with the bassist Tal Wilkenfeld, drummer Chris Coleman, and engineer Jason Agel, with additional contributions from New Power Generation singers Shelby j, Liv Warfield, and Elisa Fiorillo and keyboardist Morris Hayes, who Prince also recruited to co-produce the album. the vinyl edition has the 12 songs spread across three sides on 2 Lps in gorgeous gatefold packaging, with a custom etching on the fourth side.
A previously unreleased Prince album from 2010, "Welcome 2 America" is set for release on July 30th via Legacy. Now another song from it, "Born 2 Die," 
The song has a bit of a Curtis Mayfield vibe, which was purposeful on Prince's part. A press release goes into a bit more detail as to the track's genesis: "The song was recorded during a flurry of studio activity in the spring of 2010, when President Obama was just a year into his first term and Prince was reflecting deeply on the issues affecting the Black community and the role he hoped to play in the social justice movement. 
The deluxe edition of Welcome 2 America combines the 2lp and cd versions of the album with a never before released blu-ray of Prince's full April 28th, 2011 performance at the forum, part of the Welcome 2 America tour's historic 21 nite stand in Los Angeles. the show is presented in stereo, 5.1 surround and dolby atmos, and includes 24 tracks from across Prince's career, from his biggest hits to fan favourites to ten rare covers.
In addition, the deluxe edition features a 32 page 12×12 book, exclusive poster and an embossed vellum envelope of limited edition memorabilia all housed in a luxe, gold embossed package. experienced as a complete package, the deluxe edition provides an immersive view of Prince's creative genius during his spontaneous, energetic, and thought-provoking Welcome 2 America era.
In terms of chronology, if issued at the time, the album would have sat between 20Ten (2010) and Plectrumelectrum (2014).
The deluxe version of Welcome 2 America will come with a full-length live concert video from one of Prince's string of 2011 shows at The Forum in Los Angeles during his "Welcome 2 America" tour.