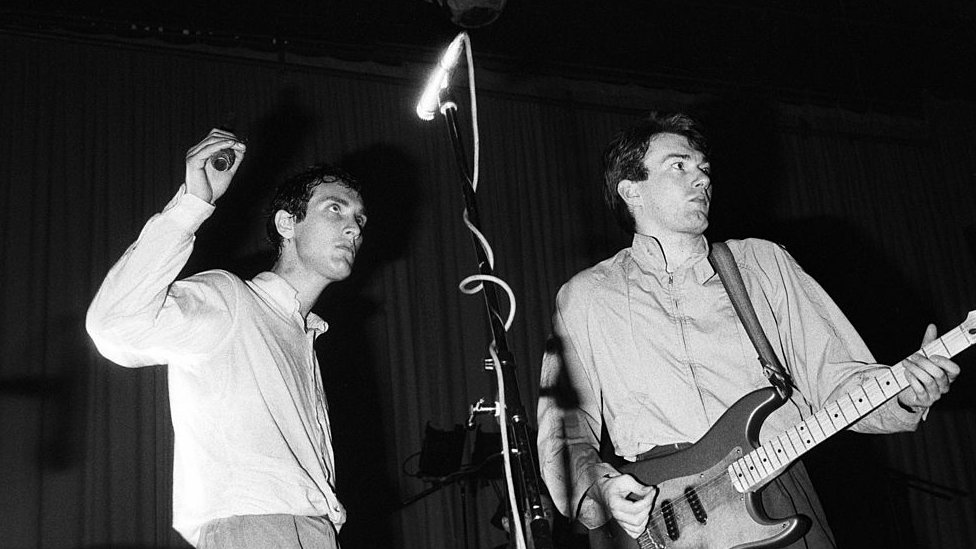 This was the first single ever released by Gang on Four back in 1978 on the Fast Product Label. Three tracks appeared which were the now legendary 'Damaged Goods' on the A-Side, and 'Love Like Anthrax' (in a colder, more robotic version) and 'Armalite Rifle'. All of these tracks would appear later on the 'Mutant Pop' compilation by the same label in 1980. The versions appearing on this EP are unavailable elsewhere.
The title track starts with syncopated bass and guitar, which are later accompanied with the drums. The song also features vocals by Jon King, which take the role of "a lonesome, longing lament" and a "nearly spoken word section sung by the band's guitarist Andy Gill critic Tom Maginnis argued that the track is "the closest thing approaching a pop single from their influential first record," while noting the "uncharacteristic lightness and bounce from Dave Allen's superb, bass line, countered with a constant hacking rhythm guitar from Andy Gill." He also described the end result as "almost danceable, skewed only by singer Jon King's indignant rant. NME also stated that the track "boasts a riff that could slice through a particularly strong girder.
Lyrically, the song is about "sexual politics," with "a sexual/political double entendre providing the crux of the song's message." Kevin J.H. Dettmar, the author of Gang of Four's Entertainment!, argued that "the song's protagonist shows no self-awareness." In a 2009 interview with Clash magazine, singer and lyricist Jon King stated that he was inspired by an "in-store slogan" in a Morrisons supermarket in Leeds," using it as "a good starter for words about a doomed relationship where legover had become, maybe, too much of a good thing." Magginis also noted that the lyrics "could summarize the collective attitude of the post-punk era, bidding adieu to the more optimistic music of the '60s and self-absorbed '70s with a singalong chorus."
Produced by Fast Product owner Bob Last under the alias "Fast Product", the single received critical acclaim, prompting the band to sign to major label EMI Harvest Records imprint. The title track and "Love Like Anthrax" were re-recorded for Gang of Four's debut album "Entertainment" in 1979 and the whole EP was included in the Fast Product compilation Mutant Pop in 1980.
On this day (October 19th) in 1978: influential Leeds, UK post-punk band GANG OF FOUR released their debut recording, the 'Damaged Goods' EP on Edinburgh, Scotland indie label, Fast Product; along with the title track, it included "Armalite Rifle" & "Love Like Anthrax"; it became a No#1 UK Indie chart hit as well as a BBC radio 'John Peel Show' favourite; considered both abrasive but accessible, cold but funky, the critical acclaim led to the band signing to major label EMI; UK music weekly New Musical Express (NME) later ranked it #46 on their list of 'The 100 Best Tracks of the Seventies'